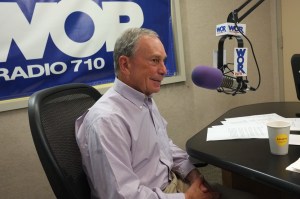 Mayor Michael Bloomberg revealed this morning that he will not weigh in on the mayor's race–despite having recently called one of the likely contender's campaign's "racist."
"I decided I am not going to make an endorsement in the race," said Mr. Bloomberg during a truncated appearance on WOR's John Gambling show, which marked his first interview since the mayoral primary Tuesday night.
Mr. Bloomberg refused to give any hints whatsoever about his impression of the results, which sunk ally City Council Speaker Christine Quinn and elevated frequent critic Public Advocate Bill de Blasio, whose campaign message centered on providing a break from the Bloomberg years.
Mr. Bloomberg said his decision to remain on the sidelines was driven by the desire to ensure "a world-class transition" to the next administration.
"Helping the next mayor get prepared for the job so he can hit the ground running is really one of the most important things that I can do for New Yorker after November," he said. "I don't want to do anything that complicates it for the next mayor, and that's one of the reasons I've decided I'm just not going to make an endorsement in the race."
"I just don't have a lot in common with partisan politics," he added. "My job is to govern and then to help the guy."
Mr. Bloomberg was not asked about a controversial New York magazine interview in which he described the campaign as "class warfare and racist," but–as usual–had plenty to say about the way the Board of Elections handled the count.
"Once again, the Board of Elections just is not able to give the public the easy, guaranteed, reliable ways to vote," he said.