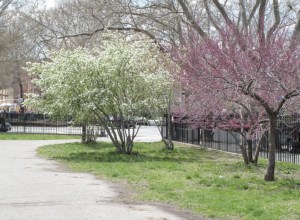 Hipsters who enjoy partaking in recreational activities are having a fantastic week.
Hot on the heels of news they might be getting more drinking spots, they'll now have a nice green area where they can look philosophically into the distance and/or stroke their beards (possibly while drunk).
A 2010 proposal to expand McCarren Park by 33,800 square feet has finally been approved by the city.
The redevelopment of the Greenpoint location will convert Union Avenue, between Driggs Avenue and North 12th Street, into a pedestrian plaza.
Traffic would be rerouted to North 12th Street or Lorimer Street. Union Avenue is already closed on Saturdays for a year-round farmers' market. Locals are apparently pissed because the move will axe 34 parking spaces.
The Parks Department is still seeking funding for the permanent reconstruction, but are hoping to turn the avenue into a temporary pedestrian area as early as next summer.