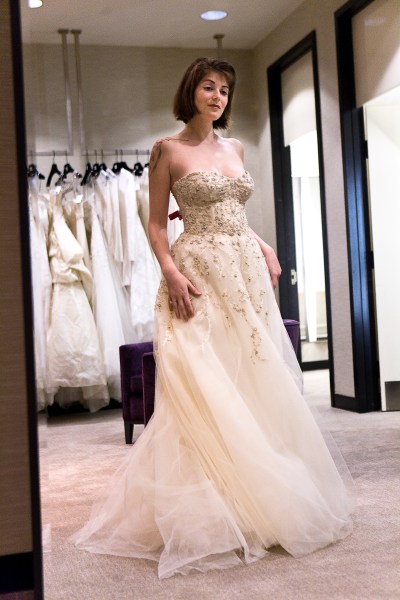 In July, my boyfriend of three years proposed to me in Brooklyn and then whisked us both away to a vacation in the Caribbean. At the time, I thought he was being a romantic, but he later claimed that he wanted the "engagement trip" to shield us from the fallout of announcing the news to the entire world via Facebook. He had a good point. At the time, I didn't see what the big deal was. But upon arriving home, I saw how quickly the initial engagement giddiness could turn into engagement panic. Jesus, were we supposed to have a date set? I was still trying to figure out how to say the word "fiancé" without sounding like a jerk.

My fiancééééé (nope, still don't have it) and I aren't exactly Type-A personalities, but we're both the type of people who like to consider ourselves the Type-A in the relationship in order to stave off any feelings of inadequacy. So while he had the foresight to protect himself against the immolation of goodwill, I was swept up by it. I spent the next month looking at rustic Pinterest boards involving mason-jar bouquets and Etsy dresses. The biggest problem, I quickly realized, was that I had spent nearly 30 years inoculating myself against anything I considered cheesy or "Cinderella"-y: I hated white gowns and glass slippers so much that I had never considered what I might wear at my own wedding. In fact, the phrase "my own wedding" felt as awkward and unnatural as the word "fiancé." Hello, wedding-industrial complex. Meet your finest sitting duck.
I decided to take the marital bull by the horns (animals feature prominently in my wedding analogies) and strike preemptively: I called up my mother and asked her to come to New York to help me try on dresses for the big day. This, despite the fact that I hated shopping for clothes, and even more, I hated shopping for clothes with my mother. It really isn't her fault—I just have a tendency to revert to my 10-year-old self after twenty minutes of playing dress-up. I figured, as long as I brought along my sarcastic little sister and the managing editor of The Observer with a camera, with the idea of documenting the experience for an article, it'd force us both to be on our best behavior.
I'm so naive.
Looking back, I think my first mistake was a lack of perspective: Having ritualistically avoided anything wedding-related my entire life, I had no idea what to look for in a dress. Hell, I didn't even know what the show Say Yes to the Dress was about. (It was about twenty minutes too long, I decided, after randomly TiVoing an episode.) In desperation, I turned to Jill Northrop, who has been a bridal shopper for 14 years and currently resides among the once-impenetrable fortress of Saks. Previously, she had a separate career as a buyer for Bergdorf's but, like the other women I met while dress shopping, the smartly-chic blonde claimed to be so excited about helping brides-to-be plan their special day that she had made a career out of it. Nope, I didn't buy it: Weddings were stressful, not fun. Didn't she know anything? More importantly, hadn't she met my mother, who within minutes of landing herself in the shi-shi bridal boutique had started ripping dresses off the shelves as if she was preparing for a Supermarket Sweep show?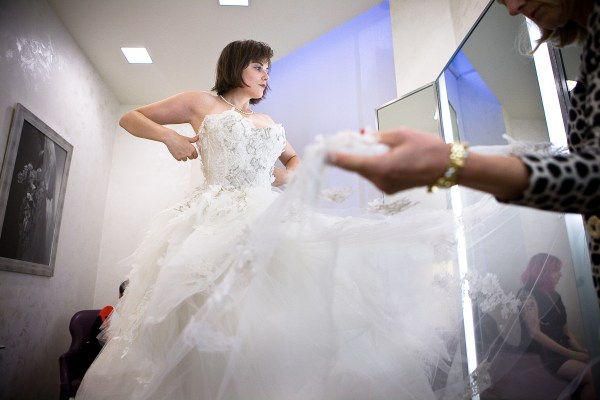 To be fair, my mother kept up a frankly admirable amount of energy all day, even when everyone else in our party was flagging. She refused to quit, despite deciding after the first dress—a short, cut-out minidress by  Elizabeth Fillmore—that we had found the one.  "She just came over with me today," Ms. Northop proudly confided in me. Who, Mrs. Fillmore?
"No, Ingrid!" Ms. Northop smiled, and I tentatively smiled back, despite not knowing who this Ingrid lady was. Then there was a stunning V-neck with flowers draped along the sides that was just a little too heavy for me.
"Annabelle," Ms. Northrop said.
Ah, those would be the names of the dresses. Wedding gowns had human people names. That was… cool? Creepy? I couldn't decide, especially given that I would find that Ms. Northrop referred to all the dresses in female pronouns and later confided to me that the dresses talked to her at night.
"Oh?" I said, quickly shedding my new anthropomorphic friend and patting her down, the way one might pet a strange, exotic pet, like a snake. "She seems… very nice. Just not for me."
To be fair, Ms. Northrop did have an uncanny ability to find dresses that looked perfect the moment I tried them on. I would look back later in the day and wonder how, with just a few introductory emails, she had figured out that I was the type of woman who would consider the most non-traditional styles (read, super short) with the greatest amount of interest, and yet still managed to sneak one princess-style dress into the lineup, which I instantly fell in love with. And about twenty others.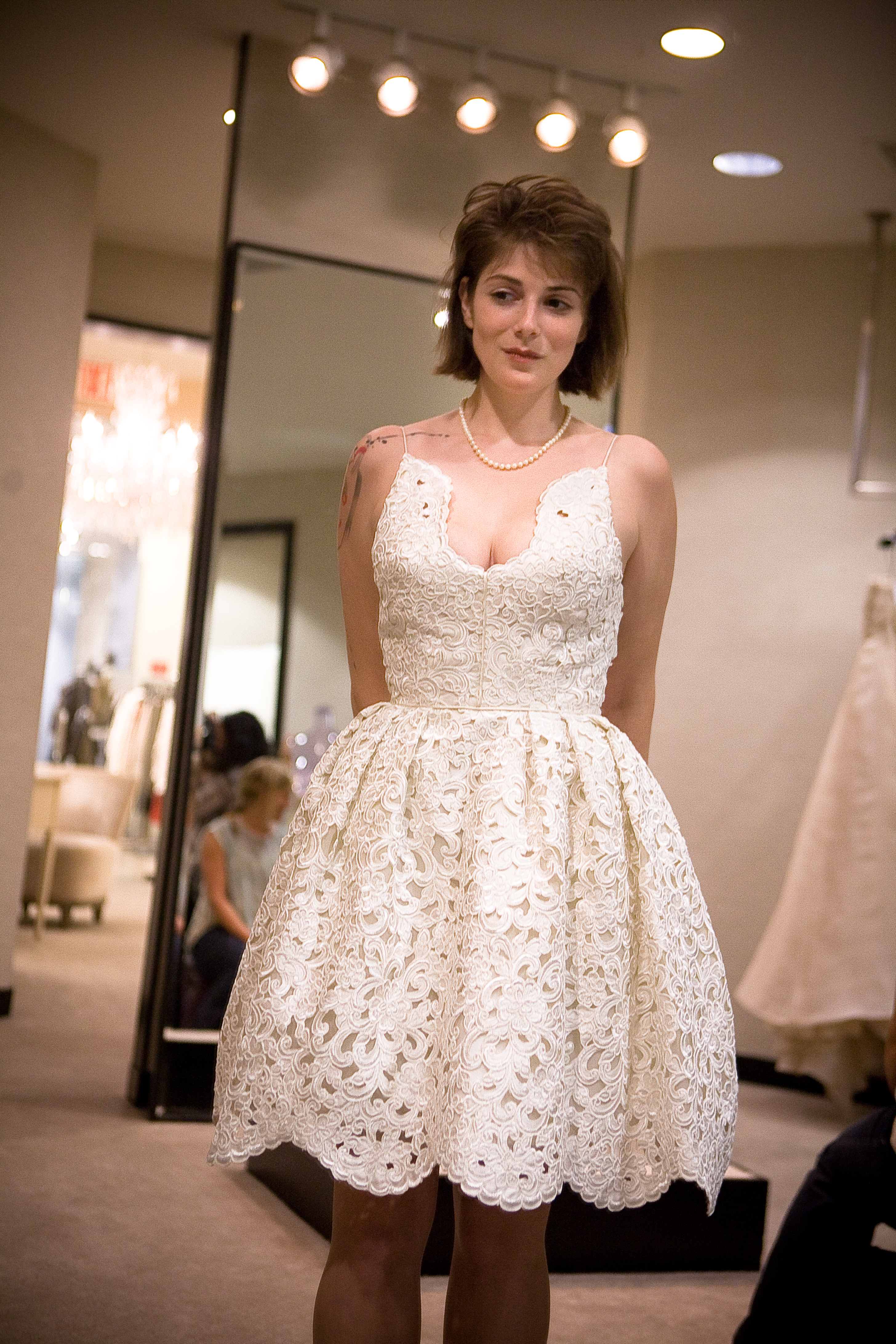 "Who cares what society thinks?" I imagined Ingrid whispering to me as we shared a bathroom stall together, smoking pot. "Do you, girl."
"Oh my God, has anyone ever told you that you look just like Grace Kelly?"  a dress named Crème Brûlée asked. "Because you totally do."
"You should wear strapless more often, it really accentuates your great breasts," she–it…it!– added.
They both made compelling arguments. "Ladies, please!" I thought desperately, as my mother started wondering out loud whether I should actually have two wedding dresses. We were only an hour into the whole experience.
If this was a romantic comedy or Mean Girls, the answer would be obvious: I'd go with Ingrid. If I followed Ms. Northrop's advice to dress in a way that I'd feel good about when looking back at the wedding pictures for the rest of my life, I'd probably go for the more adult Crème Brûlée.
In the end, I had only tried on about eight wedding dresses in an hour and a half, but already I was being frantically pulled in two directions by the compelling voices made out of gauze and Chantilly lace. But could there be another, even better option?