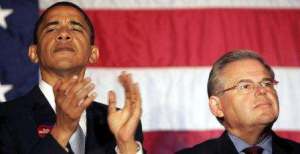 WASHINGTON, D.C. – U.S. Sen. Bob Menendez (D-NJ) said the Congress could have a use of force resolution and be in a position for a markup as early as tomorrow.
Chair of the Senate Foreign Relations Committee, Menendez said he is working to come to an agreed-upon text to meet the goals of a focused air strike on Syria sought by the Obama Administration.
"We would tailor it so this is not an open-ended engagement and specifically no boots on the ground," said Menendez in response to a question by U.S. Sen. John Barrasso (R-WY).
"It is our aspiration to get there by the end of the day (for) a markup tomorrow," Menendez, who added that language sent to Congress by the administration would represent a starting point but "not" the congressional resolution.