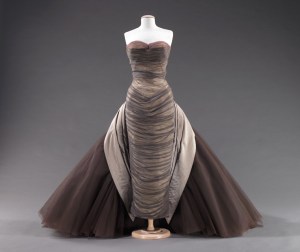 The Metropolitan Museum of Art will inaugurate its renovated Costume Institute in May with the show "Charles James: Beyond Fashion." The exhibition will feature 100 designs by James, covering the full span of his career, from 1929 to his death in 1978.
In a statement, Thomas P. Campbell, the director and CEO of the Met, said, "Charles James considered himself an artist, and approached fashion with a sculptor's eye and a scientist's logic…As such, the museum, and in particular, the new Lizzie and Jonathan Tisch Gallery in the Costume Institute, offer the ideal setting in which to contextualize the complexity of James's work."
This follows the Costume Institute's highly popular–and maybe just a little controversial–reclaiming of punk as "couture" in its most recent exhibition. James, who has a reputation as America's first couturier but is not widely known outside of fashion circles, is something of a more traditional subject. Word on the street is that punk is dead anyway.