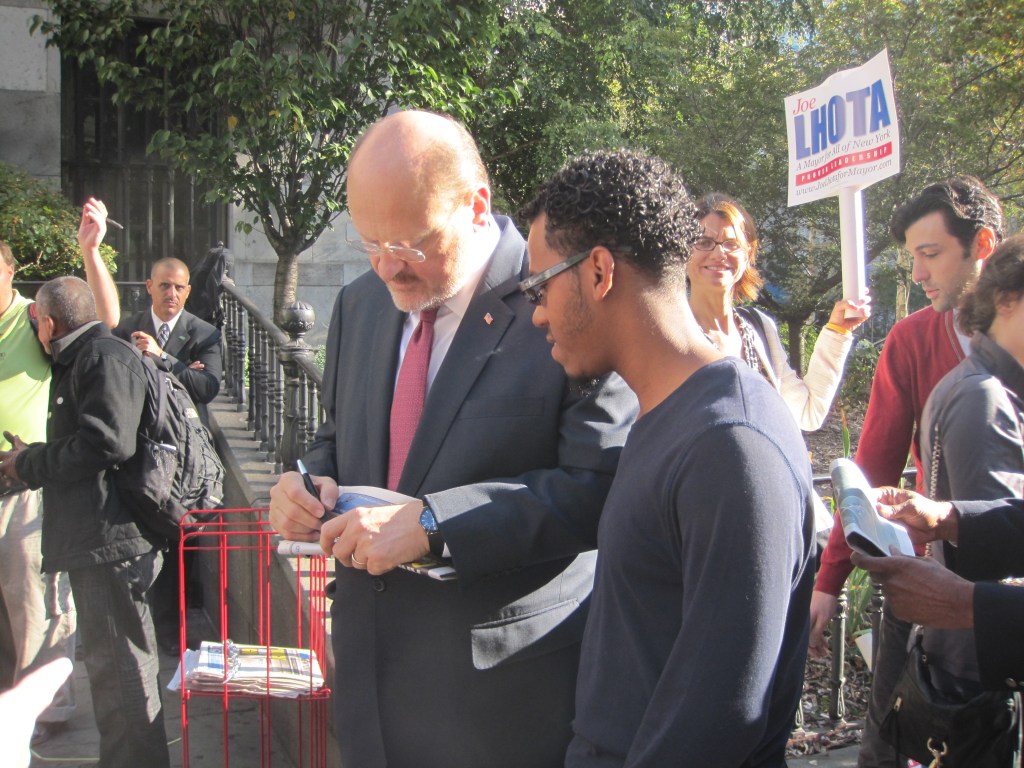 The United Federation of Teachers is screening its calls.
Republican mayoral hopeful Joe Lhota says the president of the powerful teachers' union, Michael Mulgrew, has refused to take his phone calls, despite repeated attempts to connect.
"Why don't you ask Michael Mulgrew why he doesn't answer any of the phone calls I've left for him?" Mr. Lhota asked Politicker after being questioned on his outreach efforts, during a scrum this morning outside of Brooklyn's Borough Hall.
The union voted yesterday to endorse Mr. Lhota's Democratic rival, Bill de Blasio after previously backing Bill Thompson in the primary. ("I'm shocked! So surprised!" Mr. Lhota quipped of the decision.) After the vote, Mr. Mulgrew–who  has an infamously acrimonious relationship with the current mayor–told reporters that he hadn't sat down with Mr. Lhota and didn't think a meeting would be helpful.
"He has reached out to me," Mr. Mulgrew acknowledged. "But look, I've heard his positions on education and on the union which I am fortunate enough to be president for and I don't think a meeting would be very fruitful."
Mr. Lhota has repeatedly stressed his desire to sit down with different groups across the city, even meeting with Rev. Al Sharpton on Tuesday night. "I want to be the mayor of all New Yorkers and in the process of doing that I need to talk to all New Yorkers. I need to listen to them," he said after the meeting that night.
Mr. Lhota noted Thursday that he had also quietly sat down with numerous union leaders, as well as a coalition of Brooklyn African-American ministers during the primary. "Most of those meetings they've asked to be private. Why? I don't know. From this point forward, I'll ask them to go public with it," he said. "God forbid you don't want to violate your trust that you have with a minister," he joked.
And the open-minded attitude seemed to be bearing some fruit, at least among those Mr. Lhota greeted this morning outside the Brooklyn subway stop–located in a neighborhood that is generally seen as overwhelmingly Democratic.
"I'm open to listen to any candidate," said James McDougal, who runs the central Brooklyn chapter of Mr. Sharpton's National Action Network and coincidentally happened to be passing through the station. While Mr. McDougal is a registered Democrat, he said he would consider Mr. Lhota as a result of this week's meeting.
"It opened up the door for everyone," he said.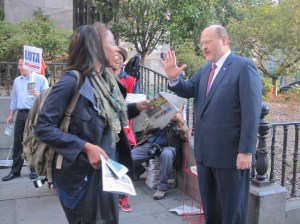 The sentiment was common among voters who greeted Mr. Lhota as he tried–with mixed results–to  introduce himself to rushed commuters with an outstretched hand, with the help of several placard-holding volunteers.
"I think he's a cool guy," said Hairo Gomez, 24, who lives in the neighborhood and stopped by to ask for an autograph. While Mr. Gomez said he was leaning toward Mr. de Blasio, he was open to Mr. Lhota too. "I usually vote Democratic, but I like to look at both parties," he said.
It was the same for Dalphee Champagne, a student at Kingsborough Community College, who stopped to ask Mr. Lhota about education issues and jobs. The registered Democrat said that Mr. Lhota had "definitely" won her over.
"It don't matter as long as they stand up to make the United States a better place," she said.
But at least one loyal backer, Jean Borruso, 63, worried that Mr. Lhota wasn't doing enough to make his case as he trails badly in the polls. The Staten Island Republican said she loves Mr. Lhota, but urged him to do a better job sharing his specific vision for the city.
"On TV, he says we're gonna make the city safe, we're gonna make the schools better: How?" she asked with frustration.
Update (1:43 p.m.): Mr. Mulgrew has offered a back-handed olive branch to Mr. Lhota.
"Meeting with a candidate who has embraced the most destructive aspects of Bloomberg's education agenda is not high on my priority list. But if he would like to have a meeting, I'll find the time to do so," he said in a statement to Politicker.