The US Open has been under way since last week, but the competition will really heat up over the next few days, culminating in the men's and women's finals over the weekend and into Monday. The Grand Slam tournament has been held in the Billie Jean King National Tennis Center in Queens since 1978, making the competition synonymous with New York City. To that end, we thought we'd re-imagine the later stages of the US Open with some of the Observer's most frequently featured icons and bigwigs going head to head on the tennis court. We're almost as excited to see how this competition plays out as we are for the real thing. Let the games begin, and vote for your favorites now!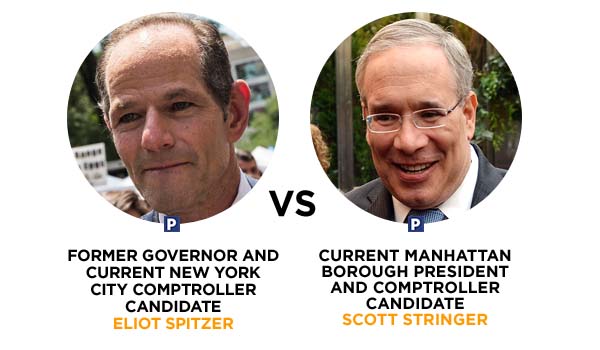 In this year's anything-can-happen, madcap election season, would it really be so surprising to have two rival candidates decide to settle things on the tennis court? While Spitzer has had a whiff of scandal following him throughout his campaign, he may have the upper hand here — after all, he once told The New York Post that he'd be spending some of his newfound free time following the cancellation of Parker/Spitzer "playing some tennis at Cliff Drysdale's tennis camp in Vermont." If Scott Stringer has a similar tennis obsession he's kept it to himself, but his last name is synonymous with the experts who keep tennis racquets in top shape. It's anyone's game.
While Andy Murray, Roger Federer and Novak Djokovic may face one another in the actual US Open, all three were profiled in late August, making us wonder what might happen if their three stories went head to head. Picture it: Novak Djokovic and Andy Murray's underdog narratives facing off with Federer's old pro confidence, Murray and Federer settling the score after a heated matchup that had Murray walking away with the win in five sets, Djokovic and Murray meeting for a rematch following Murray's Wimbledon win, or Djokovic and Federer — one ascendant, one perhaps in decline — teaming up against the US Open defending champion? The possibilities are endless.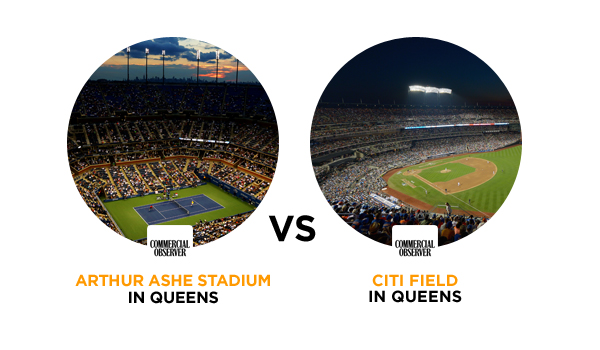 At first it seems like a no-brainer. Arthur Ashe stadium is already part of the USTA Billie Jean King National Tennis Center, where the US Open is held each year, while Mets stadium Citi Field is, while still in Queens, merely adjacent to the tennis center. But what if the two were swapped? Imagine the US Open at Citi Field, with nearly double the capacity of Arthur Ashe. Think of it as "recreational cross-pollination."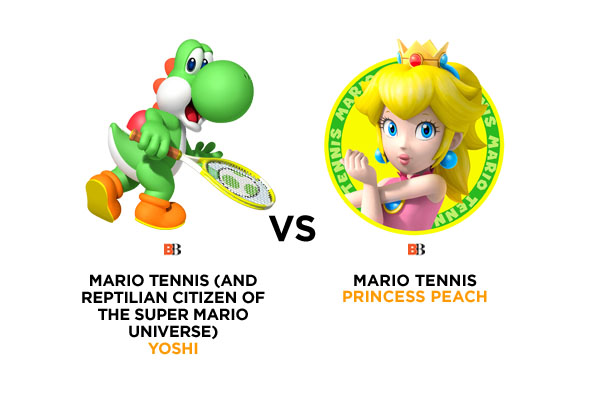 Yoshi is as close to a professional tennis player as a dinosaur can get. Meanwhile, Princess Peach gets rescued by Mario for a living. We'd be prepared to call this one for Yoshi, but in recent years Peach has been given the opportunity to shed her poofy ball gown for proper athletic attire, allowing her to be far more nimble and active. Peach is leaning in! Yoshi should watch his back.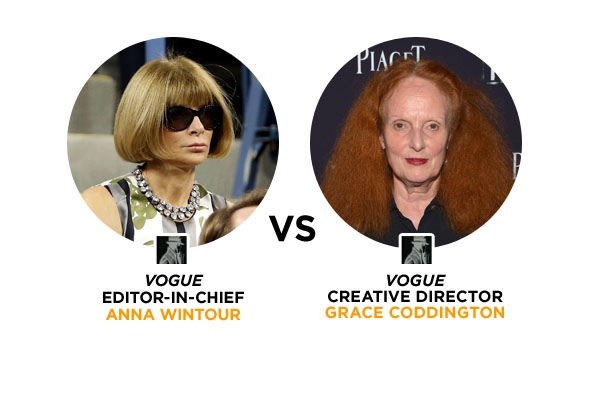 It's only natural that Anna Wintour would love tennis — she's English, it's a ritzy sport, and like many of us, she has a fondness for Roger Federer. Moreover, contrary to any tempting jokes about the fashion editor's reluctance to sweat, Wintour also plays in her spare time. So what might a matchup between the Vogue EIC and her right hand woman Grace Coddington look like? Though Coddington dwarfs Wintour physically and might well be stronger, she might still find it hard to match Wintour's skill — after all, we have to assume that the fashion editrix has quite the backhand.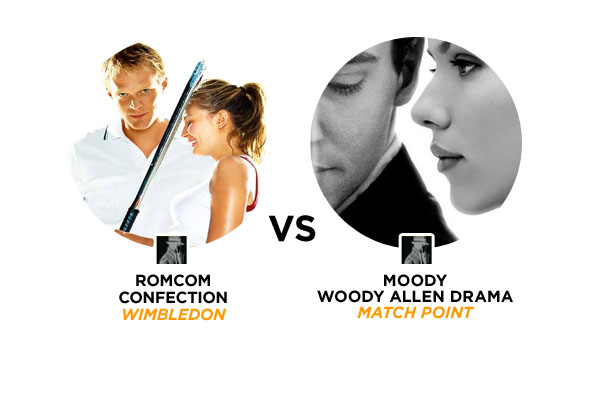 Wimbledon and Match Point are two of the most notable (…or only?) films about tennis to come out in the new millenium, and they couldn't be more different. While Wimbledon is a romantic romp starring Paul Bettany and Kirsten Dunst, about an underdog with a shot at the championship (shades of Andy Murray!), Match Point is a gloomy Woody-Allen directed meditation on infidelity. While we suspect our critic in residence Rex Reed might write off both films as misses, we're curious to find out how they fare against one another.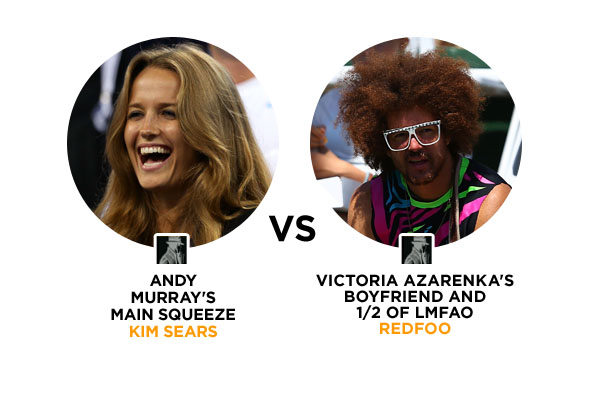 Professional tennis is partly about watching the matches and partly about watching the crowd (at least, it is for us). While Sears has been elevated to something of a style icon in the UK following Murray's Wimbledon victory and subsequent raised profile, with a Kate Middleton-esque ability to make dresses she wears fly off the shelves, Redfoo has mixed his girlfriend's on-court grunting into new single called "Heart of a Champion." Which courtside antics reign supreme?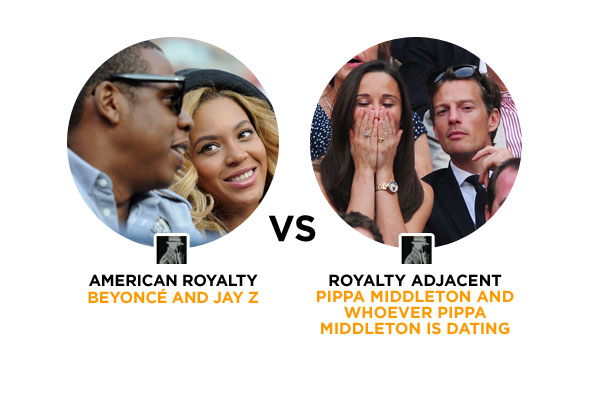 We can't help it — we love knowing which celebrities are into tennis. The US Open is a natural fit for Jay Z and Beyoncé, as it's adjacent to Jay's hometown and a stone's throw away from the Carters' residence in TriBeCa. How would the first couple of pop culture stack up against Duchess Kate's sister (and courtside fixture at Wimbledon) Pippa? It's like the Revolutionary War all over again! We'll be curious to see if rumors of Pippa's engagement can propel her to victory.
Images by Getty.