You can also view this email on a web page.

Morning News Digest: Setp. 17, 2013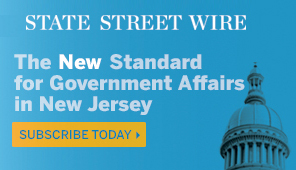 Christie apparently not a conservative's conservative
Townhall.com has released its list of the 25 most influential people on the right and while the list is a who's who of conservative power, there is one name that is notably absent.
Gov. Chris Christie was not included on the list of 25 published by the influential conservative news outlet, nor was he given even runner-up status. (Isherwood/PolitickerNJ)
http://www.politickernj.com/68277/christie-apparently-not-conservatives-conservative
Feds use text message evidence to show time link between Mayor Roque and his son
NEWARK – The prosecution in federal court this afternoon showed a direct communication link between West New York Mayor Felix Roque and his son, Joseph.
Roque stands accused of computer hacking, and his son is also on trial for the same federal offense. (Pizarro/PolitickerNJ)
http://www.politickernj.com/68279/feds-use-text-message-evidence-show-time-link-between-mayor-roque-and-his-son
Jersey City tax abatements audit yields millions in uncollected taxes
Jersey City's new mayor says the city recovered millions of dollars in years of uncollected taxes from a Jersey City developer.
Mayor Steve Fulop announced Monday recovering $2.3 million from a developer who failed to make payments to the city as part of a tax abatement agreement. According to Fulop, EQR Lincoln Urban Renewal Entity did not voluntarily turn over excess profits to the city that it agreed to in a July 2000 contract. (PolitickerNJ)
http://www.politickernj.com/68276/jersey-city-tax-abatements-audit-yields-millions-uncollected-taxes
Buono joined by Latino leaders in Paterson
PATERSON – Democratic challenger Barbara Buono turned to Latino leaders today to help her make the case that incumbent Republican Gov. Chris Christie cares for the rich and powerful and not the working class needs of a key voting minority group.
"The governor is trying to make it about his appearance," said Buono, reflecting on the race, a reference to Christie's complaint earlier this month about Buono alluding to him "frolicking" on the beach. "No one is talking about his appearance except him." (Pizarro/PolitickerNJ)
http://www.politickernj.com/68274/buono-joined-latino-leaders-paterson
Moran on Christie: "Poor Baby"
Star Ledger Editorial Page Editor Tom Moran, who once famously sparred with the governor over Moran's alleged thin skin, today had some harsh words for his foil over the governor's failure to appear before the Ledger's editorial board.
"The irony is thick. I've never known anyone on God's earth who takes greater offense at honest criticism than him. He hasn't come in for an editorial board in three years becuase I criticized him. Wah, wah. Poor baby," Moran said during a web chat with readers hosted by NJ.com. (Isherwood/PolitickerNJ)
http://www.politickernj.com/68270/moran-christie-poor-baby
Once again, Christie thrives amid crisis as Seaside fire reminiscent of Sandy
Just call him the master of disaster.
Nearly a year ago, Gov. Chris Christie was thrust into the national spotlight for his take-charge and emotional response to Hurricane Sandy, winning him fans at home and across the country. (Portnoy/Star-Ledger)
http://www.nj.com/politics/index.ssf/2013/09/christie_sandy_response.html#incart_river
Buono takes gubernatorial campaign to Latinos
PATERSON, N.J. (AP) – A half-dozen Latino elected officials stood Monday with Sen. Barbara Buono, the Democrat challenging Gov. Chris Christie, saying she should be the state's next governor.
The leaders, who included a mayor whose city is 72 percent Latino and five Hispanics in the state Legislature, said Christie's economic and education policies have failed to improve the lives of the people they represent. (Delli Sani/AP)
http://m.apnews.com/ap/db_268748/contentdetail.htm?contentguid=DkRLkYPf
Christie promotes his economic record, and Buono challenges it
As Governor Christie promoted his work on New Jersey's economy Monday, his Democratic challenger, Barbara Buono, made a pitch for votes from the state's more than 1 million Latinos.
With less than 50 days before the Nov. 5 election, both candidates held public events that were only about 20 miles apart. (Reitmeyer & Linhorst/The Record)
http://www.northjersey.com/news/politics/Christie_promotes_his_economic_record_and_Buono_challenges_it.html
Christie: Creating jobs in N.J. isn't 'like splitting the atom'
Making New Jersey a business-friendly place and attracting new jobs to the state is not a complicated matter, Gov. Chris Christie said this morning.
"If it was, I couldn't do it," Christie said at an event at Zoetis, an animal healthcare company that established its headquarters here in June. "It's got to be simple, and it's got to be straightforward. I don't think it's like splitting the atom." (Hutchins/Star-Ledger)
http://www.nj.com/politics/index.ssf/2013/09/christie_creating_jobs_in_nj_isnt_like_splitting_the_atom.html#incart_river
Menendez says U.N. report will 'strengthen' hand against Syria
U.S. Sen. Robert Menendez said he hopes a United Nations report today confirming that banned sarin nerve gas was used in an attack that killed hundreds of civilians in Syria last month will help strengthen an effort to remove chemical weapons from the Middle Eastern country.
But the New Jersey Democrat — chairman of the Senate Foreign Relations Committee — stressed that the threat of the U.S. launching a military strike "must stay on the table" in case a diplomatic deal for Syria to surrender its chemical weapons falls through. (Johnson/Star-Ledger)
http://www.nj.com/politics/index.ssf/2013/09/robert_menendez_syria_un_report.html#incart_river
N.J. can continue to use electronic voting machines, court rules
A New Jersey appeals court has upheld the use of electronic voting machines but ordered more tests for accuracy.
Today's ruling is the latest in a legal battle dating back to 2004 when state Assemblyman Reed Gusciora and others sued over the state's use of the machines, claiming they were unreliable because they didn't produce a paper backup and were susceptible to hacking. (AP)
http://www.nj.com/politics/index.ssf/2013/09/nj_can_continue_to_use_voting_machines_court_rules.html#incart_river
Christie report card, part 2: Above average in education, after battles, stumbles
For many, views of Gov. Chris Christie's handling of education were cemented in 2010 — the height of his feud with the New Jersey Education Association, either a badge of honor or sign of disrespect for teachers, depending on one's point of view.
But for enough people in the middle, the other big education news from three years ago — reductions in the flow of aid from Trenton to local schools — seems to be a more distant memory. The result, says pollster Patrick Murray, is that Christie averages a B- for efforts to improve schools, his third highest among seven grades in the new Monmouth University/Asbury Park Press poll. (Symons/Gannett)
http://www.app.com/article/20130916/NJNEWS/309160008/Christie-report-card-part-2-Above-average-education-after-battles-stumbles
Poll: 10% of Democrats for Joe Biden 2016

Hillary Clinton is crushing Vice President Joe Biden among likely Democratic and independent voters, a new 2016 presidential poll Monday showed.
In the new CNN/ORC poll, 65 percent of Democrats and Democratic-leaning independents said they would likely back Clinton as their presidential nominee if she decides to run. Biden, who has been stirring presidential speculation with a trip to Iowa this past weekend, falls far behind, with only 10 percent saying they would back his bid. Rounding out the Democratic field is Sen. Elizabeth Warren of Massachusetts with 7 percent, New York Gov. Andrew Cuomo with 6 percent and Maryland Gov. Martin O'Malley with 2 percent. (POLITICO)
http://www.politico.com/story/2013/09/joe-biden-2016-election-poll-96844.html
Christie is a key figure in legislative campaigns
TRENTON – All 120 state legislative seats are up for election in November, but the outcome may owe much to one person: Gov. Christie.
Republicans, trying to make inroads in the Democratic-controlled Legislature, will align themselves as closely as possible with the popular governor and hope they can ride his coattails to victory, political strategists and observers say. (Hanna/Inquirer)
http://www.philly.com/philly/news/politics/nj/20130916_Christie_is_a_key_figure_in_legislative_campaigns.html
Gloucester County GOP seeks legislative gains
GLOUCESTER COUNTY Three years after making historic inroads on the freeholder board, Gloucester County Republicans now hope a potential landslide by Gov. Christie in November could propel the local party to another milestone: an Assembly seat in the Third Legislative District.
A Republican has not represented the district in a decade. But political observers and county Republicans say the GOP may be able to knock off at least one Democrat in the three legislative races. (Seidman/Inquirer)
http://www.philly.com/philly/news/new_jersey/20130916_Gloucester_County_GOP_seeks_legislative_gains.html
With New End-of-Life form, Catholic Healthcare Seeks to Strike Balance
A new form intended to guide end-of-life healthcare decisions is forcing Catholic hospitals and nursing homes to take a position on a contentious ethical issue, but New Jersey church leaders appear to be having an easier time supporting the form than those in other states, where Catholic bishops and ethicists are battling it.
For example, St. Joseph's Regional Medical Center in Paterson is encouraging patients who may be in the last year of their lives to talk with their families and doctors about the Practitioner Orders for Life-Sustaining Treatment (POLST) form. (Kitchenman/NJSpotlight)
http://www.njspotlight.com/stories/13/09/15/with-new-end-of-life-form-catholic-heathcare-seeks-to-strike-balance/
State Agency Slowly Zeroes in on Number of Solar Farms Allowed on Farmland
The state is inching closer to deciding how many solar grid-supply projects will be built on New Jersey's remaining agricultural land.
It is a contentious issue arising out of a bill approved more than a year ago to stabilize the state's solar sector, with the New Jersey Board of Public Utilities looking to determine which of 20 grid-supply projects proposed on farmlands will move forward. The agency deferred action on the projects last spring. (Johnson/NJSpotlight)
http://www.njspotlight.com/stories/13/09/15/state-agency-slowly-zeroes-in-on-number-of-solar-farms-allowed-on-farmland/
From the Back Room
Eli Manning to headline Zimmer fundraiser
New York Giants quaterback Eli Manning – for Jets fans, he's the one with two Super Bowl rings – is set to headline a fundraiser for Hoboken Mayor Dawn Zimmer later this month.
Manning and wife Abby will appear with Zimmer Sept. 30 at the Madison bar and grill in the Mile Square City to watch the Miami Dolphins take on Manning's father Archie's former team, the New Orleans Saints. (Isherwood/PolitickerNJ)
http://www.politickernj.com/back_room/eli-manning-headline-zimmer-fundraiser
Buono campaign releases another web ad
The same day the Christie campaign announced the release of its second television ad, Democratic gubernatorial hopeful Barbara Buono's camp released another web video attacking the incumbent governor's record.
Buono's campaign posted an ad Monday, entitled "Seeing," questions supposed achievements that the Republican governor boasted in his first televised ad. The Internet video aims to "set the record straight" on Christie's TV spots by highlighting the states less-than-stellar rate of economic growth, according to the Democratic hopeful's campaign. (PolitickerNJ)
http://www.politickernj.com/back_room/buono-campaign-releases-another-web-ad
Christie up with negative spot
Gov. Chris Christie today is up with his first negative ad of the general election, swatting at his opponent's record on taxes and spending.
The ad, entitled "Who?" attacks Buono on several fronts, including an allegation that she voted to raise her own pay, while at the same time raising taxes. (Isherwood/PolitickerNJ)
http://www.politickernj.com/back_room/christie-negative-spot
Opinion
Doblin: The gospel according to Vladimir Pootie-Puke
IF BENITO Mussolini had put on a cardigan, he still wouldn't have been Mr. Rogers. Vladimir Putin can invoke the words of God and he still isn't Mother Teresa.
On Thursday, Putin had an Op-Ed article published in The New York Times. The Russian president patronized, chastised and lambasted the United States and President Obama. New Jersey Democratic U.S. Sen. Bob Menendez, who also is chairman of the Senate Foreign Relations Committee, said he wanted to vomit after reading the article. I agree. (Doblin/The Record)
http://www.northjersey.com/news/opinions/223864181_Doblin__The_gospel_according_to_Vladimir_Pootie-Puke.html
If you believe this has been sent to you in error, please safely unsubscribe.