Morning News Digest: Sept. 18, 2013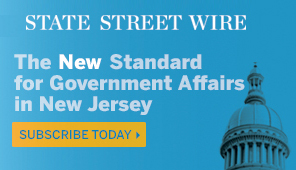 Not all N.J. governors took full pay
TRENTON – Gov. Chris Christie's re-election team took a swat at Sen. Barbara Buono over the airwaves this week on the state lawmaker's vote 13 years ago to give herself a pay raise.
The campaign's televised ad highlights a bill that was passed by the Legislature in 2000, of which Buono was a part, that raised lawmakers' salaries from $35,000 per year to $49,000 per year. However, that same bill also raised the governor's salary and helped pave the way for Christie to be among the top paid governors in the country. (Arco/PolitickerNJ)
http://www.politickernj.com/68304/not-all-nj-governors-took-full-pay
Lonegan's press conference at derelict ex-Booker property disrupted by protesters
NEWARK – Street operatives chanting "Cory, Cory, Cory," this afternoon stampeded a press conference by Republican U.S. Senate candidate Steve Lonegan outside the derelict former property owned by Newark Mayor Cory Booker on Court Street.
The Democratic nominee for U.S. Senate, Booker gave the property away for $1 but not before drawing the ire of neighbors who say the mayor left the place abandoned and gave the local example of a poor steward. (Pizarro/PolitickerNJ)
http://www.politickernj.com/68300/lonegans-press-conference-derelict-ex-booker-property-disrupted-protesters
Former Codey aide supporting Holtzman in LD27
A former aide and business partner of state Sen. Dick Codey is throwing his support behind Codey's Republican challenger and hosting a meet and greet for the candidate Friday.
Sean McGovern, who worked for Codey from 2003 to 2008 and was business partners with the Democratic state senator in a Newark restaurant, is supporting Republican Lee Holtzman in his bid to unseat Codey. (Isherwood/PolitickerNJ)
http://www.politickernj.com/68298/former-codey-aide-supporting-holtzman-ld27
In Newark, Buono rallies progressive organizations
NEWARK – A progressive umbrella organization this afternoon endorsed state Sen. Barbara Buono (D-18) for governor, by its very presence somewhat underscoring the absence of Democratic Party machine politicians from Newark and the environs who haven't enthusiastically saddled up with the Buono campaign.
An undeterred Phyllis Salowe-Kaye, executive director of New Jersey Citizen Action, said her affiliates will be out pounding on doors and making phone calls for Buono. (Pizarro/PolitickerNJ)
http://www.politickernj.com/68297/newark-buono-rallies-progressive-organizations
Lesniak: Christie veto of pig confinement bill was a nod toward Iowa

TRENTON – The primary sponsor of a vetoed bill that would have banned confinement of gestating pigs in crates accused the governor of playing to the voters in Iowa.
Sen. Ray Lesniak, (D-20), Union, whose legislation drew an absolute veto in June, said today that Gov. Chris Christie rejected a bill that had large bipartisan support for one reason: The National Pork Board is headquartered in Iowa, where the first GOP presidential caucus will be held. (Mooney/PolitickerNJ)
http://www.politickernj.com/68294/lesniak-christie-veto-pig-confinement-bill-was-nod-toward-iowa
Economy a focus in Christie, Buono race
Panasonic has a new headquarters in downtown Newark and Governor Christie was there for a ribbon-cutting event Tuesday to promote the roughly 1,000 jobs that he says are staying in New
Yet that new building didn't come without controversy. New Jersey taxpayers offered up $100 million in tax credits to facilitate Panasonic's 10-mile move from Secaucus to Newark, and now a 673,000-square-foot warehouse and other buildings in Secaucus remain vacant. (Hayes, Fallon & Reitmeyer/The Record)
http://www.northjersey.com/news/Christie_cites_partnership_in_tour_of_new_Panasonic_headquarters_in_Newark.html
Lonegan stop at Booker-owned house in Newark met by shouting protesters
It could have been a scene straight out of "Street Fight," the Oscar-nominated documentary about a nasty political campaign that helped make Cory Booker a star.
Republican U.S. Senate candidate Steve Lonegan went to Newark on Tuesday looking to attack Booker following a report in The Record on Sunday that the Democrat once owned a vacant row house that neighbors said was home to squatters. (Linhorst/The Record)
http://www.northjersey.com/news/Lonegan_stop_at_Booker-owned_house_in_Newark_met_by_shouting_protesters.html
Christie says N.J. will appeal sports betting case to U.S. Supreme Court
Gov. Chris Christie vowed today to take the New Jersey's case to legalize sports betting all the way to the U.S. Supreme Court after a three-member appellate panel dealt a setback to the state.
The federal appeals court in Philadelphia handed down a 2-1 ruling today that New Jersey could not implement sports betting because the state's new law conflicts with a federal statute that bans it in all but four states: Nevada, Delaware, Montana and Oregon. (Friedman/Star-Ledger)
http://www.nj.com/politics/index.ssf/2013/09/christie_says_nj_will_appeal_sports_betting_case_to_us_supreme_court.html#incart_river
Buono and Christie hit the streets and a picnic in N.J. governor's race
Barbara Buono worked the tables one by one.
"I'm Sen. Barbara Buono and I'm running for governor," she said today as thousands of senior citizens ripped into their pre-wrapped lunches. "Nice to meet you folks." (Friedman/Star-Ledger)
http://www.nj.com/politics/index.ssf/2013/09/buono_and_christie_his_the_streets_and_a_picnic_in_nj_governors_race.html#incart_river
Broken foot at Seether concert not enough for injury lawsuit, N.J. court rules
A state appeals court has thrown out a lawsuit from a man who broke his foot and tore a knee ligament at a rock show, saying even though he was hurt, the concert by the band Seether wasn't rowdy enough to make the venue liable for damages.
In 2009, Mark D'Alessio and a nephew of his went to see Seether, a chart-topping South African band influenced by grunge rockers Nirvana and Nine Inch Nails, at the Starland Ballroom in Sayreville. (Rizzo/Star-Ledger)
http://www.nj.com/politics/index.ssf/2013/09/broken_foot_at_seether_concert_not_enough_for_injury_lawsuit_nj_court_rules.html#incart_river
Citizen Action coalition endorses Barbara Buono
New Jersey Citizen Action, a coalition of progressive groups, endorsed Democratic gubernatorial candidate state Sen. Barbara Buono today, promising to deploy ground troops in Buono's underdog run against Gov. Chris Christie.
"Gov. Christie is holding New Jersey working families back," said Citizen Action executive director Phyllis Salowe-Kaye. "New Jersey needs a leader who will put New Jersey's working families first. Sen. Buono is that leader. (Giambusso/Star-Ledger)
http://www.nj.com/essex/index.ssf/2013/09/citizen_action_coalition_endorses_barbara_buono.html#incart_river
Ethics panel to investigate Assemblyman Nelson Albano over N.J. State Police traffic stop
The state Legislature's ethics panel today voted to investigate Assemblyman Nelson Albano's complaint against a State Police trooper who pulled him over for speeding early last year.
The Joint Legislative Committee on Ethical Standards, by a 8-0 unanimous vote, accepted jurisdiction over the complaint filed by Edward Beck of Dennis Township and directed its attorneys to investigate the matter. (Baxter/Star-Ledger)
http://www.nj.com/politics/index.ssf/2013/09/ethics_panel_to_investigate_assemblyman_nelson_albano_over_nj_state_police_traffic_stop.html#incart_river
Brick mayor calls for end to council health benefits
Mayor Stephen Acropolis is putting pressure on the Democrat-controlled Township Council to eliminate its own health benefits, a move that could save taxpayers more than $200,000.
Acropolis, a Republican, is asking the council, which Democrats control by a 4 to 3 margin, to pass an ordinance ending the practice of council members receiving health benefits or payments for waiving their benefits. Elected officials can receive benefit packages that cost up to $27,388 for family coverage or $4,000 if they waive the benefits. (Huba/Gannett)
http://www.app.com/article/20130917/NJNEWS/309170103/Brick-mayor-calls-end-council-health-benefits
North Jersey Still Struggling to Recover from Hurricane Sandy
Most of the attention of the Sandy recovery efforts in New Jersey has been focused on hard-hit areas of the shore, but as state lawmakers heard last night, some northern parts of the state are also still suffering, and face unique challenges in preparing for future severe storms. (Gurian/NJSpotlight)
http://www.njspotlight.com/stories/13/09/17/north-jersey-still-suffering-from-impact-of-hurricane-sandy/
State Agency Holds Initial Public Hearing on $4 Billion PSE&G Rate Case
It is a staggering $4 billion rate case, but there just might be consensus on one issue: The state's utilities need to increase the amount they invest in their power grids to make them more resilient to extreme weather. (Johnson/NJSpotlight)
http://www.njspotlight.com/stories/13/09/17/state-agency-holds-initial-public-hearing-on-4-billion-pse-g-rate-case/
From the Back Room
Rahm Emanuel to campaign for Booker
Chicago Mayor Rahm Emanuel is headed to Jersey City Friday to campaign for Cory Booker. (Isherwood/PolitickerNJ)
http://www.politickernj.com/back_room/rahm-emanuel-campaign-booker
N.J. sports betting law flagged in court
New Jersey's attempt to permit sports betting suffered another setback in court.
Associated Press is reporting a three-judge panel of the Third Circuit Court of Appeals ruled that the state's betting legislation violates federal law.
http://www.politickernj.com/back_room/nj-sports-betting-law-flagged-court
Opinion
A little bit of hate for Chris Christie is good news
Chris Christie received some good news on Monday: Some people in New Jersey hate him.
They don't simply hate him in a sort of benign "turn off the television when he's on" way. They hate him enough to go to the polls and cast a vote for his opponent — just because he's Chris Christie. (Schoonejongen/Gannett)
http://www.app.com/article/20130917/NJCOLUMNIST25/309170094/A-little-bit-hate-Chris-Christie-good-news
Chris Christie raps Buono over pay hike, but who was really responsible?
Gov. Chris Christie, in his second television ad, knocks his Democratic opponent, state Sen. Barbara Buono, for a vote on a Republican-sponsored bill, passed by a Republican Legislature and signed by a Republican governor. (Schoonejongen/Gannett)
http://blogs.app.com/capitolquickies/2013/09/16/chris-christie-raps-buono-over-pay-hike-but-who-was-really-responsible/