Morning News Digest: Sept. 19, 2013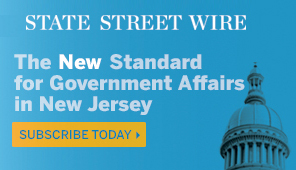 Rutgers-Eagleton poll: N.J. residents backed gun bills that drew vetoes

NEW BRUNSWICK – Regarding one of the more controversial issues of the day – gun control – a new poll shows that voters support three bills that recently were turned aside by the governor.
The bills would have required reporting of information on lost or stolen guns to federal databases, embedding of license information on drivers' licenses, and banned .50-caliber weapons. (PolitickerNJ)
http://www.politickernj.com/68341/rutgers-eagleton-poll-nj-residents-backed-gun-bills-drew-vetoes
Buono camp, Christie trade barbs over 2000 pay hike
TRENTON – When Gov. Chris Christie's re-election team criticized Sen. Barbara Buono on her vote 13 years ago to give herself a pay raise, they criticized legislation that simultaneously added increased pay for New Jersey's governor.
Christie's campaign recently took a swat at Buono over the airwaves on her vote on legislation in 2000 that raised lawmakers' salaries from $35,000 per year to $49,000 per year. However, that same bill also raised the governor's salary and helped pave the way for Christie to be among the top paid governors in the country. (Arco/PolitickerNJ)
http://www.politickernj.com/68339/buono-camp-christie-trade-barbs-over-2000-pay-hike
Greenwald says he plans to remain the majority leader, not speaker
TRENTON – Assembly Majority Leader Lou Greenwald issued a statement Wednesday indicating he won't seek the position of speaker of the Assembly.
"My top priority as Majority Leader and as a leader in the New Jersey Democratic party is maintaining and strengthening our Democratic majority in the Assembly," Greenwald said in a statement. (Arco/PolitickerNJ)
http://www.politickernj.com/68338/greenwald-says-he-plans-remain-majority-leader-not-speaker
Christie alongside Lonegan and Perry? If schedule permits
TRENTON – Gov. Chris Christie won't say for sure if he plans to share a stage with Steve Lonegan when Texas' governor comes to town to endorse the Republican U.S. Senate hopeful – but, maybe.
The governor told reporters Wednesday he just heard earlier today that Texas Gov. Rick Perry plans to travel to the Garden State to endorse Lonegan and that he's not sure if his schedule will allow the three men to stand together. (Arco/PolitickerNJ)
http://www.politickernj.com/68334/christie-alongside-lonegan-and-perry-if-schedule-permits
Christie: Debate date controversy 'silliness'
TRENTON – Gov. Chris Christie referred to the back and forth on a date for the gubernatorial debates as "silliness" Wednesday, suggesting his Democratic challenger simply "show up" when the Election Law Enforcement Commission sets a date.
The response comes after Christie was asked to comment on reports that his challenger, Sen. Barbara Buono, requested the second gubernatorial debate be switched to a different date. The debate is set for Oct. 15, a day before the U.S. Senate election. Buono's campaign argued the Oct. 16 special U.S. Senate race would affect viewership. (Arco/PolitickerNJ)
http://www.politickernj.com/68333/christie-debate-date-controversy-silliness
Buono unsucccessful at debate switch
Democratic gubernatorial nominee Barbara Buono has so far been unsuccessful in her attempt to move the second of two debates to Oct. 22.
In a release from the Election Law Enforcement Commission, the two debate dates have been listed as Oct. 8 and Oct. 15. (Isherwood/PolitickerNJ)
http://www.politickernj.com/68329/buono-unsucccessful-debate-switch
Sires chips in $12K toward the Fulop cause
It was a sign of the new era in Jersey City that U.S. Rep. Albio Sires (D-8) appeared last night with a special gift in hand for Mayor Steve Fulop.
$12,000, to be precise.
The two men were on opposite sides of the Jersey City mayoral contest, with Sires saddling up with the now deposed Jerry Healy. (Pizarro/PolitickerNJ)
http://www.politickernj.com/68320/sires-chips-12k-toward-fulop-cause
Lonegan stays in Booker's face over connection to ex-law firm
WEST ORANGE – Steve Lonegan maintained an aggressive posture as he continued to attack Newark Mayor Cory Booker today, this time focusing on Booker's professional relationship with a power law firm.
"A number of issues arise to the term of sketchy," said Lonegan, the Republican nominee for U.S. Senate. "Did he receive a payout or a payoff?" (Pizarro/PolitickerNJ)
http://www.politickernj.com/68319/lonegan-stays-bookers-face-over-connection-ex-law-firm
Christie defends Sandy aid for boardwalk fire
Governor Christie said businesses damaged by last week's devastating boardwalk fire can tap into $15 million in aid initially set aside for Sandy relief because fire investigators have identified the surging waters and sand from last year's storm as a contributing factor in the fire.
Several members of Congress raised concerns about the $60 billion federal Sandy relief legislation when it was passed earlier this year, saying the size of the aid package would likely mean at least some funds would go to projects that weren't truly connected to the Oct. 29 storm and its victims. (Reitmeyer/The Record)
http://www.northjersey.com/news/Christie_defends_Sandy_aid_for_boardwalk_fire.html
Obama official questioned on release of Sandy funds
Senators berated the head of the Federal Emergency Management Agency on Wednesday over increases in flood insurance rates that they said are starting to roil real estate markets in coastal states nationwide and making the recovery from Superstorm Sandy more difficult.
But FEMA Administrator Craig Fugate said he was only doing what Congress directed him to do under a law that passed overwhelmingly last year requiring the cost of insurance to more accurately reflect the risk properties face. (Jackson/The Record)
http://www.northjersey.com/news/politics/Obama_official_questioned_on_release_of_Sandy_funds.html
Menendez, Andrews on watchdog's 'most corrupt' list
Sen. Bob Menendez and Rep. Rob Andrews, both New Jersey Democrats, made a list of 13 "most corrupt" members of Congress released Wednesday by Citizens for Responsibility and Ethics, a watchdog group.

Menendez is cited for accepting free flights on a private jet and "intervening with federal officials to help" his close friend and biggest campaign contributor, Florida ophthalmologist Salomon Melgen. (Jackson/The Record)
http://www.northjersey.com/news/Two_from_NJ_on_watchdogs_most_corrupt_list.html
Christie signs bill revamping business tax breaks
Businesses and developers who create and retain jobs can take advantage of millions of dollars in tax breaks through two streamlined state incentive programs, under a bill Governor Christie signed into law Wednesday.
Democratic and Republican leaders joined Christie for the bill signing in his outer office, but one of the measure's biggest champions was noticeably absent. Former Assemblyman Albert Coutinho, D-Essex, resigned just days after the Assembly approved changes Christie had recommended. Coutinho pleaded guilty last week to stealing funds from his family's charitable foundation and filing falsified legislative financial disclosure forms. (Hayes/The Record)
http://www.northjersey.com/news/state/Christie_signs_bill_revamping_biz_tax_breaks.html
N.J. health officials 'dragging their feet' on medical marijuana, lawyers argue in court
A state appellate judge raised sharp questions Wednesday while hearing allegations that the Christie administration has been sabotaging New Jersey's medical-marijuana program with delays and missed reports.
Superior Court Judge Marie Lihotz, presiding over a three-judge panel in Mount Holly, said the lawsuit presented "an interesting, novel issue," but rejected an allegation that state officials were dragging their feet intentionally as "innuendo" and said the court may not be able to consider those claims. (Rizzo/Star-Ledger)
http://www.nj.com/politics/index.ssf/2013/09/nj_health_officials_dragging_their_feet_on_medical_marijuana_lawyers_argue_in_court.html#incart_river
Sweeney says 'centerpiece' gun control bill is dead after conditional veto
State Senate President Stephen Sweeney said today that his bill to overhaul the way New Jersey issues firearms ID cards, which he considered the centerpiece of a gun control package, is effectively dead after Gov. Chris Christie last month gutted it and sent it back to the Legislature.
"I really thought it was a good bill," Sweeney (D-Gloucester) said. "The bill the way it was written had value. The (conditional veto) took all the value." (Friedman/Star-Ledger)
http://www.nj.com/politics/index.ssf/2013/09/sweeney_says_centerpiece_gun_control_bill_is_dead_after_conditional_veto.html#incart_river
With Obamacare coming, 30-plus NJ, PA and NY hospitals form 'alliance'
Driven by the demands of the Affordable Care Act, about 30 hospitals in New Jersey, Pennsylvania and New York's Hudson River Valley have banded together to form what its founders describe as the largest alliance of health systems in the country, The Star-Ledger has learned.
AllSpire Health Partners, comprised of seven hospital systems worth a combined $10.5 billion — including Atlantic Health, Hackensack University Health Network and Meridian Health in New Jersey — will formally announce the agreement Thursday. Many of the 400,000 employees and their families began learning about the deal in company-wide e-mails sent late tonight, said Karen J. Kessler, who chairs the board of trustees at Atlantic Health System and for the new company. (Livio/Star-Ledger)
http://www.nj.com/politics/index.ssf/2013/09/obamacare_nudges_30_nj_pa_and_ny_hospitals_to_form_alliance.html#incart_river
Essex Co.'s Joe D leaves his longtime home in Nutley, buys new house in Roseland
Joseph DiVincenzo has moved west.
The Essex County executive sold his longtime home in Nutley and purchased a house in Roseland, public records show. (Lee/Star-Ledger)
http://www.nj.com/essex/index.ssf/2013/09/essex_county_executive_joe_d_sells_nutley_home_moves_to_roseland.html#incart_river
Alcotest devices fair game despite software flaws, N.J. Supreme Court rules
Police officers in New Jersey can continue using Alcotest devices on drunken-driving suspects despite software flaws that have gone uncorrected for five years, the state Supreme Court ruled today.
In a rare reversal, the high court tossed out a crucial section of an order it issued in 2008 that had required immediate fixes to nine major deficiencies found inside the memory of the state's breath-analyzing machines. (Rizzo/Star-Ledger)
http://www.nj.com/politics/index.ssf/2013/09/alcotest_devices_fair_game_despite_software_flaws_nj_supreme_court_rules.html#incart_river
Christie report card: Gov puts political ambitions first
Nearly as many people think Gov. Chris Christie prioritizes his own political future over governing New Jersey as believe he puts the state's interests first, according to the new Monmouth University/Asbury Park Press Poll.
Forty-four percent said Christie puts governing New Jersey first, while 38 percent said he is most concerned about his own political future; 12 percent said he thinks about both equally. The net difference of 6 points is down from 31 points a few months after superstorm Sandy, but remains the reverse of the minus-9 from a February 2012 poll. (Symons/Gannett)
http://www.app.com/article/20130917/NJNEWS1002/309170142/Christie-report-card-Gov-puts-political-ambitions-first
Christie faulted on plan to give Sandy money for Seaside fire

Gov. Christie's plan to redirect $15 million in federal Sandy aid to another tragedy – the fire last week on the Seaside boardwalk – is vague on eligibility requirements, and is drawing criticism from both the left and the right.
Officials on Tuesday attributed the blaze to old and faulty electric wiring – under a building that housed a custard stand and a candy shop – that was exposed to sand and saltwater during the storm surge. But Ocean County Prosecutor Joseph Coronato said officials "will never know" if Sandy actually caused the fire. (Katz/Inquirer)
http://www.philly.com/philly/news/politics/nj/20130918_Christie_faulted_on_plan_to_give_Sandy_money_to_Seaside_fire.html
Violent Crimes Climb as Police Layoffs Take Their Toll on NJ's Troubled Cities
Gun crime in the state's capitol city has spiked this year — punctuated by a record number of murders that has city officials facing angry residents and begging for help from the governor.
Thirty-three people had been killed in Trenton before the end of August, two more than the previous high of 31, which occurred in 2005. Local statistics on file with the state police show that 31.8 percent more crimes were committed with a gun through July this year in Trenton than through the same time period last year. Newark is facing a similar surge in violence, with a dozen murders so far in September, bringing the total for the year to 64. (Kaleet/NJSpotlight)
http://www.njspotlight.com/stories/13/09/18/violent-crimes-climb-as-police-layoffs-take-their-toll-on-nj-s-troubled-cities/
Expanded Medicaid Will Cover Mental Health, Substance-Abuse Treatment
Some low-income New Jersey residents will be eligible for treatment for drug and alcohol addictions, as well as some mental health services, under the upcoming Medicaid expansion.
But most Medicaid recipients won't be eligible for the new benefits.
Under the 2010 Affordable Care Act, states that choose to expand Medicaid – known as New Jersey FamilyCare in the state — must cover these treatments for people who are newly eligible for the program. However, that provision doesn't apply to those who are already eligible for the program. (Kitchenman/NJSpotlight)
http://www.njspotlight.com/stories/13/09/17/nj-expanded-medicaid-will-cover-mental-health-substance-abuse-treatme/
New Hampshire 2016 poll: Rand Paul, Chris Christie dead heat

Kentucky Sen. Rand Paul and New Jersey Gov. Chris Christie are neck and neck leading the potential Republican field in 2016 in key primary state New Hampshire, a new poll shows.
Paul got 20 percent of the GOP primary vote to Christie's 19 percent in the Public Policy Polling survey released Wednesday. In third, at 14 percent, was former Florida Gov. Jeb Bush. New Hampshire Sen. Kelly Ayotte came in fourth in her home state, at 12 percent, Texas Sen. Ted Cruz followed at 10 percent, and Florida Sen. Marco Rubio and Wisconsin Rep. Paul Ryan tied at 7 percent. (Kopan/POLITICO)
http://www.politico.com/story/2013/09/new-hampshire-2016-poll-rand-paul-chris-christie-97007.html
From the Back Room
Christie predicts Buono will run for White House in 2016
With all the chatter of Gov. Chris Christie gearing up for a presidential bid in 2016, New Jersey's governor has his own prediction of who may throw their hat in the ring.
It's Sen. Barbara Buono. (Arco/PolitickerNJ)
http://www.politickernj.com/back_room/christie-predicts-buono-will-run-white-house-2016
Booker TV ad buy focuses on S. Jersey

Newark Mayor Cory Booker's Senate campaign rolled out its first television ad Wednesday that will focus primarily on South Jersey. (Arco/PolitickerNJ)
http://www.politickernj.com/back_room/booker-tv-ad-buy-focuses-s-jersey
Opinion
In search of smart teachers: Editorial
Boosting the required grade-point average for teachers in New Jersey doesn't guarantee we'll get the best person in front of the classroom. Great teachers learn through experience.
But it does raise a good signpost for the profession, to tell teachers they must live up to a higher standard. (Star-Ledger)
http://blog.nj.com/njv_editorial_page/2013/09/in_search_of_smart_teachers_ed.html
Opinion: Delay implementation of Obamacare until personal data can be secured
On Oct. 1, the Federal Data Services Hub — a key component of the Obamacare health care law, the Affordable Care Act — is set to go live.
The Federal Data Services Hub will store personal information of more than 20 million Americans, including names, Social Security numbers, birth dates, employment information, gender and ethnicity. (Lance/Star-Ledger)
http://www.nj.com/times-opinion/index.ssf/2013/09/opinion_delay_implementation_o.html