Morning News Digest: Sept. 20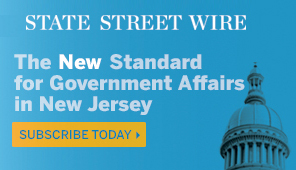 LD 1 in Focus: Van Drew's running mates: the story of Albano and Andrezejcak
Republicans want the LD 1 contest to be about incumbent Assemblyman Nelson Albano (D-1) and an ugly traffic stop they say demonstrates power run amok, but they're up against an artillery barrage of ads on TV and the web wherein the featured protagonist is not Albano, but Albano's running mate, Iraq War hero Assemblyman Robert Andrzejczak.
Andrezejcak served in Iraq twice, lost a leg and supplanted Matt Milam earlier this year on the LD 1 ticket when state Sen. Jeff Van Drew (D-1) pulled him into the fold. (Pizarro/PolitickerNJ)
http://www.politickernj.com/68367/ld-1-focus-van-drews-running-mates-story-albano-and-andrezejcak
The Fulop Factor: Jersey City a torque point in power politics
Several players within the wider circles of Trenton power politics are nibbling somewhat urgently on the ear of Jersey City Mayor Steve Fulop.
The speakership is in question for the next two years with Speaker Sheila Oliver (D-34) a walking question mark and Assemblyman Vincent Prieto (D-32) and Assemblyman Gary Schaer (D-36) going through political gladiatorial warm-up exercises to replace her. (Pizarro/PolitickerNJ)
http://www.politickernj.com/68362/fulop-factor-jersey-city-torque-point-power-politics
Buono slams recent job report figures, GOP lawmaker hails report
Democratic gubernatorial hopeful is weighing in monthly job figures Thursday, attacking her opponent for losses despite a slight drop in the state's unemployment rate.
Sen. Barbara Buono issued a statement refuting Gov. Chris Christie's "New Jersey Comeback" actually exists. The slogan was used by the administration when Christie would take his message to voters during town hall meetings. (Arco/PolitickerNJ)
http://www.politickernj.com/68360/buono-slams-recent-job-report-figures-gop-lawmaker-hails-report
In LD 38 battleground, Democrat Gordon highlights work with Christie
Gov. Chris Christie told Bergen Republicans he was tired of seeing state Sen. Bob Gordon (D-38), but Gordon apparently isn't tired of the governor.
"Bob voted with Gov. Christie to balance the budget and cut business taxes," says a web ad released this week by the LD38 Dems. "Now he's fighting for a 10% property tax cut." (Pizarro/PolitickerNJ)
http://www.politickernj.com/68358/ld-38-battleground-democrat-gordon-highlights-work-christie
DNC criticizes Christie over Lonegan fundraiser
Following a story by The Hill earlier this week that Gov. Chris Christie will fundraise today for U.S. Senate candidate Steve Lonegan, the Democratic National Committee pounced on the GOP leader.
Lonegan is a movement conservative who brought U.S. Sen. Rand Paul to New Jersey for a campign event. (Pizarro/PolitickerNJ)
http://www.politickernj.com/68356/dnc-criticizes-christie-over-lonegan-fundraiser
Unemployment dips to 8.5 percent
TRENTON – New Jersey's unemployment rate dropped to 8.5 percent in August after dipping 0.1 percent from the previous month, according to state data.
The Department of Labor and Workforce reported Thursday the state's unemployment dipped 0.1 percent for the second consecutive month. The agency boasted New Jersey's unemployment rate has reached its lowest point since March 2009. (Arco/PolitickerNJ)
http://www.politickernj.com/68355/unemployment-dips-85-percent
Booker treated like senator at D.C. panel; Lonegan joined by Christie at fundraiser
Newark Mayor Cory Booker attended a congressional black caucus event in Washington on Thursday to discuss urban issues as a mayor — but instead was treated by some as the next senator from New Jersey.
And his Republican opponent, Steve Lonegan, held a fundraiser featuring Governor Christie, who told attendees at the $200-a-person event that this election is their chance to send a New Jersey Republican to the U.S. Senate. (Jackson & Linhorst/The Record)
http://www.northjersey.com/news/politics/Booker_treated_like_senator_at_DC_panel_Lonegan_joined_by_Christie_at_fundraiser.html
'Jersey Shore' TV show and Christie a perfect fit, says Buono
Democrat Barbara Buono believes Governor Christie would be perfect as Snooki's sidekick.
Buono, who is challenging Christie in the Nov. 5 race for governor, said Thursday that Christie's combative, in-your-face style could earn him a spot on the "Jersey Shore,'' the former reality TV show that chronicled the often-times crude behavior of a group of twentysomethings living together in Seaside Heights. (Stile/The Record)
http://www.northjersey.com/news/Jersey_Shore_TV_show_and_Christie_a_perfect_fit_says_Buono.html
Two GOP lawmakers break with Christie on gay marriage
The days of Gov. Chris Christie and Republican lawmakers moving in lockstep may be coming to an end, with two GOP members of the Assembly, including Monmouth County's Declan O'Scanlon, saying they will vote for a marriage-equality bill against the governor's wishes.
O'Scanlon said there are likely to be more crossover votes. (Jordan/APP)
http://www.app.com/article/20130919/NJNEWS1002/309190022/Two-GOP-lawmakers-break-Christie-gay-marriage
Poll suggests Christie's gun-control vetoes defied public opinion
The latest Rutgers-Eagleton poll suggests Gov. Christie went against public opinion last month when he vetoed three major gun-control bills passed by Democrats.
But the numbers shift slightly depending on whether poll respondents were informed of Christie's veto, suggesting the governor's actions could sway voters. (Lai/Inquirer)
http://www.philly.com/philly/news/politics/nj/20130919_Poll_suggests_Christie_s_gun-control_vetoes_defied_public_opinion.html
After Seaside fire, other towns worried about Sandy-damaged wiring
The fire that devastated four blocks of the boardwalk in Seaside Park and Seaside Heights last week, which officials say was caused by electrical wiring likely damaged by Hurricane Sandy, had other Shore towns concerned Wednesday.
Atlantic City's top fire official said that while the city had inspected buildings along its boardwalk in the storm's immediate aftermath, "after this fire in Seaside, we're thinking of doing another round of those [public-service announcements]." (Urgo/Inquirer)
http://www.philly.com/philly/news/new_jersey/20130919_After_Seaside_fire__other_towns_worried_about_Sandy-damaged_wiring.html
All joking aside, N.J. Supreme Court says judges can't do standup
No matter how funny or fair, you can't be a stand-up comedian and a stand-up judge at the same time, the state Supreme Court ruled today.
At the very least, you had better keep it to knock-knock jokes and PG-13 zingers, or you'll wind up like Vincent Sicari, who had to choose today between his first love, mocking people, and his second, judging them. (Rizzo/Star-Ledger)
http://www.nj.com/politics/index.ssf/2013/09/all_joking_aside_nj_supreme_court_says_judges_cant_do_standup.html#incart_river
Big names at Cory Booker's Jersey City rally, but no Cory Booker
Rahm Emanuel is well-known to Democrats around the country and by now, Steven Fulop is well-known to Democrats around the state.
So when the mayor of Chicago and the mayor of Jersey City appear together Friday to stump for Cory Booker, their collective firepower should be enough to rally Booker's supporters. (Giambusso/Star-Ledger)
http://www.nj.com/politics/index.ssf/2013/09/big_names_at_cory_bookers_jersey_city_rally_but_cory_booker_wont_be_one_of_them.html#incart_river
N.J. gun enthusiasts will shoot for Lonegan on Saturday
New Jersey residents who want to support Steve Lonegan, the long shot Republican candidate for the U.S. Senate, can do so this Saturday — with a long shot.
The New Jersey 2nd Amendment Society will hold a fundraiser for Lonegan at a shooting range in Winslow Township in Camden County. (Friedman/Star-Ledger)
http://www.nj.com/politics/index.ssf/2013/09/nj_gun_enthusiasts_will_shoot_for_lonegan_on_saturday.html#incart_river
Census Survey Paints Discouraging Portrait of NJ's Poor and Middle Class
New Jerseyans are continuing to struggle to recover from the recession, with household incomes barely rising while the number of families living in poverty increased significantly.
The U.S. Census Bureau's 2012 American Community Survey paints a picture of a state not even close to regaining the wealth and high-paying jobs lost during the 2007-09 recession: Median household income was essentially stable at $69,667, but the proportion of families living in poverty rose to 8.3 percent and more than 1.1 million people were without health insurance. (O'Dea/NJSpotlight)
http://www.njspotlight.com/stories/13/09/18/census-survey-paints-discouraging-portrait-of-nj-s-poor-and-middle-class/
From the Back Room
Both Keans set to raise money for Balles in LD 2
Atlantic County Sheriff Frank Balles, the LD 2 state Senate challenger, has an upcoming fundraiser scheduled with New Jersey's most famous father/son political duo.
http://www.politickernj.com/back_room/both-keans-set-raise-money-balles-ld-2
City Council picks Quintana as Newark's council president
The Newark City Council on Wednesday night picked Councilman Luis Quintana to serve as Newark's Council President.
http://www.politickernj.com/back_room/city-council-picks-quintana-newarks-council-president
Opinion
Stile: Christie TV ad looks at the little picture
Governor Christie may very well be angling to become the next leader of the free world.
But for the moment, the champion of "big things" is seizing on a small-bore issue more fitting a race for freeholder than a contest for governor. (Stile/The Record)
http://www.northjersey.com/news/Stile_Christie_TV_ad_looks_at_the_little_picture.html
Christie snubs his state on gun laws: Editorial
A new poll confirms that the gun bills that Gov. Chris Christie either vetoed or refused to sign without completely gutting had big support in this state.
Particularly Senate President Stephen Sweeney's centerpiece proposal, which would have closed a major loophole in our gun laws by requiring background checks for private sales, too. (Star-Ledger)
http://blog.nj.com/njv_editorial_page/2013/09/christie_snubs_his_own_state_o.html#incart_river
Are Archbishop Myers' ears burning? Pope scolds 'obsessed' clergy: Editorial
One year ago, at the peak of the 2012 presidential election, Newark Archbishop John J. Myers issued a pastoral letter telling New Jersey Catholics they should base their vote on abortion and gay marriage.
He went on to write that those who cannot embrace his diktats on these issues — which include a majority of Catholics in America — should refrain from taking communion. (Star-Ledger)
http://blog.nj.com/njv_editorial_page/2013/09/are_archbishop_myers_ears_burn.html
Doblin: Pope Francis rips off the roof
SOMETHING remarkable is happening in Rome. Fifty years ago, Pope John XXIII opened a window in the Catholic Church. Pope Francis has torn off the roof.
In a remarkable interview with a Jesuit journalist, the Rev. Antonio Spadaro, conducted this summer and published this week, the pope does more than tug at the cobwebs or move the furniture; he lays the room bare. (Doblin/The Record)
http://www.northjersey.com/columnists/doblin/doblin_092013.html