Morning News Digest: Sept. 3, 2013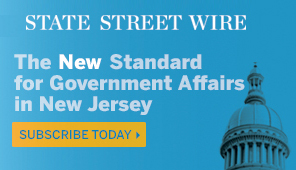 Winners and Losers
If you thought conflated debates about gays and Syria were bizarre, just wait until next week.
Come Tuesday, this place is going to go bonkers with politics. It's New Jersey, after all, and a coming campaign season, and necks will be on chopping blocks up and down the state as the GOP tries to ramrod the coattails effect from the governor and Dems insist it won't matter.
It should be more than a little fun.
In the meantime, enjoy your weekend, hold on with love to the last of summer, and we will see you in the Ironbound…
http://www.politickernj.com/68021/winners-and-losers
Buono facing Superstorm Christie in November
TRENTON, N.J. (AP) – Sen. Barbara Buono showed some offense in her campaign against Gov. Chris Christie the week before Labor Day, challenging his "Stronger than the Storm" ad campaign and redoubling her appeal to women, a majority of whom support the governor's re-election bid.
As Christie hit one shore town after another in the run-up to the three-day holiday, Buono unleashed a Web video featuring a couple who say they haven't recovered from Superstorm Sandy last fall. Their house has been stripped to its studs, and they have been stymied by government red tape while trying to get federal aid. (Delli Santi/AP)
http://m.apnews.com/ap/db_268748/contentdetail.htm?contentguid=H2JlmnZ4
Wave of reforms result in lower salaries for police and firefighters
After years of winning at the negotiating table, cops and firefighters across New Jersey are losing and walking away these days with much less money.
Since January of 2011 — following a wave of reforms that capped municipal spending and arbitration awards — police and firefighter unions have signed at least 160 new contracts, according to the Public Employment Relations Commission. (Renshaw/Star-Ledger)
http://www.nj.com/politics/index.ssf/2013/09/wave_of_reforms_result_in_lower_salaries_for_police_and_fire_fighters.html#incart_river
Christie, Buono, Booker visit mainstay Labor Day parade in South Plainfield
Three of the state's top political candidates paid homage to Labor Day today with visits to the South Plainfield Labor Day Parade, which has become an rite of passage in New Jersey politics.
Democratic Newark Mayor Cory Booker, who's running for the U.S. Senate seat vacated by the late Frank Lautenberg, appeared with gubernatorial candidate and state Sen. Barbara Buono with a swarm of supporters behind them waving campaign signs. (Star-Ledger)
http://www.nj.com/politics/index.ssf/2013/09/christie_and_buono_booker_pay_visit_to_mainstay_labor_day_parade_in_south_plainfield.html#incart_river
With the unofficial end of summer, N.J. campaigns for U.S. Senate, governor kick into high gear
As New Jerseyans fired up barbecues and hit the beaches for one last taste of summer Monday, the state's leading political candidates fired up supporters as they hit the pavement to kick their campaigns into overdrive.
Buckle up, it's going to be a wild ride the next few months.
With less than seven weeks until the special election for U.S. Senate, Democratic Newark Mayor Cory Booker and Republican challenger Steve Lonegan barreled ahead with jam-packed holiday weekends focused on getting face time with voters. (Baxter/Star-Ledger)
http://www.nj.com/politics/index.ssf/2013/09/with_the_unofficial_end_of_summer_nj_campaigns_for_us_senate_governor_kick_into_high_gear.html#incart_river
NJ lobbyists earn public pensions despite reforms
TRENTON, N.J. (AP) – Two years after GOP Gov. Chris Christie signed a law requiring public workers to contribute significantly more toward their benefits, 151 lobbyists and insurers remain in the state pension system, their pensions and lifetime health care being subsidized by state taxpayers.
The employees are from six groups that either do business with the government, like the New Jersey League of Municipalities, or insure government entities, like the New Jersey School Boards Association, according to the Treasury Department, which oversees the pensions division. Despite several legislative attempts to wean nongovernment employees from the Public Employee Pension System, agreement has been elusive and the effort has stalled. (Delli Santi/AP)
http://www.philly.com/philly/news/new_jersey/20130901_ap_ef60a0ae7ec942a6a59b6550a9fc6f8b.html
Sandy's 'freaky' path may be less likely in future
Man-made global warming may further lessen the likelihood of the freak atmospheric steering currents that last year shoved Superstorm Sandy due west into New Jersey, a new study says.
But don't celebrate a rare beneficial climate change prediction just yet. The study's authors said the once-in-700-years path was only one factor in the massive $50 billion killer storm. They said other variables such as sea level rise and stronger storms will worsen with global warming and outweigh changes in steering currents predicted by the study's computer models. (Borenstein/AP)
http://www.philly.com/philly/news/new_jersey/20130902_ap_15f653804b224565bb1a9789b7536f73.html
Christie peels off union endorsements from Democratic rival Buono
Choosing a gubernatorial candidate boiled down to simple math for Patrick Delle Cava and his Parsippany-based International Brotherhood of Electrical Workers Local 102.
Delle Cava, the local's business manager, said unemployment among his union's 3,500 electricians peaked at 850, but is now under 400 for the first time in six years. His members will work 4.5 million man-hours this year — still down from 6.5 million in 2001, but 50 percent higher than the 3 million worked in 2009. (Symons/Gannett)
http://www.app.com/article/20130902/NJNEWS11/309020011/Christie-peels-off-union-endorsements-from-Democratic-rival-Buono?nclick_check=1
Opinion
Doblin: That giant sucking sound on Labor Day
MY DAD was a union man, Local 6 of the International Typographical Union, otherwise known as the Big Six. He was a typographer at the Daily News and he was proud of the News and proud of his union.
His greatest claim to fame was once being easily identified in a New York Times photo of Big Six men picketing during a strike. My dad was an unlikely union man. He had been a book designer at McGraw Hill. Things didn't work out there, and he found a home and friends at the News. (Doblin/The Record)
http://www.northjersey.com/news/opinions/222032141_Doblin__That_giant_sucking_sound_on_Labor_Day.html
Column: Lonegan's appeal to bigots not worthy of New Jersey
Sometimes it's hard to determine if Republican Steve Lonegan is serious about wanting to replace the late Frank R. Lautenberg in the U.S. Senate or is auditioning for a reality show about an out-of-touch pol whose life's ambition is to do mediocre stand-up.
Over the years, Lonegan and I have had conservations on a wide range of topics. Nobody sticks it to big government, needless bureaucracy or corrupt politicians better than he does. (Ingle/Gannett)
http://www.app.com/article/20130901/NJCOLUMNIST06/309010020/Column-Lonegan-s-appeal-bigots-not-worthy-New-Jersey
For Booker, a pedicure and a big lead: Moran
I confess that I know the joys of a pedicure, just as Cory Booker does. He has professionals do it right, while I have a teenage daughter and a posse of nieces who paint my toenails every August on vacation. For weeks afterward, I wear sandals to fly that flag proudly, which you can get away with in my beloved Montclair. (Moran/Star-Ledger)
http://blog.nj.com/njv_tom_moran/2013/09/post_12.html
N.J. campaigns have stars (Christie, Booker) but no pizzazz
The following exchange between former New Jersey Govs. Brendan T. Byrne and Tom Kean took place in a Thursday teleconference.
GOV. BYRNE: I'd like to express my condolences to the family of Roger Harris, a Star-Ledger editorial board member I knew for almost 50 years. He was a great man.
GOV. KEAN: I would, as well. He was a highly respected editorial writer at the paper. (Star-Ledger)
http://blog.nj.com/njv_kean_byrne/2013/09/nj_campaigns_have_stars_christ.html
Working harder for less: Editorial
If the sweeping predictions made in the '60s, '70s and early '80s had come to pass, the holiday known as Labor Day might now be a dim, back-in-the-day memory.
Technology breakthroughs were going to let us work faster and more efficiently. Our work week would shrink – at least by a day, perhaps two. More work would be done and workers would have much more leisure time. (Star-Ledger)
http://blog.nj.com/njv_editorial_page/2013/09/post_84.html