Morning News Digest: Sept. 4, 2013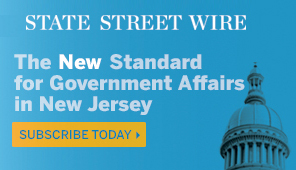 Soliman to join Mercury Public Affairs
Michael Soliman, state director for U.S. Sen. Bob Menendez, is leaving his post later this month to join Mercury Public Affairs.
Soliman will join the firm as a managing director beginning Sept. 17. (Isherwood/PolitickerNJ)
http://www.politickernj.com/68054/soliman-join-mercury-public-affairs
Menendez closes hearing with personal story of 'whacking' a bully
WASHINGTON, D.C. – The ordinarily intensely private U.S. Sen. Bob Menendez (D-NJ) opened up with a personal reminiscence from his childhood in Union City as he closed the day.
Making a point about standing up to bullies, the chair of the U.S. Senate Foreign Relations Committee recalled a bully in his Union City neighborhood. (Pizarro/PolitickerNJ)
http://www.politickernj.com/68053/menendez-closes-hearing-personal-story-whacking-bully
Paul clashes with Kerry on definition of war
WASHINGTON, D.C. – Movement conservative U.S. Sen. Rand Paul (R-KY) challenged Secretary of State John Kerry to accept the will of Congress concerning Syria.
"Make me proud, Secretary Kerry," said Paul, who claims President Barack Obama made him proud when he said he would put a use of force resolution before Congress but just as fast deflated him. (Pizarro/PolitickerNJ)
http://www.politickernj.com/68052/paul-clashes-kerry-definition-war
Menendez says language for Syria strike resolution could be done by end of day
WASHINGTON, D.C. – U.S. Sen. Bob Menendez (D-NJ) said the Congress could have a use of force resolution and be in a position for a markup as early as tomorrow.
Chair of the Senate Foreign Relations Committee, Menendez said he is working to come to an agreed-upon text to meet the goals of a focused air strike on Syria sought by the Obama Administration. (Pizarro/PolitickerNJ)
http://www.politickernj.com/68051/menendez-says-language-syria-strike-resolution-could-be-done-end-day
Morris GOP Chairman takes on freeholder candidate from his own party
Tired of insubordination, the chairman of the Morris County Republican Committee wants party members to freeze out a general election Republican candidate for freeholder.
A 'self-serving man," is how Morris County GOP Chairman John Sette describes Freeholder Tom Mastrangelo, who Sette says failed to adhere to the county party's fundraising policy. (Pizarro/PolitickerNJ)
http://www.politickernj.com/68050/morris-gop-chairman-takes-freeholder-candidate-his-own-party
Christie rivals Paul and Rubio differ on views of national security import of Syria
WASHINGTON, D.C. – As Gov. Chris Christie jockeys for a strong handhold on national security, butting with U.S. Sen. Rand Paul (R-KY) on the subject of government surveillance, Christie's fellow 2016 GOP presidential prospects Paul and U.S. Sen. Marco Rubio (R-Fl.) are carving out different stances on Syria – which may or may not put them in the same place on a resolution by the end of this debate.
The Republican U.S. senators have not yet recorded their votes on the use of force as requested of Congress by President Barack Obama and championed by Senate Foreign Relations Chairman U.S. Sen. Bob Menendez (D-NJ). (Pizarro/PolitickerNJ)
http://www.politickernj.com/68049/christie-rivals-paul-and-rubio-differ-views-national-security-import-syria
Three Democratic councilmen from Teaneck back Christie
Governor Chris Christie today received more endorsements from Democratic elected officials, this time three members of the Teaneck Town Council.
Councilman Yitz Stern, Councilman Elie Katz, and Councilman Mark Schwartz all announced their support for the Republican incumbent governor, bringing the total number of elected Democrats supporting the Governor's re-election to 48. (Pizarro/PolitickerNJ)
http://www.politickernj.com/68047/three-democratic-councilmen-teaneck-back-christie
Menendez: 'The eyes of the world are upon us'
WASHINGTON, D.C. – They never did overly well with peace.
Now President Barack Obama and U.S. Sen. Bob Menendez (D-NJ) hope to bond better with war. (Pizarro/PolitickerNJ)
http://www.politickernj.com/68046/menendez-eyes-world-are-upon-us
Christie says use of chemical weapons is 'just intolerable'
NEWARK – Gov. Chris Christie said Tuesday he empathizes with any New Jersey residents who have relatives in Syria, but he stopped short of offering his opinion of whether the U.S. should have a role in the conflict.
The governor referred to the use of chemical weapons as "something that is just intolerable for civilized society," but said he would defer to the state's congressional delegation in deciding whether U.S. forces should launch a strike against the country torn into civil unrest. (Arco/PolitickerNJ)
http://www.politickernj.com/68043/christie-says-use-chemical-weapons-just-intolerable
Christie calls it 'unfortunate' Buono is joking about his weight
NEWARK – A stump speech video that surfaced on the web in which Gov. Chris Christie's gubernatorial challenger poked fun at the incumbent's weight brought a familiar topic to the first day of the unofficial start of the campaign season.
Christie criticized his Democratic challenger Tuesday after being asked to comment on a video of Sen. Barbara Buono joking with supporters saying that, for her, "seeing Chris Christie frolicking on the beach is not going to drive [her] to the shore." (Arco/PolitickerNJ)
http://www.politickernj.com/68039/christie-calls-it-unfortunate-buono-joking-about-his-weight
Analysis: Sen. Bob Menendez's performance to be judged on the world stage
Completing his evolution from the anti-war skeptic that New Jersey first elected to the Senate in 2006, Sen. Bob Menendez took a lead role Tuesday in the push to attack Syria and was working personally to write the resolution authorizing force.
The role is arguably the biggest Menendez has played in more than two decades in Congress and, if he succeeds in bringing a majority of skeptical senators to agreement, would permanently put an end to questions he faced about whether he was qualified to fill a crucial committee chairmanship. (Jackson/The Record)
http://www.northjersey.com/news/Analysis_Sen_Bob_Menendezs_success_to_be_judged_on_the_world_stage.html
Christie to raise money for GOP in Texas
WASHINGTON — Gov. Chris Christie is helping the Republican National Committee with a series of Texas fundraisers next week as he seeks a second term in his home state.
Christie is headlining three fundraisers in Texas for the RNC on Sept. 9. Organizers say the events include a breakfast in Dallas, a luncheon in San Antonio and a reception in Houston. (AP)
http://www.northjersey.com/news/Christie_to_raise_money_for_GOP_in_Texas.html
Christie plans to visit temple in Closter
Governor Christie will observe the Jewish New Year at Temple Emanu-El in Closter tonight, one day after his campaign announced the bipartisan Jewish Leaders for Christie coalition.
Christie, a Republican seeking a second term, will help usher in the Jewish year 5774 during the Rosh Hashana service. (Hayes/The Record)
http://www.northjersey.com/news/Christie_picks_up_endorsement_of_three_Democratic_Teaneck_council_members.html
West Nile virus kills two senior citizens in New Jersey
A 92-year-old man from Morris County and a 78-year-old Gloucester County woman have died from complications related to the mosquito-borne West Nile virus, the state Health Department announced today.
The Morris County man died Aug. 31 after developing a fever and muscle weakness in mid-August. He was admitted to the hospital and diagnosed with encephalitis, or swelling of the brain. The Gloucester County woman suffered from fever, blurred vision, weakness and diarrhea in mid-August and died in the hospital on Aug. 24th. (Livio/Star-Ledger)
http://www.nj.com/politics/index.ssf/2013/09/west_nile_virus_kills_two_senior_citizens_in_new_jersey.html#incart_river
Buono outlines plan for increasing funding for education
Standing in front of college students on Rutgers University's campus, Democratic gubernatorial nominee Barbara Buono today blamed Gov. Chris Christie for New Jersey's public college tuition increases and said she'd boostscholarship programs to make college more affordable.
"Education is the great equalizer," Buono, a state senator and attorney, said. "If it weren't for grants and loans or tuition assistance, I would never have been able to step on the campus of Montclair State or Rutgers Law School." (Friedman/Star-Ledger)
http://www.nj.com/politics/index.ssf/2013/09/buono_outlines_plan_for_increasing_funding_for_education.html#incart_river
Poll: Fewer in N.J. optimistic about direction of state, but Christie not to blame
A new poll shows fewer New Jerseyans are optimistic about the direction of their state, but they aren't blaming Gov. Chris Christie.
The Fairleigh Dickinson-PublicMind poll out today finds 49 percent of respondents think the state is headed in the right direction, an 8-point drop since June. That compares with 34 percent who believe it's on the wrong track, a 6-point gain. (AP)
http://www.nj.com/politics/index.ssf/2013/09/poll_fewer_in_nj_optimistic_about_direction_of_state_but_christie_not_to_blame.html#incart_river
Booker, Lonegan to debate at Rowan University
Cory Booker and Steve Lonegan, candidates for the U.S. Senate in New Jersey, will face off in a televised debate on Oct. 9 at 7 p.m. on the campus of Rowan University.
The debate will be televised live throughout New Jersey and the greater Philadelphia area on NBC10, the Comcast Network and Telemundo Philadelphia / WWSI. The program also will be available through XFINITY On Demand. The debate will be moderated by NBC10 Philadelphia anchor Jim Rosenfield, with a panel that will include Jonathan Tamari, Washington correspondent for Philadelphia Inquirer, and NBC 4 New York anchor David Ushery.
http://www.philly.com/philly/news/new_jersey/Booker_Lonegan_to_debate_at_Rowan_University.html
Opinion
Stile: Gay marriage advocates target GOP hopefuls
Republican lawmakers counting on Governor Christie's coattails to carry them to another term this fall will face pressure from a deep-pocketed, coordinated campaign to break ranks with Christie over the issue of same-sex marriage.
A coalition of national and New Jersey-based gay rights groups is launching a full-scale push this fall |to persuade enough Republican ­lawmakers to join the ruling Demo­crats and override Christie's veto of a bill that legalizes same-sex marriage in New Jersey. (Stile/The Record)
http://www.northjersey.com/news/politics/political_stile/Gay_marriage_advocates_target_GOP_hopefuls.html
Chris Christie 'disappointed' in Buono comment, but was it really a fat joke?
Was it really a fat joke?
Republican Gov. Chris Christie tsk-tsk'ed his way through a retort to remarks his Democratic opponent made about his appearances in advertisements designed to bring tourists to the Jersey Shore. (Schoonejongen/Gannett)
http://blogs.app.com/capitolquickies/2013/09/03/chris-christie-disappointed-in-buono-comment-but-was-it-really-a-fat-joke/
Green light for Obama's attack on Syria: Editorial
President Obama stood aside for two years as the regime in Syria used artillery, air strikes and ground troops to kill more than 100,000 of its people and uproot 6 million from their homes.
But everything changed on the night of Aug. 21 when shells carrying chemical weapons exploded in a suburb of Damascus where the Syrian military had been trying to uproot a stubborn band of rebels. (Star-Ledger)
http://blog.nj.com/njv_editorial_page/2013/09/green_light_for_obamas_attack.html