Morning News Digest: Sept. 5, 2013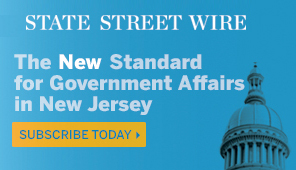 Lonegan to file lawsuit to gain Booker expense records
Republican U.S. Senate candidate Steve Lonegan says he plans to file a lawsuit against the city of Newark to obtain records he says were denied under the Open Public Records Act.
Lonegan has been seeking records on Newark Mayor Cory Booker's expenses and says they were denied by the city without explanation. (Isherwood/PolitickerNJ)
http://www.politickernj.com/68072/lonegan-file-lawsuit-gain-booker-expense-records
Buono camp, defending education platform, says she won't coddle millionaires
TRENTON – In defending Sen. Barbara Buono's education platform unveiled this week, her campaign today criticized some of Gov. Chris Christie's funding priorities.
"Senator Buono has a record of prioritizing funding for education," spokesman David Turner said in a release in response to comments Christie made Wednesday that Buono's programs would cost $3 billion in new state spending. (Mooney/PolitickerNJ)
http://www.politickernj.com/68070/buono-camp-defending-education-platform-says-she-wont-coddle-millionaires
Lonegan to Booker: get out of Hackensack and on the case in Newark
HACKENSACK – Republican U.S. Senate candidate Steve Lonegan said he was stunned, stunned that his Democratic opponent, Newark Mayor Cory Booker, would be in a diner here while Newark continues to suffer a spate of murders.
"Appalling," said Lonegan. "There have been nine murders in a week and Cory Booker is hanging out in a diner in Hackensack. He ought to be in Newark setting up a command center. He's concerned that Rand Paul is coming to New Jersey? He ought to be in Newark combating this unconscionable scourge in a city with a 13 percent unemployment rate." (Pizarro/PolitickerNJ)
http://www.politickernj.com/68069/lonegan-booker-get-out-hackensack-and-case-newark
Buono calls talk over Christie's weight 'absurd'
TRENTON – A day after Sen. Barbara Buono's campaign took heat from Gov. Chris Christie for supposedly taking a crack at the governor's weight, the gubernatorial hopeful told reporters Wednesday she's not interested in rehashing the issue.
Buono referred to the perceived joke about Christie's weight in a web video that surfaced a week ago as a "non-issue," arguing there are more pressing matters concerning the state. The Democratic nominee for governor went on to say it's "sad that the political discourse has dropped" to the level where the incumbent governor's weight takes precedence over other campaign issues. (Arco/PolitickerNJ)
http://www.politickernj.com/68067/buono-calls-talk-over-christies-weight-absurd
Christie: Buono's remarks about weight indicative of kind of governor she would be
BEACH HAVEN – Comments Sen. Barbara Buono made that Gov. Chris Christie said were not-so-thinly veiled remarks about his weight give an indication of what type of governor she would be if elected, Christie said Wednesday.
In responding to a video that contained remarks by Buono that seeing Christie frolic on the beach did not inspire her to visit the Jersey Shore, Christie reiterated today that her comments were beneath someone who wants to be governor. (Mooney/PolitickerNJ)
http://www.politickernj.com/68066/christie-buonos-remarks-about-weight-indicative-kind-governor-she-would-be
Booker: 'Now is not the time' to talk about Syria
HACKENSACK – Mayor Cory Booker, Democratic candidate for the U.S. Senate, did not express his views this afternoon when asked how he would vote on a use of force resolution in Syria.
"I have a lot of thoughts about Syria but now is not the time," Booker told PolitickerNJ.com as he left a campaign event he had scheduled here with working-class allies. (Pizarro/PolitickerNJ)
http://www.politickernj.com/68065/booker-opinion-syria-use-force-resolution-now-not-time
Christie at Shore, Buono courts labor
Governor Christie and his Democratic challenger, Barbara Buono, were both playing to their perceived strengths while campaigning on Wednesday as polls show the gubernatorial contest has grown tighter with only two months left.
For Christie, a first-term Republican, that meant heading back down to the Shore, this time promoting the reopening of a school on Long Beach Island that was heavily damaged by Superstorm Sandy last year. (Reitmeyer & Hayes/The Record)
http://www.northjersey.com/news/Buono_Christies_trickle-down_economic_policies_failed_NJ.html
Booker: Congressional inaction, budget cuts threaten economic recovery
Congressional "inaction" and "shortsighted" budget cuts have hurt New Jersey businesses and families and threaten the nation's economic recovery, Newark Mayor and U.S. Senate candidate Cory Booker said Wednesday in Hackensack.
Speaking with residents at a campaign roundtable at the Arena Diner, Booker offered a vision of a more engaged federal government that would make "common-sense" investments in infrastructure, small businesses, public safety, education and social services. "We're not doing those things in D.C.," Booker said. "We're doing things that have set us back." (O'Brien/The Record)
http://www.northjersey.com/news/Booker_Congressional_inaction_budget_cuts_threaten_economic_recovery.html
Buono's comments still a weighty issue for Christie
State Sen. Barbara Buono's campaign has said she wasn't making a reference to Gov. Chris Christie's weight at a Democratic function last week, but the governor said today he's not buying that explanation.
"If it walks like a duck and quacks like a duck, it's a duck," Christie said at a press event in Beach Haven. "And anybody who watches that video knows exactly what she meant and what she was talking about." (Spoto/Star-Ledger)
http://www.nj.com/politics/index.ssf/2013/09/christie_on_buonos_weight_comments.html#incart_river
What's so funny about Christie at the beach?
Yesterday, the gov claimed that his opponent in the gubernatorial election, Barbara Buono, was making a fat joke when she said this about his starring role in Jersey Shore tourism commercials: "I don't know about you, but seeing Chris Christie frolicking on the beach is not going to drive me to go to the Jersey Shore."
But today, speaking to a group of kids at a school on Long Beach Island, Christie said something that rung similar. A student asked him if he had ever surfed. He said no, but that he knew someone who could give him lessons. (Katz/Inquirer)
http://www.philly.com/philly/blogs/christie_chronicles/Whats-so-funny-about-Christie-at-the-beach.html
Chris Christie's Texas trip to include Giants-Cowboys game
How 'bout dem Boys?
When Gov. Chris Christie heads to Texas this weekend to do some fundraising for the Republican National Committee, the jaunt will include attending the season opener of the Dallas Cowboys against the Giants at AT&T stadium, courtesy of Republican National Committee national finance chairman Ray Washburne. (Spoto/Star-Ledger)
http://www.nj.com/politics/index.ssf/2013/09/chris_christie_wife_birthday_texas.html#incart_river
'Scandal' star to campaign for Buono in N.J. governor race
Two weeks after Gov. Chris Christie campaigned with "Cake Boss" Buddy Valastro, Democratic gubernatorial candidate Babara Buono is calling in some help from a celebrity.
Kerry Washington — the star of the television hit "Scandal" — is headlining an event for the gubernatorial candidate at Montclair State University on Sunday afternoon, the campaign announced today. (Friedman/Star-Ledger)
http://www.nj.com/politics/index.ssf/2013/09/scandal_star_to_campaign_for_buono.html#incart_river
Menendez votes to approve use of military force in Syria
Democratic Sen. Robert Menendez of New Jersey, chairman of the Senate Foreign Relations Committee, voted Wednesday to authorize the use of limited force against Syria.
"This is the one indispensable nation in the world," Menendez said after most committee members joined him in voting to approve the resolution on Syria. "It is a heavy burden, but it is also an opportunity to lead the world to a safer, more secure world. I believe we have met that burden today, and I believe we will do so as we move to the Senate floor." (Herman/Gannett)
http://www.app.com/article/20130904/NJNEWS11/309040091/Menendez-votes-approve-use-military-force-Syria
Chris Christie, Barbara Buono seek more matching funds for campaign
Gov. Chris Christie and state Sen. Barbara Buono both submitted requests Tuesday to the state for public matching funds for the fall gubernatorial campaign.
Christie submitted $335,960 in private donations to the state Election Law Enforcement Commission, which provides a $2-for-$1 match to candidates who raise enough money to qualify for the program and agree to cap their spending. (Symons/Gannett)
http://www.app.com/article/20130904/NJNEWS1002/309040065/Chris-Christie-Barbara-Buono-seek-more-matching-funds-campaign?nclick_check=1
From the Back Room
Condolences to Ken Kurson
The staff at PolitickerNJ would like to express our sincerest condolences to New York Observer Editor Ken Kurson on the death of his mother.
http://www.politickernj.com/back_room/condolences-ken-kurson
Opinion
Stile: Christie has made weight the issue
Governor Christie, who boasts of having broad enough shoulders to weather "campaign cheap shots," is apparently thin-skinned about the subject of his weight.
Touching on a topic that was not even bubbling on the campaign's back burner, Christie accused Democratic rival Barbara Buono of effectively making a fat joke in front of a group of Democratic businesswomen. (Stile/The Record)
http://www.northjersey.com/news/politics/Stile_Christie_has_made_weight_the_issue.html
Our thin-skinned governor: Editorial
In a daring political stroke, Gov. Chris Christie is making a strategic pitch to capture the obese vote in New Jersey.
The strategy is designed to make fat people mad at state Sen. Barbara Buono by claiming that she poked fun at the governor's weight. (Star-Ledger)
http://blog.nj.com/njv_editorial_page/2013/09/christie_ploy_for_the_obese_vo.html