Morning News Digest: Sept. 6, 2013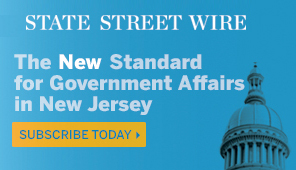 Garden State Equality backs Booker for U.S. Senate
Movement conservative Republican Steve Lonegan won't have the endorsement of Garden State Equality.
The organization's board has unanimously and voted to endorse Newark Mayor Cory Booker to be the next US Senator from New Jersey. (Pizarro/PolitickerNJ)
http://www.politickernj.com/68090/garden-state-equality-backs-booker-us-senate
Ramos takes Baraka to task
North Ward Councilman Anibal Ramos objected to his fellow mayoral competitor's call today for greater government partnership to combat crime in Newark, citing Councilman Ras Baraka's rallying cry as little to nothing new.
"I share Councilman Ras Baraka's frustration, but he is calling for something that already exists," said Ramos, following Baraka's appearance on the steps of City Hall in the midst of a murder spree. "Newark already has a partnership with the State Police, the Prosecutor's Office and the Sheriff's Department." (Pizarro/PolitickerNJ)
http://www.politickernj.com/68089/ramos-takes-baraka-task
Positioning himself as crime fighter, Jeffries fights for traction in the midst of crime wave
The only man with a professional law enforcement background in the race for Newark mayor, Shavar Jeffries said the city council deserves blame in part as New Jersey's biggest capital city suffers through a deadly spate of crime, or ten murders in ten days.
"The council must be held accountable for this; our streets are a warzone," said Jeffries, a former assistant attorney general. "They gave themselves a pay raise in 2011 and didn't touch taxpayer funded cars and perks for themselves; and several of them have more than one public job. They did this, while the city laid off 170 cops and gave our residents less police protection, and raised our taxes by 40%." (Pizarro/PolitickerNJ)
http://www.politickernj.com/68088/positioning-himself-crime-frighter-jeffries-fights-traction-midst-crime-wave
Baraka wants Booker to bring in more state and county resources to combat violence
The crossroads of anti-Booker forces coming at the Newark mayor from different angles, and with decidedly different views on government, converged outside of City Hall today, with violence the issue for South Ward Councilman Ras Baraka, a candidate for mayor.
"We are asking Mayor Cory Booker to bring together Governor Chris Christie, Essex County Sheriff Armando Fontoura, Attorney General Eric Holder to ask additional federal, state and county cooperation and involvement in dealing with the surge in gun violence," said Baraka, camped at a lectern outside the gold domed downtown edifice. (Pizarro/PolitickerNJ)
http://www.politickernj.com/68086/baraka-wants-booker-bring-more-state-and-county-resources-combat-violence
For Buono, name ID, fundraising remain concerns
TRENTON – When gubernatorial hopeful Barbara Buono entered a union hall blocks from the Statehouse Wednesday she came prepared with stories of being "the daughter of a union butcher" who's fighting to unseat an incumbent governor who she says talks about unions like they're "the problem."
Her stump speech garnered some cheers and scattered applause from the union crowd who appeared eager to have a change in leadership in Trenton. (Arco/PolitickerNJ)
http://www.politickernj.com/68085/buono-name-id-fundraising-remain-concerns
Booker v. Lonegan on the Syria question
The Booker and Lonegan U.S. Senate campaigns clashed today over the two candidates' responses to a use of force resolution in Syria.
Democrat Cory Booker said he does not have sufficient information to say whether or not he would vote aye or nay on the resolution before the Congress right now. Republican Lonegan, who last week said he opposes the use of force and stands by it, said he has enough information to feel confident about how he would vote if he were in the U.S. Senate. (Pizarro/PolitickerNJ)
http://www.politickernj.com/68081/booker-v-lonegan-syria-question
It's official: former governor McGreevey hired to lead Jersey City jobs program
Former Gov. Jim McGreevey, who resigned in disgrace nearly a decade ago after revealing that he is gay and that he had hired his secret lover as a homeland security advisor for which he had no qualifications, was hired this morning as the director of a Jersey City jobs commission.
McGreevey, 55, will make $110,000 annually as executive director of the Jersey City Employment & Training Program, a group that administers the city's employment program. McGreevey will also help implement a prisoner re-entry program that Mayor Steve Fulop hopes will become a national model. (McDonald/Jersey Journal)
http://www.nj.com/hudson/index.ssf/2013/09/its_official_former_governor_mcgreevey_hired_to_lead_jersey_city_jobs_program.html#incart_river
Feds: N.J. men ran Ponzi scheme netting millions from hedge funds
Three New Jersey residents and a Florida man allegedly bilked $278 million from several hedge funds from 2007 to 2010, building an elaborate Ponzi scheme that sold debt-backed securities at deceptively high prices, according to the top federal prosecutor in Maryland.
Federal authorities alleged that the group acquired billions of dollars worth of soured medical debts — which hospitals were unable to collect from their patients — at a heavily discounted price and then fudged the numbers behind them to make those assets look attractive to investors. (Rizzo/Star-Ledger)
http://www.nj.com/politics/index.ssf/2013/09/nj_men_ran_ponzi_scheme_targeting_hedge_funds_federal_prosecutor_says.html#incart_river
Lonegan press conference in Newark about Cory Booker lawsuit turns to shouting match
It was a moment of high political theater, Newark style.
Just an hour after city leaders held a press conference decrying the recent spate of killings in Newark, Republican U.S. Senate candidate Steve Lonegan took to the steps of City Hall to announce he was suing his Democratic opponent, Mayor Cory Booker, claiming the city was blocking his campaign's requests for Booker's expense records. (Giambusso/Star-Ledger)
http://www.nj.com/essex/index.ssf/2013/09/lonegan_event_on_cory_booker_lawsuit_turns_to_shouting_match.html#incart_river
Bill to protect texters who send messages to drivers is promised
A Republican assemblywoman from Monmouth County plans to introduce legislation to protect texters from being sued if they send a distracting message to a driver who gets into an accident.
The bill, authored by Assemblywoman Caroline Casagrande, comes in response to last week's groundbreaking decision by two state appeals court judges who said texters who send messages to someone they know is driving have a responsibility to other drivers. (Zambito/Star-Ledger)
http://www.nj.com/essex/index.ssf/2013/09/monmouth_lawmaker_to_propose_bill_to_protect_texters_who_send_messages_to_drivers_1.html#incart_river
Mumps outbreak may be tied to popular Belmar bar, health official says
A popular bar in Belmar appears to be the origin of a mumps outbreak, according to the Monmouth County Health Department, which is investigating 22 "probable cases."
On Wednesday, there were seven cases of the illness, county Public Health Coordinator Michael Meddis said. In the past 24 hours, an additional 15 people "with mumps-like symptoms have come forward," she said. "The medical professionals advised these individuals to be on bed rest, increase their fluid intake and take steps to reduce their fever. (Livio/Star-Ledger)
http://www.nj.com/politics/index.ssf/2013/09/mumps_outbreak_may_be_tied_to_popular_belmar_bar_monmouth_county_health_official_says.html#incart_river
N.J. tax report is incomplete; Christie criticized for not releasing monthly revenue data
Governor Christie's administration did not include key information in its most recent tax revenue report, the first time in recent memory the public is without the figures needed to show if the state balanced its budget, a constitutional mandate.
Without that data, the top budget analyst for the non-partisan Office of Legislative Services says he cannot provide legislators with his regular analysis of state revenue collections, according to an email David Rosen sent to lawmakers that was obtained by The Record on Thursday. (Reitmeyer/The Record)
http://www.northjersey.com/news/politics/Christie_administration_omits_key_tax_information_needed_to_see_if_state_balanced_its_budget_.html
N.J. congressional delegation is split, or silent, on Syria strike
Reps. Scott Garrett and Rodney Frelinghuysen said Thursday that they oppose attacking Syria, while Rep. Bill Pascrell Jr. said he is still making up his mind.
The views expressed by the three North Jersey congressmen show the challenges facing President Obama as he works to marshal congressional support for a strike against Syria, particularly as members of the same party disagreed on several elements. (Jackson/The Record)
http://www.northjersey.com/news/international/NJ_congressional_delegation_is_split_or_silent_on_Syria_strike.html
3 Atlantic City casinos lay off 315 employees
ATLANTIC CITY, N.J. (AP) – Three Atlantic City casinos announced layoffs Thursday totaling 315 employees, although some were seasonal help who normally only work during the summer.
The two casinos owned by Trump Entertainment Resorts announced 200 layoffs Thursday, about 80 of which were seasonal employees. And Revel Casino Hotel said it was laying off 115 permanent workers, or about 4 percent of its total workforce, due to slowing business conditions with the end of the summer season. (Perry/AP)
http://www.philly.com/philly/news/new_jersey/20130905_ap_3a27e60ea4454e37bb346afaa5dc4a16.html
Rescue personnel took lighters, sunglasses in Seaside Heights, town said
Forty-two Zippo lighters and 38 sunglasses, including those sporting the "Jersey Shore" brand, were some of the items the borough now admits first responders took from the local Army-Navy store in the post-superstorm Sandy aftermath.
An 18-page report to the Federal Emergency Management Agency was released by the borough to the Asbury Park Press outlining exactly what items the municipal government agreed to reimburse owners of the Shore Army Navy store that was broken into by first responders following the Oct. 29 disaster. (Larsen/Gannett)
http://www.app.com/article/20130905/NJNEWS2002/309050067/Update-Rescue-personnel-took-lighters-sunglasses-Seaside-Heights-town-said
From the Back Room
Occhipinti in pursuit of mayor's seat in Hoboken
A third mayoral ticket submitted paperwork in Hoboken this week.
One Hoboken consists of Councilman Tim Occhipinti for Mayor; and North Hudson Sewage Authority Chairman Frank Raia, Hoboken School Board Trustee Peter Biancamano, and Democratic Committeewoman Britney Montgomery-Cook for council at large.
http://www.politickernj.com/back_room/occhipinti-pursuit-mayors-seat-hoboken
Sommer headed to Fulop administration
Bob Sommer, former communications manager for the New Jersey Devils, is headed to take a position in the senior staff of Jersey City Mayor Steve Fulop.
http://www.politickernj.com/back_room/sommer-headed-fulop-administration
Opinion
Christie's tough choice not too painful
Guess which Republican U.S. senator from Kentucky is coming to New Jersey next week. Guess which Republican governor won't be there. Probably gave out too many clues there, but to put it on the table for everybody: Sen. Rand Paul will be campaigning for GOP Senate nominee Steve Lonegan, but the state's No. 1 Republican, Gov. Chris Christie, said he has prior commitments.
Lonegan said Paul will endorse his candidacy Sept. 13 at a Clark rally. Although Christie endorsed Lonegan, he won't be sharing the stage with the duo. Paul and Christie have exchanged harsh words. For instance, Paul said Christie had a "gimme, gimme, gimme" attitude when it came to getting help from the federal government after superstorm Sandy wrecked our Shore. (Ingle/Gannett)
http://www.app.com/article/20130905/NJCOLUMNIST06/309050087/Christie-s-tough-choice-not-too-painful
Jersey City's smart push for paid sick days: Editorial
When a stomach bug flattens your family, should it cost a day's pay? Does flu season put you in fear of losing your job? For more than 1.2 million New Jersey workers without paid sick days, catching a cold means choosing between their health and their job. (Star-Ledger)
http://blog.nj.com/njv_editorial_page/2013/09/jersey_citys_smart_push_for_pa.html