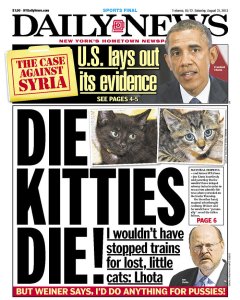 Headline of the Day: "'Cats' loves cats."
Over the last couple days, The New York Times published three front-page stories on the leading Democrats vying to be mayor. The most damaging was a report on Bill Thompson's tenure in the comptroller's office, which was reportedly substandard and heavily linked to his political fund-raisers. He was subsequently grilled on the issue on Saturday's Up.
Today, the Times looked into Council Speaker Christine Quinn's decision to overturn term limits in 2009: "When the mayor first spoke with Ms. Quinn about his designs on a third term, during a phone call in the fall of 2008, it was to tell her of his decision to rewrite the law, not to seek her approval beforehand … Ms. Quinn did not object. Asked about her reply to the mayor, she said, 'I didn't have much of one.'"
The Daily News also wrote about Ms. Quinn's term limits problem while WNYC profiled her mayoral bid: "'Council Speaker Christine Quinn is here!' shouts a Quinn supporter from the Bronx by way of introduction. 'She overturned term limits, don't support her!' a protester shouts right after."
The Times analyzed front-runner Bill de Blasio's role in the public advocate's office over the past four years, including his curious decision to oppose the city's outer-borough taxi plan. The piece–entitled, "Advocate's Post Gave de Blasio Platform for Political Ambitions"–further found that some of Mr. de Blasio's efforts achieved lackluster results.
Even though Joe Lhota has led in every poll of the GOP mayoral primary, rival John Catsimatidis is calling on Mr. Lhota to drop out of the race. "He should end this charade," Mr. Catsimatidis declared in a statement. It doesn't seem Mr. Lhota is likely to heed this call, however.
And here's video of Mr. Thompson stumping in Boro Park with Assemblyman Dov Hikind:
[youtube=http://www.youtube.com/watch?v=8YPoBiiSDb8&w=420&h=315]