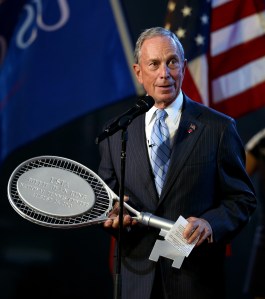 Headline of the Day: "Gov. Cuomo's Adirondack Challenge Tourism Boost Did Not Include Overnight Stays."
Mayor Michael Bloomberg was especially testy at a press conference yesterday. "I really have no idea. All I can do is tell you what we've done. If you want to write that, or if you want to make up some stuff, that's totally up to you. I have no idea," he said when asked why voters want the city to move in a new direction.
Mike Ryan, the new executive director at the Board of Elections, gave his agency's Election Day-performance a "solid B-plus," in a Gotham Gazette interview. "I wouldn't be as pretentious to give us an A, but a solid B-plus," he contended. "I don't think we did so badly," he further told Capital New York.
The Daily News profiled Bill de Blasio's digital team, "credited with playing a central role in engineering de Blasio's stunning rise from fourth place in July to Democratic nominee today." Mr. de Blasio reportedly raised $500,000 online and "pictures taken by staffers for the campaign's Instagram and Facebook accounts have to pass a rigid review."
Meanwhile, according to New York Post columnist Adam Brodsky: "Bill de Blasio wants to be seen as a champion for blacks and other minorities. So why is he planning to wage war on them? … A spike in murder, to put it bluntly, means more dead blacks and Hispanics. Whites won't be affected as much … Talk about a tale of two cities."
Ex-Gov. Eliot Spitzer was spotted at the Lavo nightclub Tuesday night. "A witness said a solo Spitzer — who is not known for his appreciation of electronic dance music — appeared out of the blue, and was working the room, 'shaking hands and posing for photos during the blowout party,'" the Post's Page Six reports.
Politicker missed this from earlier, but Scott Stringer, who vanquished Mr. Spitzer in the comptroller's race, was always ahead in his private polling. "Siena and Marist were talking to a lot of people who said they were registered Democrats (but may not have been) and claimed they were likely to vote (but didn't)," Mr. Stringer's pollster explained.
According to DNAinfo.com New York, behind the scenes, influential City Council members "are reaching out to the rest of the membership in hopes of coming up with a plan that would significantly check the power of the next speaker," to decentralize power in the chamber. The first priority is to allow legislation to emerge without the speaker's approval.
And the Post really likes it's street-renaming idea, asking every pol it could find if they concur.