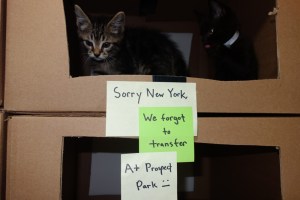 Headline of the Day: "The Subway Kittens Are Having an Awesome Life, No Thanks to Lhota."
Runner-Up: "'Chutzpah': A movie about Weiner, and a fresh sequel."
Eliot Spitzer launched a negative attack ad on the radio criticizing Scott Stringer, his opponent in the comptroller's race, for opposing term limits. Replied the Stringer camp in a statement: "Eliot Spitzer's decision to launch the first negative attack ad of this campaign is a desperate attempt to mislead voters by a flailing candidate."
In a front-page New York Times story, the publication reports that none of the leading candidates, on either side of the partisan aisle, is currently seeking Mayor Michael Bloomberg's endorsement. As has been pointed out elsewhere, a 2011 Times story declared: "Mayor Making It No Secret: He'll Endorse Quinn in 2013."
NY1 host Errol Louis penned a Daily News op-ed urging voters–and the media–to relax a little bit about the public polls, which should be taken with "buckets of salt." Citing general elections, which are usually even easier to poll than volatile primaries, Mr. Louis notes that "major organizations have an atrocious record when it comes to reflecting voter sentiment."
Siena College pollster Steve Greenberg actually went on Mr. Louis's Road to City Hall show last night to talk about the race. "We don't think we're in a position to know exactly who's going to come out and vote next Tuesday," Mr. Greenberg said, explaining why his firm doesn't define the electorate's demographic makeup and re-weight their results to match.
State Senator Rubén Díaz was also a poll critic yesterday, declaring, "This latest Quinnipiac poll shows that NO Hispanic and NO Asian has been counted." Citing the battle for civil rights, Mr. Díaz lamented, "This is a complete disgrace. There are no pickets, no demonstrations, nothing." In fact, both Hispanics and Asians were counted in Quinnipiac's latest survey.
Rev. Al Sharpton, who has been openly critical of Bill Thompson in the past, now appears torn between Mr. Thompson and Bill de Blasio, which the New York Post calls "a stunning setback for Thompson." Later this afternoon, Mr. de Blasio is set to appear on Keeping It Real with Reverend Al Sharpton, which Mr. Thompson has also been on recently.
And, over in the public advocate's race, Councilwoman Tish James is joining her better-funded rivals and going on the air:
[youtube=http://www.youtube.com/watch?v=VrdNPz-I4vI&w=420&h=315]