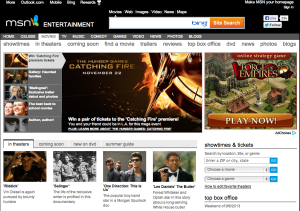 MSN Movies told longtime writers that they no longer had jobs in an especially harsh way. Kent Laird, the editor of Microsoft Entertainment's movie blog, sent a mass email to the many writers, editors and reviewers who freelanced steadily for the site, informing them that the freelance budget had been cut completely.
"Unfortunately, I am writing you to let you know that effective 10/1/2013 our freelance budget has gone away entirely," Mr. Laird wrote in an email obtained by IndieWire. "I wish I could say it's been lowered substantially and we'd just be reducing the work we are doing, but to be honest, it has been taken away and is at $0 for the remainder of the fiscal year."
Some the writers found out the news while they were on their way back from covering the Toronto Film Festival for the site.
I'm on the market. MT @mikeryan: And @katerbland just got laid off, with the rest of MSN movies. Awesome way to leave TIFF.

— Kate Erbland (@katerbland) September 11, 2013
(Joke about getting laid off while being stuck on a delayed flight still on runway but too tired and shocked to make actual jokes.)

— Kate Erbland (@katerbland) September 11, 2013
Mr. Laird's email added that, in order to get paid, all invoices had to be submitted to the site by September 27, and there would be "no grace period."
"I'm more than happy to answer any questions any of you may have, but can tell you, regrettably, there isn't any exceptions that can be made to any of this information. This is the budget we've been given and unfortunately the news I have to pass on," Mr. Laird wrote.