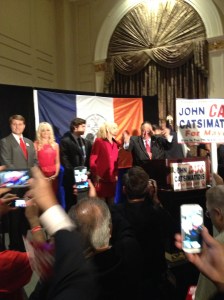 His dream of being the next billionaire mayor of New York City is officially over.
John Catsimatidis, the owner of the Gristedes supermarket chain, took to the stage of the Roosevelt Hotel tonight to concede his loss in the Republican primary following returns that made it clear he had lost to Joe Lhota.
"I want to apologize to my staff that I didn't do better and win this thing for all of you," Mr. Catsimatidis said, mournfully.
"We'll never be disappointed!" some in the crowd shouted. "Never!"
"Next time I'll work harder!" Mr. Catsimatidis vowed back.
The race between Mr. Lhota and Mr. Catsimatidis was brutal at times. Mr. Catsimatidis, who was self-funding his campaign, unleashed a torrent of mailers and television ads, while accusing Mr. Lhota of supporting everything from kitten-killing to potheads.
In a sign of how aggressive the contest had become, Catsimatidis staffers were still chatting about "dirty politics" at tonight's event. And earlier today, Republican voters were harassed by repeated robocalls that claimed to be from the Catsimatidis campaign–"a desperate attempt by the Lhota campaign to steal this election by suppressing the Catsimatidis' vote," Mr. Catsimatidis's spokesman Rob Ryan charged.
"Voters should know that this dirty trick is being perpetrated by the Lhota campaign because they realized they were losing the primary," he added.
But once it became clear that he no longer had a shot at the Republican nomination, Mr. Catsimatidis took the stage to congratulate Mr. Lhota on his victory.
"All our people that worked so hard, I want to thank you from the bottom of my heart. I called Joe Lhota a few minutes ago and congratulated him on a win, and I want to congratulate all of you for working so hard," he said.
Mr. Catsimatidis's supporters showed their appreciation and said they'd stick by him no matter what. Todd Shapiro, a GOP consultant and party official, suggested that everyone had known Mr. Catsimatidis was down in the polls, but that the party's cheery atmosphere demonstrated the strength of their candidate.
"It should feel like a funeral, but instead it feels like a Greek Bat Mitzvah. Everyone here will still be his friend even if he doesn't win," Mr. Shapiro told Politicker before the loss was announced. "He's not a politician. He doesn't talk about taxes. He talks about what people like: Nathan's Hot dogs and the World's Fair, things New Yorkers really care about."
Meanwhile, partygoer Jason Lerman disclosed that he was actually quite happy with the outcome—because he'd voted for Mr. Lhota. He said he'd been at the Lhota party earlier in the night, but found the billionaire's much more welcoming.
"It sucked, so I snuck in here," said Mr. Lerman as he surreptitiously pulled out a folded Lhota nametag sticker from his shirt pocket. "I had to stand there for 40 minutes just to get into the ballroom because of security, and eight bucks for a Miller Lite? Come on. At least here, the booze is free."