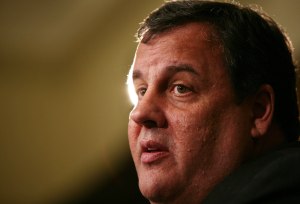 TRENTON – Gov. Chris Christie's re-election team took a swat at Sen. Barbara Buono over the airwaves this week on the state lawmaker's vote 13 years ago to give herself a pay raise.
The campaign's televised ad highlights a bill that was passed by the Legislature in 2000, of which Buono was a part, that raised lawmakers' salaries from $35,000 per year to $49,000 per year. However, that same bill also raised the governor's salary and helped pave the way for Christie to be among the top paid governors in the country.
The $175,000 annual salary puts Christie as the fourth-highest paid governor in the nation, following his counterparts in Pennsylvania, New York and Illinois, according to a June survey. Records also show Christie is one of only two governors in recent memory to accept the full state salary afforded to New Jersey's chief executive.
Gov. Jim Florio began the modern trend of only taking a portion of his statutorily mandated salary of $130,000 per year by accepting only $85,000 annually. Later, Gov. Christine Todd Whitman followed suit, as did acting Gov. Donald DiFrancesco.
By the time Gov. Jim McGreevey took office, legislation passed in 2000 increased the governor's salary beginning in January 2002 to $175,000. But McGreevey accepted $157,000 – the bulk of his allotted pay. However, while McGreevey didn't take the full salary he did reside full time at the governor's mansion, Drumthwacket, in Princeton.
Following McGreevey, Gov. Dick Codey broke ranks and accepted his full salary. However, he was also serving as Senate president at the same time and reports indicate he turned down the additional salary of more than $65,000 the Senate position offers.
Christie's immediate predecessor, Gov. Jon Corzine, who was independently wealthy, accepted only $1 in compensation during each of his four years in office.
"It was a personal decision," Florio told PolitickerNJ, explaining a "dramatic recession" during his tenure made making the decision an easy one.
"It was difficult times," he said. "It was hard to be taking an increased salary when there were so many people out of work nationally and in the state of New Jersey."
The state's unemployment rate rose steadily through Florio's time as governor and reached as high as 8.7 percent for three months before slowly dropping.
But Florio's decision is not shared by all of the state's more recent governors.
Codey argued "the fact it hasn't been increased" actually hurts a governor's ability to govern, particularly when it comes to hiring cabinet-level positions.
"A lot of people will tell me, they'll say, 'Dick, I'm leaving because my kids are now college age … and I can make three times more than I'm making outside government,'" Codey said.
Christie's office declined to comment. However, a Christie campaign spokesman, Kevin Roberts, says Christie accepts the current salary "set by statute," adding that Christie is "not independently wealthy."
What's more, Roberts argued, Christie took action to block pay raises for the Legislature that was enabled by the statute passed by the Legislature in 2000.
Roberts explained Christie blocked potential increases by withholding appointments to a seven-member commission that meets every four years to review and set salaries covered in the legislation. The decision not to appointment members to the Public Officers Salary Review Commission deprives the panel of the necessary quorum it needs to function.
"When the issue did come before the governor when he could have influenced whether members got salary increases or didn't, he made his position clear that he didn't think it was appropriate to raise the salary," Roberts said. "Barbara Buono can't say the same thing."