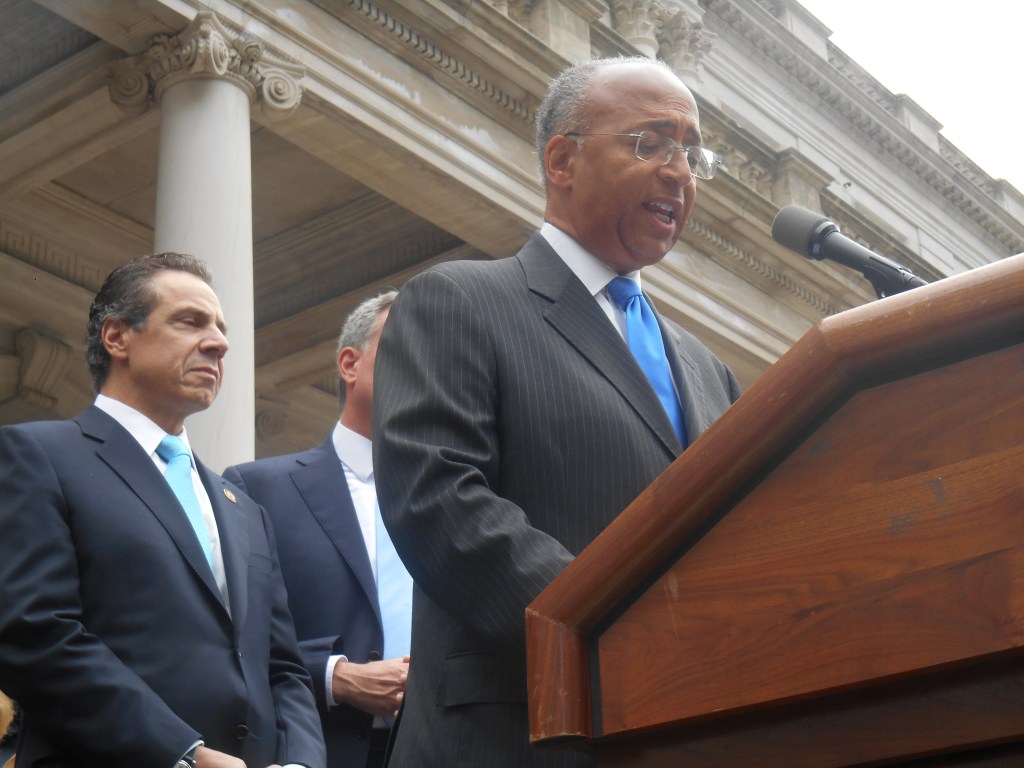 Bill Thompson's mayoral dream has officially ended.
At a City Hall press conference flanked by Gov. Andrew Cuomo and some of Mr. Thompson's most ardent supporters, including Congressman Charlie Rangel and teachers' union president Michael Mulgrew, the former comptroller today endorsed his one-time Democratic opponent, Bill de Blasio, in the mayor's race.
"I am proud to stand here today and support Bill de Blasio to be the next mayor of the City of New York," said Mr. Thompson.
Putting the occasionally divisive race behind him, Mr. Thompson argued it is time to "return a progressive to City Hall, who will make New York a city of opportunity once again. Today I'm proud to stand next to a great New Yorker and throw my full support behind him. And I ask every single person who campaigned for me, supported me and voted for me, to do the same thing."
In return, Mr. de Blasio, the public advocate, showered his own praise on Mr. Thompson.
"I want to say to everyone assembled: there is nothing more beautiful than Democratic unity, and thank you for it," said Mr. de Blasio. "In this city and in this party, there is no man of greater integrity … Even when we disagreed, our friendship–our mutual respect–continued."
Still, Mr. Thompson used today's event to rail against the city's Board of Elections, which, due to election law, only began counting absentee and affidavit ballots today. About 80,000 such ballots remain uncounted and Mr. de Blasio could drop beneath the 40 percent threshold needed to avoid a runoff.
"Today, almost a week after the primary, we still don't know the outcome of the election," Mr. Thompson declared. "We don't know if there should be a runoff or if there shouldn't be a runoff. We don't know how many votes I got or even how many votes were cast. And we're not talking about a few voters here and there. We're talking about tens of thousands of votes. And that's a disgrace."
"We can't have what happened to me as a candidate happen to any other candidate for any other city office in the future. There has to be some fundamental reform," he pressed.
Mr. Cuomo, who chose not to endorse in the primary, commended Mr. Thompson for uniting the Democratic Party to help defeat the Republican candidate, Joe Lhota. He called Mr. Thompson an "extraordinary public servant" and highlighted his longstanding ties with Mr. de Blasio, a favorite to be the city's next mayor.
"Bill and I go way, way back, I don't want to tell you how many years," Mr. Cuomo said, noting Mr. de Blasio worked under him at the Deptartment of Housing and Urban Development in Bill Clinton's administration. "We started as young guys many wrinkles and gray hairs ago and we've shared the good times and the bad times."
With additional reporting by Jill Colvin.