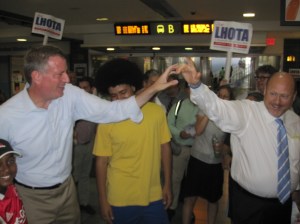 Could it be a preview of the battle to come?
Democrat Bill de Blasio and Republican Joe Lhota found themselves face-to-face yesterday evening at the Staten Island Ferry terminal, where the candidates had scheduled overlapping campaign events. The rare occasion offered a glimpse of the potential fiery dynamic many are expecting if the two mayoral front-runners go on to win their parties' primaries this Tuesday.
"That's the first Democrat I've seen in my 88 visits to Staten Island!" quipped Mr. Lhota, after spotting Mr. de Blasio and his team entering the terminal, which is often considered prime Republican territory.
After a brief and awkward hello, the two teams staked out their ground, campaigning within earshot of one another.
"Say hello to Bill de Blasio, our next mayor!" one volunteer waving a red de Blasio sign bellowed. "Mayor de Blasio!"
"Joe Lhota has real experience," the other side countered. "Joe Lhota for mayor!"
Mr. Lhota actually demonstrated some of that experience, at least in terms of campaigning.
Mr. Lhota and his volunteers rolled their eyes at the novice Mr. de Blasio, who, at first parked his large team at the choke point right in front of the exit from the ferry, infuriating commuters rushing to catch one of dozens of departing buses outside. Even after they moved into the main terminal, Mr. de Blasio's loud, sign-toting team continued to block commuters.
In contrast, Mr. Lhota, who always appears a little awkward on the stump, stood off to the side, steering clear of the initial running of the bulls-style commuter stampede, and then greeting commutes with an outstretched arm once the pace slows. "Note, for the press report, de Blasio blocked the traffic. We are not," one Lhota volunteer told Politicker.
But what the de Blasio camp lacked in experience and tactical positioning, it made up for in enthusiasm. Throughout his visit, Mr. de Blasio stood surrounded by a flock of rowdy staffers, who waved signs, chanted and cheered, as their candidate posed for photos and chatted with voters. Also on hand was Mr. de Blasio's son, Dante–the campaign season's breakout star–who also drew fans as he celebrated his 16th birthday, as well as trackers from rival campaigns.
Overall, the reception was positive, especially for Mr. de Blasio.
"That's the former public advocate!" announced Donnie Williams, 49, an African-American Staten Island resident, who met the candidate at the terminal's Dairy Queen. "I like his character, his stand-up positions on issues–unwavering. Out of all the candidates, I think he's the guy to lead the city."
One emotional woman approached Mr. de Blasio in tears. She told him how she, too, had an 11-year-old multiracial son and was inspired by him. The two quietly embraced before she rushed off.
Earlier, Mr. Blasio told Politicker that, while there was still a long way to before the general election, he was confident in his chances against Mr. Lhota come November.
"I've been clear that I think it's a Democratic year," he said. "So I feel very good comparing my vision with Joe Lhota's. But that's a long way off."
Mr. Lhota, however, remained mum about his rival. "I don't talk about the Democrats," he said. "Positive or negative I'm not going to get involved in their campaign."