The models at the NOVIS Spring 2014 presentation stood silently next to plain metal chairs, some of which were yellow, others of which were blue. Positioned around the perimeter of 404 10th Avenue, their staid stances gave the impression that they were more military than the average fashion week milieu, in considerably brighter uniforms.
Reporters gathered in the center of the room, juggling iPhones and skinny cans of Perrier. The Observer dodged a roving cameraman from the Ukrainian Fashion Channel and several black clad assistants holding Poland Spring water bottles with on-brand bright green straws.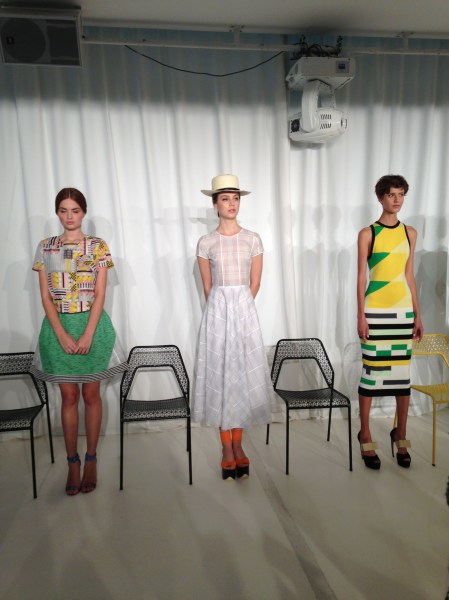 "Are those for you or for the models?" The Observer inquired of one assistant, who murmured "the models" before scurrying away. The mystery of the bottles for the models solved, we turned our attention to the the clothes. Geometric panels and large panels of coral, green, blue and yellow popped against the white backdrop.
We scanned the room, noticing that Novis designs could also be seen on several women in the crowd. Surely one of them might be  designer Jordana Warmflash? The effect was very "I am Spartacus."
We sidled up to various Spartaci (subtly, we hoped), until we spotted a manicure that looked rather familiar — as a matter of fact, we recognized it from a post on the Novis Facebook page earlier that afternoon.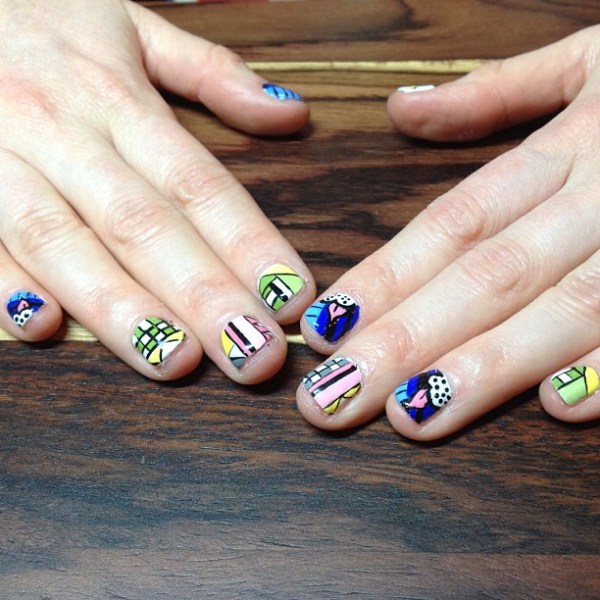 It was indeed Jordana Warmflash, who graciously agreed to give us a few moments to talk about her aesthetic for the collection.
"The inspiration is  mid-century modern design, mostly furniture and architecture," she told us. "So I started with the Eames chair that's really graphic and geometric, so I pulled out the geometric prints and the seaming is really angular."
When we pointed out that the geometric print sported by Ms. Warmflash and the models was reminiscent of an aerial view of the city, she agreed. "We're calling it the geometric map print because it's like a blueprint," she told us, before being whisked away.
"Is that, like, her bodyguard?" someone whispered, no doubt curious about Ms. Warmflash and her publicist.
Ms. Warmflash continued to move through the room, posing for photos and flanked by her fashionable attendants. With a final photo of the chain of models, we dodged the Ukrainian cameraman one final time and left, stepping outside into the equally bright afternoon sun.