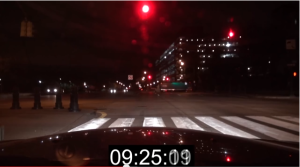 The black-clad fun sponges otherwise known as the police are looking into a video purporting to show the "Fastest Lap Around Manhattan."
The badass six-minute clip, produced by AfroDuck Productions, shows the driver starting off on FDR Drive at 116th Street, traveling around the southern tip of the island, speeding up the West Side Highway and coming back around on I-95.
The soundtrack attempts to emulate Drive but sounds a bit more like if Major Lazer did porn.
The whole journey takes 24 minutes in his BMW, which means he or she had to travel at an average of 66 miles per hour, according to the Village Voice's estimate.
Oh, and the driver only went through six red lights.
Condensing the whole journey into a quarter of the time expertly recreates the delightful experience of doing a bunch of cheap speed in the back of a taxi while listening to aggressive house music, something we'd all like to enjoy on a Wednesday morning.
According to Jalopnik, the stunt is the latest in a series of attempts to lower the record time over the last decade, meaning the reckless event might be occurring frequently, something that's likely to scare any regular drivers on Manhattan's highways.
In an interview with the website, the mysterious AfroDuck revealed that it might be hard for the NYPD to track down the culprit, i.e. himself:
"You frankly can't identify who I am by just looking at the video, and records were meant to be broken," the enigmatic Internet/racing personality said. "I'll release my name a year from now."
The Observer personally can't wait until Sept. 4, 2014, when the driver is finally revealed to be that Vin Diesel character from one of the 17 Fast and Furious movies.
Watch the video here.