It's been a long road. We've seen politicians, celebrities, famous landmarks and halves of power couples fall in the inexorable march to crown the winner of the Observer Mixed Singles tournament — and now, it's time for the final vote.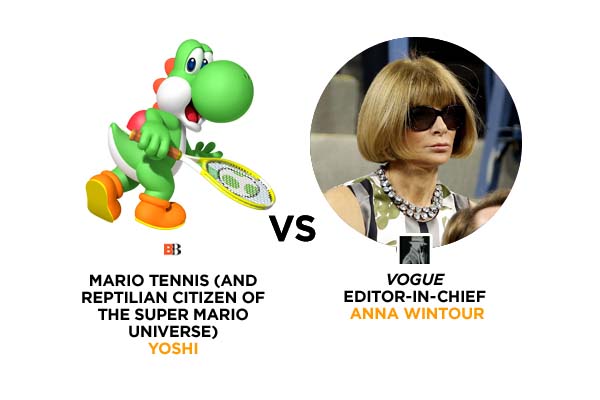 Could this be any more perfect? We have Anna Wintour, doyenne of the fashion industry, peaking at exactly the right time — the weekend before the actual US Open finals take place and the same time that New York Fashion Week turns up to eleven. Feel that chill in the air? It might be autumn's calling card, or it might be the Vogue Editor-in-Chief's power emanating throughout the city. If Yoshi "mysteriously" "fell ill" and had to forfeit in order to avoid this formidable matchup, we would understand. It's a good time to be Ms. Wintour.
Then again, we would also understand if Anna Wintour begged off because of one too many Fashion Week commitments — Yoshi is the ultimate tennis pro. He's fresh off a win against Andy Murray, making him the Stanislas Wawrinka of our bracket, and he's certainly been training hard. One might say that all of his time on the Mario-verse court has been in preparation for this moment.
So there you have it: two pros at the top of their respective fields, and the first ever mixed singles final between a woman and a Paleozoic reptile (that we know of). We have absolutely no idea how this is going to end, but we are looking forward to finding out. We'll announce the winner on Monday; until then, it's up to you to vote.