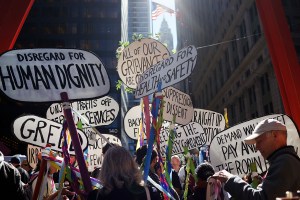 If you were one of the few Occupy Wall Street protesters seen on the streets of New York City yesterday, then you were probably part of the 1%.
There were plenty of people there for National Nurses United, "End AIDS With Robin Hood Tax," and even Transport Workers Union Local 100. But what happened to all the protesters that even just one year ago were being grabbed and handcuffed by the dozens?
Gothamist found a few, but called the "several hundred people who gathered" just an "exercise in shrunken nostalgia."
"All the hallmarks of an Occupy protest were present, if miniaturized and slightly muted," the site reported.
The L Magazine had a bit more trouble finding the crowd, opting to buy a pretzel instead of protesting the rich.
"At 5pm, a scheduled action at Wall and Broad streets didn't materialize; instead, a lone man stood on the steps at Federal Hall, shouting, while Asian tourists snapped photos with the George Washington statue. I was on one side, the soapboxer on the other, and I could hardly hear him," one reporter wrote of his day-long ordeal to find the action. "But I guess it was a start. Or—an end?"
Maybe the protesters got stranded in Brooklyn because of problems with the L train.