Of this much, there is no doubt: Huguette Clark, the copper heiress who died two weeks shy of her 105th birthday in 2011, spent the last 20 years of her life pursued, surrounded by and at the mercy of people who wanted her money.
Many cajoled, others asked outright, a few hounded. Some worked their financial woes into conversations with the elderly woman, often to good effect.
In and of itself, this is not, perhaps, surprising. When she died, Ms. Clark left no direct heirs and an estate worth some $300 million, the remnant of a vast fortune amassed by her father, W.A. Clark, a copper baron, railway titan and U.S. senator.
The chilling avidity with which her caretakers, distant relatives and the hospital where she spent her last 20 years went after her fortune is revealed in investigative reporter Bill Dedman's new book, Empty Mansions: The Mysterious Life of Huguette Clark and the Spending of a Great American Fortune. They are, to put it mildly, disturbing.
The book, co-authored with Paul Clark Newell Jr. (a distant cousin who does not stand to inherit) debuts as the court battle over Ms. Clark's millions approaches and sheds light on many previously unknown details of the reclusive heiress's life. It offers a glimpse into her final two decades, which will be the primary focus for jurors tasked with deciding Ms. Clark's competency when she executed her will and thereby, the fate of her fortune.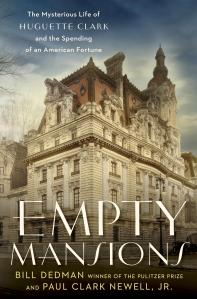 The will, signed when Ms. Clark was 98, would appear to be straightforward to a fault. She left her money largely to arts institutions and the select few she relied upon in the final chapter of her life—her nurses, doctors, attorney, accountant, assistant and a goddaughter. She had no children from her brief two-year marriage in the 1920s and specifically cut out her relatives, half-grand- and great-grand-nieces and nephews, most of whom she had never met: "I intentionally make no provision in this my last will and testament for any members of my family, whether on my paternal or maternal side, having had minimal contacts with them over the years."
But while the document itself was unambiguous, Ms. Clark's life was far, far from it. There is, after all, very little straightforward about a healthy woman who elects to live out the last 20 years of her life in a spartan hospital room, leaving her oceanfront estate in Santa Barbara, a 22-room Connecticut mansion and three Fifth Avenue apartments populated only by caretakers and dolls.
***
One of the more striking photographs in Empty Mansions is of Huguette at age four, sitting on the porch of her father's home in Butte, Mont. Flanking her are 13 dolls, their bodies carefully propped so that all their faces can be seen by the camera.
It was an affinity that Ms. Clark never outgrew and one she indulged as only an heiress could. When she died, she owned more than 1,000 dolls, a roughly $2 million collection that ranged from antique French and German dolls to Barbie and Ken. They lived in her apartments at 907 Fifth Avenue, and their ranks continued to swell even after Ms. Clark entered the hospital—at one Sotheby's auction she bought two dolls in a single afternoon, spending $28,000. Eventually, to work out what had becomes something of a long distance relationship between her and the dolls, she hired an assistant to visit her apartment and photograph them in the many dollhouses that she owned, arranging tableaux according to her highly-detailed instructions. Occasionally, she requested that certain dolls be brought to her hospital room for short visits.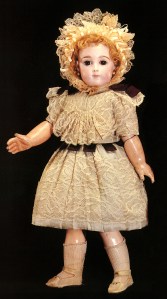 That Ms. Clark had so many dolls, and that they occupied thousands of square feet of prime Manhattan real estate while she camped out in a hospital room, is among the many eccentricities that jurors will have to take into account when considering Ms. Clark's will. And yet, as Mr. Dedman writes, despite her odd obsessions and choices, Ms. Clark's detailed correspondences and requests bear the mark of a meticulous, intelligent woman who knew her own mind.
An artistic woman who spent years studying painting, photography and Japanese culture, Ms. Clark commissioned doll clothes from Dior and miniature houses from some of the most skilled craftsmen in U.S., Europe and Japan, conducting exhaustive research to make sure that the Japanese houses were historically accurate. When pieces were not made to her specifications, she was polite but firm, insisting on modifications.
She managed her properties in much the same way. Though she last visited Bellosguardo, her mother's Santa Barbara estate, in the 1950s, she continued to supervise every detail via photos. After a stand of trees was wiped out by a storm, she not only demanded that they be replanted, but made the staff redo it twice until she was satisfied. But if she was demanding, she was also very generous, paying well and showering everyone around her with gifts: a $22,000 check, a Cézanne painting, a prewar apartment with a view of Central Park.
***
The biggest beneficiary of Ms. Clark's largesse was Hadassah Peri, the nurse on duty when she first checked into Doctor's Hospital, which soon became part of Beth Israel. Ms. Peri became her confidant and near-constant companion for the rest of her life, working 12 hour days, seven days per week. She was rewarded with a salary of $131,040 a year, which Ms. Clark supplemented lavishly—giving her some $31 million when she was alive and another $30 million in the will, including her treasured doll collection.
Ms. Peri has always defended her windfall with the argument that she devoted her life to Ms. Clark. While the two women appear to have been extremely close, a few details give pause. Ms. Peri's inheritance is much, much larger than any other individual's—Ms. Clark's personal assistant, by comparison, stands to inherit about $500,000. Secondly, one incident, as described in Empty Mansions, stands out. When Ms. Clark contracted pneumonia at age 98, Ms. Peri immediately phoned Ms. Huguette's attorney to collect on $5 million the heiress had promised her before she died. Ms. Peri's attorney did not respond to The Observer's request for comment.
But if such actions have an avaricious cast, they pale in comparison to Beth Israel's, the hospital Ms. Clark entered when she was 84, emaciated and disfigured from basal cell carcinomas that had eaten through her right cheek and left lip.
At one point, the hospital sent in one of Ms. Clark's doctor's mothers to speak with her about "the great joy and satisfaction of preparing a will to 'ensure care of those who loved her,'" a ploy that the heiress rebuffed by turning on The Smurfs. "I kid you not! My mom spent 30 minutes watching the Smurfs celebrate Christmas; she deserves a medal," wrote the doctor in an internal memo that was entered into court documents.
In 2004, Beth Israel tried to use a condo developer's interest in Doctor's Hospital to score a "super-mega gift." Exploiting her fear of change, the hospital told her that unless she gave them $125 million, they would need to sell the building she lived in. She again refused, but not before asking to see a copy of the hospital's financial statement and asking her lawyer if she could raise the cash by selling her Connecticut estate, which he told her was only worth about $20 million.
In the end, memos show that Beth Israel was disappointed with her $4 million in donations, including a Manet painting,  (though she left the hospital $1 million more in her will).
"It's hard to fight the evidence of her being willful and stubborn and knowing what she wanted and what she didn't want," Mr. Dedman told The Observer. "One of the core conclusions of the book was her lucidity. Of course, that doesn't help the relatives' case at all."
***
In order to overturn Ms. Clark's will, her family will need to prove either that her will was forged, that there was undue influence or that Ms. Clark was incapacitated and not competent to execute it. Perhaps the strongest evidence in favor of the family is that Ms. Clark executed another will, six weeks prior to her final one, under which her 21 relatives—20 of whom are challenging her final will—would have inherited her entire fortune. The sparse will was, her lawyer and accountant claim, executed in response to Ms. Clark's desire to start with an uncomplicated document, naming executors and leaving her estate to intestate distributees while she revised the list of beneficiaries that she had been keeping for years.
Though the decision to excise her relatives seems spiteful at first glance, that last time Ms. Clark saw anyone from her extended family was in 1968. Fourteen admitted to never having met her, a few remembered sending Christmas cards, and only one of the potential inheritors maintained what could be described as a distant friendship with her. Her grandnieces and nephews claim that they were simply respecting her wishes for privacy. None made any attempts to visit her until 2009, when two cousins snuck into her hospital room while she slept, suspicious of her attorney's insistence that she was alive and well but didn't want to see them. When the cousins returned the next day, Ms. Clark's nurse shooed them away.
On the other hand, Mr. Dedman noted "a 20-year demonstrated history of Huguette writing checks to the nurses and the doctors; it's clear that it was her will to give them money," he said, adding that that there are reams of papers, audio tapes (included in the audio version of his book) and 20 years of medical charts documenting Ms. Clark's good physical and mental health. "I see the family as having an uphill climb."
Gideon Rothschild, a prominent Manhattan trust attorney, agreed that family's task will be a difficult one.
Mr. Rothschild, who is not involved in the case, explained that the law presumes that a person is competent, so the burden of proof will be on the family to show that she wasn't. Moreover, the bar is very low for competency in executing a will—she needs only to have be cognizant of her beneficiaries and the assets that she intended to leave them.
He added that estates left to employees were not uncommon—his office is currently handling a case in which a woman's nieces and nephews are challenging a will that leaves her estate to the longtime chauffeur. The only uncommon thing about the Clark case is the size of the inheritance, quite likely a decisive factor in why the case has not settled.
And, of course, there remains the riddle of Huguette. While motives of the litigants are not particularly complicated, Ms. Clark's life poses a much more difficult question, one that cannot be easily dismissed or answered: Once you have that kind of money, what do you do with it? Great fortunes have been deployed in pursuit of adventure, love, happiness and, in the case of Ms. Clark, who paid $1,200 per day to remain hidden in a hospital room, near-total isolation from the outside world. As one of her oldest friends told Mr. Dedman, she didn't want to see outsiders, even relatives: "She thought they were just after her money. She didn't trust people."