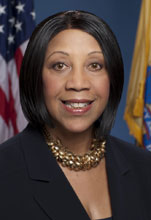 TRENTON – Assembly Speaker Sheila Oliver issued a statement Friday calling on Gov. Chris Christie to do "the right thing" and not appeal a court's decision that would pave the way for same sex marriage in the Garden State.
"I'm ecstatic to see today's ruling. This is a great victory for civil rights and treating everyone equally under the law," Oliver said in a statement.
"Sadly, same-sex couples were denied equal rights for too long, and Gov. Christie's veto only prolonged their struggle unnecessarily," she said. "Oct. 21 should be a very exciting day for many loving New Jersey couples, and I hope Gov. Christie does the right thing and does not appeal. Justice has already been denied for far too long. Let's clear the way for equal rights for all families."
Christie's office has yet to issue a response following the ruling, or say whether the administration will appeal the decision.