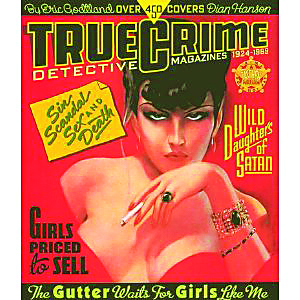 True Crime Detective Magazines 1924-1969
Eric Godtland,
edited by Dian Hanson
(Taschen, 336 pp., $39.99)
"WASHINGTON MURDER ORGY," "TWO THOUSAND SUSPECTS," "SECRET LOVE SPELLS SUDDEN DEATH," "TOO MANY KISSES ON THE BEACH." These screaming cover lines can be found on just one page of Taschen's new art book, True Crime Detective Magazines 1924-1969, which celebrates the era of such scandal rags—mostly through their covers, though there is also the occasional essay in English, German and French.
If headline-writing lessons aren't your thing, nearly every cover also features a woman, usually in some state of undress. These images are so similar to the normal pin-up girls of the era that the crime element often feels, hilariously, like an afterthought. The knife that's about to stab one of them seems like it was drawn last minute into the upper left corner. And I'm going to guess those jail bars were hastily foregrounded over that lusty-looking dame. One of the most over-the-top examples of this has to be the story illustrated by a picture of a pretty young victim over whom GIANT GREEN STRANGLE-Y HANDS HAVE BEEN SUPERIMPOSED. (She was strangled.)
One could feel queasy about this sort of thing, but when I compare it to what passes for tawdry periodical amusement these days it just feels so much more honest. I refer, of course, to your Thought Catalogues, your twerking videos, your headlines that begin with the word "How." Nobody actually wants to look at any of that stuff! How long will it be until BuzzFeed starts a Murder vertical?
—Dan Duray
Greg Sestero and Tom Bissell
(Simon & Schuster, 288 pp., $25.99)
Even if you haven't seen Tommy Wiseau's cult film phenomenon, The Room, it would be a mistake to not pick up The Disaster Artist: My Life Inside The Room, the Greatest Bad Movie Ever Made. It's written by Greg Sestero, one of the stars of the 2003 flop. (The Room, one of the most poorly made films ever, only grossed $1,900 in its initial run, while costing director/producer/writer/star Mr. Wiseau $6 million; it is now, of course, an international hit and screened regularly all over the world.) Mr. Sestero's co-author is Tom Bissell, whose 2010 Harper's piece on the film's enigmatic creator is perhaps the clearest example of high-lowbrow. Their book is nothing short of a devastating look at mental illness.
A failed actor in the grandest sense (his claim to fame before The Room was starring in a Puppet Master film), Mr. Sestero spent a good chunk of his 20s living off the desperate acts of kindness that Mr. Wiseau imparted to him: a free car, an apartment in Los Angeles (though the director then insisted on sharing it with him, despite it being a one-bedroom) and an unspecified amount of money for agreeing to line-produce the feature that Mr. Bissell referred to in the Harper's article as an exercise in "sincere surrealism." Mr. Sestero's worrisome friendship with Mr. Wiseau, who will never speak of his past, where he's from or where he gets his money, resembles, in the actor's mind, the relationship between Dickie Greenleaf and the talented Mr. Ripley. Of course, in Mr. Sestero's mind, he's Dickie, that film's rich playboy.
Mr. Bissell draws a much more apt comparison through his references in several chapter notes to a much more parallel relationship: that of Joe Gillis and Norma Desmond in Sunset Boulevard. Much like Mr. Gillis, Mr. Sestero's mutually unhealthy association with Mr. Wiseau is less about friendship and more about money. Eventually, Mr. Sestero winds up broke and unable to leave the apartment bequeathed to him by his unstable director, even when his situation becomes increasingly fraught. The Disaster Artist paints a truly twisted picture, one which in the end has little to do with The Room but would have undoubtedly made for a better subject for a film of the same name. —Drew Grant