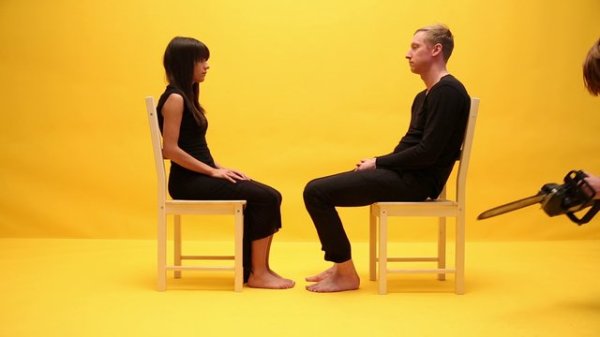 "What does it mean to love someone?" 26-year-old Jessica Walsh mused Tuesday on the blog she created with her friend-turned-boyfriend Timothy Goodman. The couple had spent the two previous days at Disney's Animal Kingdom, where they'd shared a pistachio ice cream cone, wandered through Fantasy Land and romantically sipped champagne while watching the nightly display of fireworks (all the fuzzy romance your pre-teen self ever hoped for). But after squabbling over a forgettable mishap the previous night, the two decided to break up — a predictable end to a relationship that began unconventionally.
In case you're not familiar with our protagonists, Ms. Walsh and Mr. Goodman are both successful, New York-based graphic designers. Tim was afraid of commitment, and Jessica was always falling too hard, too fast. When the two friends found themselves single at the same time, they wondered if their respective weaknesses, brought together, might balance out in a kind of ying-yang bliss. Following the spirit of the maxim, "fake it till you make it," they decided to co-op the tropes they'd seen in television and film in hopes of together creating something that could actually last.
In an arty video on the couple's blog, Ms. Walsh — propped on a stool and apathetically puffing a cigarette — flipped through a stack of posters on which the experiment's tenents were outlined in perfectly hand-drawn font:
They would see each other every day for forty days.
They would go on at least three dates a week.
They would see a couples therapist once a week.
They would go on one weekend trip together.
They would fill out the daily questionnaire and document everything.
They would not see, date, hook up, or have sex with anyone else.
In short, dating intellectualized to the nth degree. Each day the couple blogged about their relationship, sharing their feelings in a multimedia display of witty film, photography and perfect typeset. By Day Eight, the relationship had already become dysfunctional. "Why am I becoming insecure? Is this project crazy? Is this project making me crazy?" Ms. Walsh asked. On Day 16, Mr. Goodman wrote, "I really think [Jessica's] crazy. And I really think it's turning me on."
The narrative of 40 Days of Dating seems almost too tragic, and it raises questions about the nature of manipulated reality. What would the couple's relationship had been like if they hadn't blogged about it? Was a tragic ending the only one that made narrative sense? Why can't two twenty-somethings who have it all find love? In reading about their breakup, we couldn't help strangely reminded of Truman Capote, who wanted the subjects of his nonfiction novel In Cold Blood to be hanged for their crimes, not so justice could be served, but so that his book could hopefully win a Pulitzer. Of course, Capote lived in a world of his own.
Still, we'd like to see Ms. Walsh and Mr. Goodman give it another go. Perhaps for their first weekender, they could take a tech-free vacation and really get to know each-other.
[protected-iframe id="b5c7a90b3700700d3a620019dd7ba850-35584880-41847290″ info="//player.vimeo.com/video/73917402?title=0&byline=0&portrait=0″ width="500″ height="281″ frameborder="0″ allowfullscreen=""]
Day 40: Disney World from 40 Days of Dating on Vimeo.