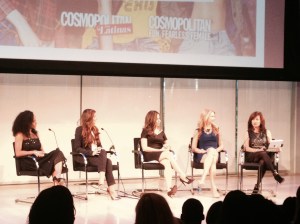 There must be a law somewhere that no discussion of the millennial generation can occur without at least one mention of Girls.
"Lena Dunham, the character of HBO's hot new hit Girls, is a great expression of the millennial generation, and really conveys a lot of what their world is all about," said Cosmopolitan publishing director Donna Kalajian Lagani, by way of introducing an Advertising Week panel on how to market to millennials.
Moderated by Ms. Lagani, the panel featured High School Musical actress and activist Monique Coleman, multicultural PR expert Maria Ramirez, millennial expert Christine Hassler and TV/radio host Chelsea Krost.
Over the course of an hour, the perfectly-coiffed, stiletto-clad panelists explained to the audience—which was easily 96% millennial—why millennials aren't actually a bunch of entitled little Hannah Horvaths.
"This generation is very much altruistic and very much into brands being authentic, transparent, open—really speaking to a holistic approach as opposed to trying to sell something," Ms. Coleman said. "I'm willing to spend $10 on a journal that is made of saris, and I can connect this to a woman in India, before I spend $8 on just a regular notebook."
Ms. Krost concurred. "There's a statistic that says that millennials much rather purchase something with a meaning instead of the label," she said. "And I feel that that's really evolved. I remember being…thirteen years old, and everyone started to get a Coach bag, and everyone just wanted a Coach bag. And I think that we're turning into this society where the meaning is more important."
We fleetingly wondered if someone who literally calls herself "the voice of her generation" could convincingly argue that millennials aren't egotistical (even Lena Dunham's Hannah Horvath knew enough to modify the phrase to claim to be "a voice. Of a generation").
But Ms. Lagani assured us that the panelists were anything but entitled. "I have to say, [the panelists] are not entitled because since, you know, the traffic is so horrible in New York today, we got into a car to come over, we sat for one block for 15 minutes, and then we all traipsed with our six inch heels into the subway and got here on time," she said. "They're real Cosmo girls, right?"
Then the panelists threw around a bunch of statistics and trends about millennials' shopping habits and preferences. "80% of millenials shop online, however once a week, the statistics show that a millennial will go into a store and shop, and actually spend money," Ms. Krost said. "And more millennials do spend money in a store than online."
Basically, millennials buy things in places.
When it comes to getting millenials to buy stuff, Ms. Hassler identified two key target markets: "Gen-Yessers" and "Gen-Why Me-ers." Advertisers, she said, need to market to both the ambitious millennials—"like these gals," she said, gesturing to the other panelists—as well as the unemployed ones living in their parents' basements. "The 'Gen-Why Me-ers' move back in with mom and dad and are upset about the economy," she said. "78% of graduating seniors move home. Can you imagine? Moving home."
Apparently, having no source of income and living at home is no impediment from buying stuff.
The conclusions? Millennials like social causes. Millennials like social media. Millennials will see through your department store salesperson bullshit. Some millennials buy things online, and some don't. Some like spending money, and some don't. Millennials come from different ethnic backgrounds and accordingly respond to different marketing strategies.
And besides, the millennial generation is 80 million members strong—bigger, even, than the Baby Boomers.
And as critics of Girls pointed out long ago, it might just not be possible to categorize the entire generation in one simple TV series or one simple marketing strategy. Perhaps that's the biggest millennial misperception of all.