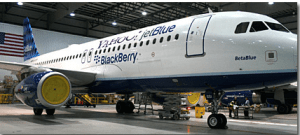 If there's something that excites you people more than WiFi on the subway platforms, then it's definitely accessing the Internet while being 30,000 feet in the air. Increasingly, internet access is the most-requested perk from air travelers–even if being able to log on means they have to give up basic human rights.
A survey conducted by Honeywell Aerospace and picked up by MSN Now said that 90 percent of those 3,000 polled reported they would give up another onboard convenience, like a free copy of SkyMall, to constantly have access to Wi-Fi. And if we're just gonna go all-out, passengers also humbly requested that they want Internet access to be as fast and stable as their work connections. Planes skim the heavens, not actually travel in heaven, people.
So, what else would they give up? Sixty percent said they'd forgo that barely functional reclining seat and another 25 percent of passengers wouldn't mind if legroom was cut back an additional six inches to access WiFi. Also, 70 percent said a terrible Internet connection is more distressing than poor galley service.
If you think these people are just using the WiFi to tweet that they're "On a plane lol hi," you're sorely misguided. Some use the Internet to take care of personal things, like booking doctor's appointments or sending urgent emails. Another said they planned an entire wedding during their flight while another respondent said they filed for divorce.
Uh, we'll be over here in 18A practicing our selfies.