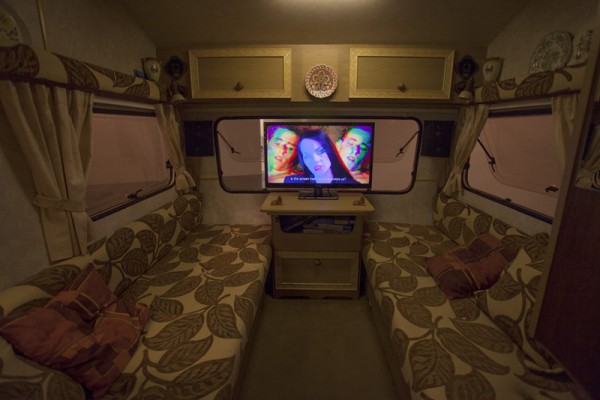 British artist Phil Collins, who appears to be settling gracefully into midcareer, has parked two small campers in Bonakdar's first-floor gallery. Each sports sofas, snacks and a television that plays an hour-long episode of Mr. Collins's 2011 project, TUTBU.TV, a faux teleshopping channel, originally performed live in a theater and broadcast on German television, that accomplishes the rare feat of being a legitimately hilarious work of art.
Callers to TUTBU purchase, at bargain prices, not products but outré experiences: the chance to be subjected to a Stasi-style questioning, star in a "historical porno" or fake a coma to inflict emotional suffering on friends and family—interrogation, porn and death being "Germany's top three fantasies," as one slightly menacing host, who doubles as a performer for these live enactments, declares. (The channel's double-edged tagline, frequently repeated with unhinged fervor, is "More experience is not possible!")
Think of the work as a sendup of today's banal experience economy as well as the increasingly ridiculous experiential art peddled by contemporary artists. While his work often involves long-term collaborations with non-art communities (karaoke-singing Smiths fans, Palestinian disco aficionados), he delivers his products slickly packaged, ready to be consumed. (Nothing wrong with that.) He's the unusual artist who actually gets better as he cranks up the production value.
A prime example of his large-scale collaborative finesse: six elegant, carpeted kiosks on Bonakdar's second floor that he has outfitted with a record player and a wall of 7-inch records, some by musician friends (Laetitia Sadier of Stereolab, Damon & Naomi, once of Galaxie 500), who paired their tunes with recordings made on a telephone that the artist installed at a homeless shelter in Cologne, which offered free calls on the condition they could be taped.
People discuss trivial matters and major crises (a bust by the "pigs"). Listening in on these private moments, perhaps thinking of your own telephone calls and the moods set by your own background music (actual and mental), you realize that you yourself are on display through large glass windows, playing a bit of a role. The piece demands a certain amount of exhibitionism, but of the comfortable and good-natured variety. Mr. Collins is a master examiner—and purveyor—of that prevailing condition of our age: being alone together. (Through Oct. 19)