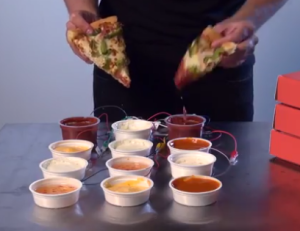 Our lifelong problem of not having any noise being emitted from our dipping sauce packets has finally been solved. Thanks to Pizza Hut Canada, the chain created an interactive soundboard to celebrate its Facebook (META) page surpassing 250,000 fans.
In a YouTube video, the soundboard connects a dozen of the chain's ~signature~ dipping sauces together, and each makes a corresponding noise when a slice of pizza is dunked into it. The soundboard was made possible by MaKey MaKey, a $50 kit that uses wires to trigger computer programs. As exhibited, one can channel their inner dorky DJ spirit by making a string of beeps, bops and other fleeting dubstep-like noises to create "Dip Hop."
Certainly all that dipping in the dozen sauces makes for one soggy and distasteful piece of pizza, but what else are they going to do up there until hockey starts?
http://www.youtube.com/watch?v=xY23_x39FyE&feature=player_embedded