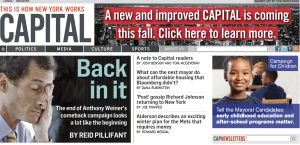 Politico publisher Robert Allbritton has bought Capital New York. The news was reported by both Capital and Politico late last night, and a formal announcement went out early this morning.
"I have very big ambitions for Capital: to do in New York what we did in Washington with POLITICO," Mr. Allbritton, who announced in late July that he was selling his television holdings in order to focus on digital, said in a statement. "I believe powerfully that nonpartisan publications with an intense focus on a specific set of topics can break though [sic] quickly, editorially and financially. I'm excited to take the impressive work [Josh] Benson and [Tom] McGeveran did with Capital to the next level."
Capital will hire more than two dozen journalists in the coming weeks, and relaunch the website sometime this fall.
"What the new investment does, for one thing, is to put this publication on a stable financial footing, ensuring our ability to deliver quality local coverage over the long term," Messrs. Benson and McGeveran wrote in a note to their readers. "It also gives us the wherewithal to be much more ambitious than ever before about our editorial mission, which is to be a primary source of reporting for knowledgeable readers on the workings of the greatest city in the world."
Mr. Benson and Mr. McGeveran will continue to run the site, which they launched in 2010 after leaving The Observer, as co-editors.
Politico co-founder and Executive Editor Jim VandeHei  will oversee the venture in the role of president, as well as continue his current position at Politico. Politico's executive director of editorial operations Katherine Lehr will move to New York to become Capital's vice president of operations and director of sales strategy Cally Stolbach will become Capital's director of business development.
"There will be lots more to tell you in the coming weeks and months as Capital enters this next stage," Capital's co-editors wrote. "First and most important, though: thank you. We're more grateful than we're comfortable trying to express here for your attention and feedback and support, without which we'd never have made it to this point."