When the United Nations was founded, in the wake of World War II, it had a few basic but admirable goals, such as fostering international security and achieving world peace. This week, the world turns its eye once again on Turtle Bay, the neighborhood in which the U.N. is headquartered, for the 68th session of the General Assembly, as representatives from 193 countries descend upon the city. Streets will clog, security will be heavy and distinctly garbed dignitaries will run amok (it was reported in 2011 that foreign diplomats owed the city nearly $17 million in outstanding parking tickets). World peace is most definitely out of the question.
But that doesn't mean it isn't worth paying attention to. If anything, the G.A. has become "must-see TV," with two weeks of meetings and debates that often devolve into a surprisingly undiplomatic mix of brawls, bickering and braggadocio. It's like NYC's longest-running pop-up circus act.
"There's always some untoward incident that no one can predict," Stephen Schlesinger, a historian of the U.N., said.
In 2010, for instance, Sudanese representatives rushing to a party tussled with Secret Service agents in an attempt to bypass a metal detector. They tumbled down a flight of stairs in the ensuing kerfuffle. And while it is unlikely that the delegates were drunk, the notion is not absurd. Earlier this year, an American ambassador upbraided his U.N. colleagues for showing up sauced to budgetary meetings.
In 2011, Turkish bodyguards—a notoriously bellicose bunch—wrestled with U.N. security officials outside the G.A. hall (no clear reason for the fight has been given), and two years earlier, an angry mob of anti-government agitators clashed with delegates from the Republic of Guinea in front of the country's U.N. mission on East 39th Street. You get the idea.
"It's really very colorful, in every sense of the word," Vessela Tcherneva, a former spokesperson for the Bulgarian foreign ministry, said. "You have all these different nations and cultures, but you also have all these different political attitudes."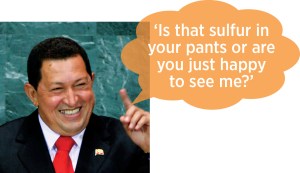 Ideologically, those attitudes can clash, particularly during the general debate, which commences on Sept. 24 and is the weeklong high point of the annual world summit.
Recall Hugo Chávez, who in 2006 held up a copy of Noam Chomsky's polemic Hegemony or Survival, a critique of American diplomacy at large, and went on to give his own biting appraisal of George W. Bush. "Yesterday, the devil came here," Chávez declared, referring to the 43rd president of the United States. "And it smells of sulfur still today." Then, in 2009, there was Col. Muammar al-Gaddafi, who took the podium to deliver a rambling 90-minute diatribe—way over the allotted 15-minute time slot—that was ultimately a call for an African seat on the Security Council but contained so many ludicrous conspiracy theories you'd have been hard-pressed to sift out its main point on the spot.
And who could forget the Mahmoud Ahmadinejad-inspired walkouts?
ONE OF THE REASONS these incidents stand out—aside from their innate peculiarity—is that, in recent years, the G.A. has not fostered much diplomacy, which is, remember, what everyone has purportedly come to town to accomplish.
This year, the cacophonous trio of dictators who have colored the annual proceedings in the past will not be in attendance: Chávez and Gaddafi are dead, and Mr. Ahmadinejad is out of office. Still, experts say 2013's summit is shaping up to be one of the most exciting in recent memory—one that heralds the promise of significant diplomacy along with the prospect of a few tense speeches.
"The big question is whether [President Barack] Obama will be able to use his speech to declare a diplomatic triumph or whether it will still be unclear," said Richard Gowan, expert on the U.N. and research director at New York University's Center on International Cooperation, alluding to the president's maneuvering on the Syria issue.
"This could definitely go down in the history of great General Assembly speeches," Mr. Gowan said.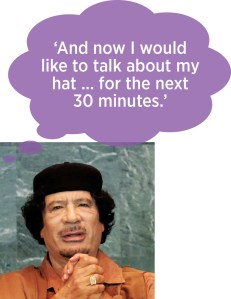 It's now unlikely that the United States will pursue a unilateral military attack against the Syrian government for allegedly using chemical weapons on its own people. But the fact that Mr. Obama—who in his first U.N. address in 2009 attempted to differentiate himself from the hawkish policies of his presidential predecessor—has not taken the prospect of a strike off the table will likely cause tension at the G.A., especially as negotiations with Russia to secure Syria's chemical arms move forward.
So a complex geopolitical matrix hangs in the balance, and, with so much at stake, the G.A., it seems, could not have come at a more opportune time. "Lots of people say the U.N. doesn't matter," Mr. Schlesinger said. "In fact, it does. When there's a fire, you go to the fire station. When there's a crisis in the world, you always go to the U.N."
It remains to be seen if Russian President Vladimir Putin—who, in a recent Times op-ed, smugly chastised the American president for opting to engage militarily without the approval of the Security Council, of which Russia is a permanent member—will make an appearance. But Hassan Rouhani, the current president of Iran, is scheduled to speak on the first day of the debates. And, although foreign policy experts wonder about his true intentions, Mr. Rouhani, by most accounts a more measured ruler than the grandstanding Mr. Ahmadinejad, is expected to strike a more civil tone between the United States and Iran.
AT THIS TIME OF YEAR, the U.N. and its environs are a dense thicket of foreign leaders milling about haphazardly. And at the moment, the building is under construction, which may push more delegations out into the streets, much to the delight of those who get their kicks by looking for foreign ministers from small European countries.
While the G.A. itself, along with high-level receptions that take place throughout the city, are off-limits (we hear some Gulf states, like the United Arab Emirates and Saudi Arabia, put on some particularly opulent ones), there's always the possibility of chance encounters on the street and in coffee shops in the area. (Word has it that last year a British delegate had an intern sit in a Starbucks for eight hours one day so she could have a seat saved during breaks from the proceedings.)
For the truly devoted political celebrity spotters, however, the Spanish restaurant Alcala, on 44th Street between Second and Third Avenues, is the place to go. According to its owner, Jesus Martinez, the establishment has served 25 presidents in 12 years, and the U.N.'s secretary-general, Ban Ki-moon, dines there on a regular basis. Four years ago, the presidents of France, Mexico and Guatemala were all there at the same time. And although it's often difficult to get in without a reservation, there are days when mere plebs can nosh alongside world leaders.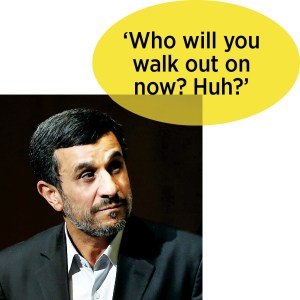 "If you come over here Monday or Tuesday for lunch, you'd be surprised," Mr. Martinez said.
But with street closures, traffic delays and plenty of identification checkpoints, it's difficult to get around, which can be particularly irksome to those who live and work in the neighborhood.
"Every year, it's the same bullshit," Evan Gee, a porter in Tudor City, an apartment complex that overlooks the United Nations headquarters, said. "I'm not looking forward to it at all."
"There's nothing good for us in the neighborhood that comes out of this," said a freelance journalist who has lived in the area for 21 years but declined to give her name.
Still, some residents seem to accept the G.A. and its cartoonish elements as a reality of the ebb and flow of New York life.
"It's the most crazy when the president's in town," Lin Culbertson, a 10-year resident of the area, said, referring to Mr. Obama. "But since I walk everywhere, I don't have the same problems as those who drive."
New Yorkers, after all, are used to being inconvenienced. And one gets the sense that most city dwellers endure the G.A.—as they do other perennial events that attract large crowds and hectic environments, like the Times Square ball drop and the Thanksgiving Day Parade—with a certain amount of pride, knowing there isn't any other town better suited to take on this annual circus act.
"One can't see where else it could possibly be," John W. Ashe, this year's G.A. president and the U.N. ambassador for Antigua and Barbuda, said. "It's a perfect marriage."