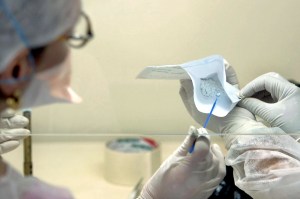 In the last week we've learned a lot about what's acceptable to bring into a courtroom. Heroin: Good. Tylenol: Bad.
A Queens Criminal Court was sent into a panic yesterday after the cold medicine was mistaken for anthrax.
The Tylenol had been mailed from one assistant district attorney to another as a prank. Oh, those zany lawyers and their zany ways.
A law enforcement source said the ADA mailed "baby Tylenol" to a colleague who "had been complaining that he had cold and flu symptoms … He was whining and complaining about it for a while."
But the tablets were crushed in the mail and upon arrival, looked suspiciously powder-like in the court's mailroom on Queens Boulevard.
Workers called 911 when they couldn't identify the substance. The mailroom was evacuated and seven people were treated for exposure to a potentially toxic substance.
A spokeswoman for Queens DA Richard Brown refused to say if the prosecutor behind the prank — who was not named — would be reprimanded.