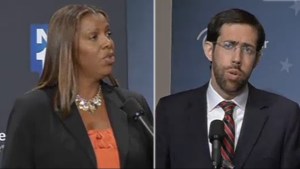 With the mayoral and comptroller candidates chosen, only one Democratic primary contest remains to be settled: the race to become the city's next public advocate.
Facing off on NY1 in their lone televised debate before the October 1 runoff election, Brooklyn Councilwoman Tish James and State Senator Daniel Squadron traded blows on taxes, trust funds and their ties to Mayor Michael Bloomberg.
"Council member James has voted with Mike Bloomberg 159 times in the City Council, 98 percent of the time," Mr. Squadron alleged after Ms. James accused him of being too close to the current mayor–an overriding theme of the debate.
Later, Mr. Squadron criticized Ms. James for accepting contribution from soft drink companies while she was battling Mr. Bloomberg's large soda ban: "At the same time Council member James was out there on the soda ban she was taking corporate contributions, corporate PAC contributions from Coca-Cola who was deeply vested and I think that raises a real concern," he charged.
But Ms. James hit right back, pointing out that Mr. Squadron was endorsed by Mr. Bloomberg when he first ran for office and noting that he had declined to back Mr. Bloomberg's 2009 Democratic opponent, Bill Thompson.
"Dan, you were silent on term limits. Dan, you did not endorse Bill Thompson as the Democratic nominee. Dan, I recognize you were a close ally of Mayor Bloomberg–in fact, you used to work for Mayor Bloomberg in the Dept. of Education," she piled on.
In response, Mr. Squadron said he had spoken out against Mr. Bloomberg's decision to overturn the term limits law, but admitted he hadn't endorsed Mr. Thompson, explaining that he was more focused on his legislative work at the time. He then pivoted to  another attack line: Ms. James's initial failure to disclose rental income she'd received as a landlord and her failure to release her full tax returns.
"For years, you hid from your constituents that you were a landlord," he said. "You have not disclosed your taxes. You're the only citywide candidate who has failed to do that despite pledging in an earlier debate to do exactly that … In an office that's all about transparency, all about making sure New Yorkers can trust you, don't you think that those issues should raise real doubts about New Yorkers' ability to trust you as public advocate?" he asked.
Ms. James, when pressed, said she would release her tax returns, and then grilled Mr. Squadron, the son of a wealthy attorney, about the details of an alleged trust fund she implied had buoyed his career. (A former rival and current James supporter, Reshma Saujani, once branded Mr. Squadron "Trust Fund Dan.")
Mr. Squadron, however, said much of his family fortune had been wiped out by Bernard Madoff's infamous Ponzi scheme.
"This is critically important and was a personal attack. It was innuendo about myself and my family and it's been going on the entire campaign," he said. "That kind of personal attack and innuendo–in addition to being simply untrue–is deeply inappropriate."
After the debate, both campaigns released statements declaring that they won the night.