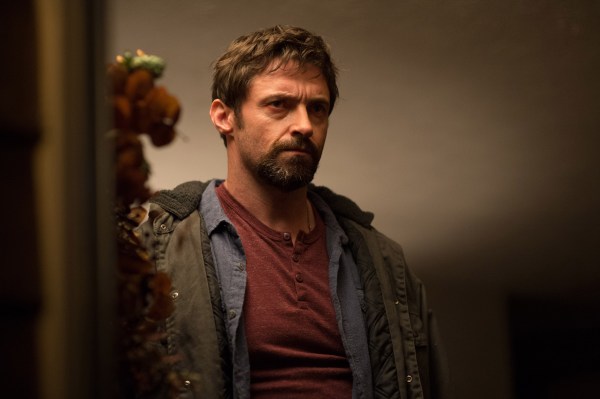 Prepare to be electrified! When it comes to thrillers, Prisoners is the must-see sensation of the year. Grisly, gruesome and unnerving, this first-time English-speaking feature by French-Canadian director Denis Villeneuve (Incendies) about the harrowing circumstances surrounding the kidnapping of two 7-year-old girls, is the most brilliant, nail-biting police procedural I have seen since David Fincher's 1995 film, Seven. (And you can throw in the best highlights from Silence of the Lambs, too.) With Hugh Jackman as a distraught blue-collar father driven to the brink of madness when his daughter disappears in broad daylight and Jake Gyllenhaal as the seedy detective whose pokey sleuthing leads to unimagined horrors, you will be frozen to your seat with awe.
Thanksgiving Day, on a neat, inviting street with green lawns and white two-story Colonial homes in a suburban neighborhood that seems a long way away from the violence you read about in newspapers (the story is set in Pennsylvania, but the movie was filmed in Atlanta), two families of friends and neighbors are clearing away the pumpkin pie and settling down to watch the big game when Keller and Grace Dover (Mr. Jackman and Maria Bello) and their best friends, Franklin and Nancy Birch (Terrence Howard and Viola Davis), suddenly realize their daughters are not in the house. A frantic search for a van that was parked earlier that day in front of a vacant house leads to an emaciated, mentally challenged man named Alex (another loopy role for the creepy Paul Dano) who lives with his aunt (the great Melissa Leo). When Detective Loki (Mr. Gyllenhaal), the cop assigned to the case, lets the weird suspect go for lack of evidence, panic sets in and Mr. Keller, a hotheaded carpenter with a short fuse, flies into an uncontrollable rage and turns vigilante, taking Alex into his own lawless custody and applying a brand of torture that is hard to watch. Alex has the mind of a 10-year-old, and the terrible things that happen to him in the locked closet of a derelict house begin to turn the audience's terror to sympathy. But this movie is just getting started, and, although the running time nearing three hours passes seamlessly, the shocks build with an intensity that is nothing short of unbearable.
The neighbors hold a candlelight vigil that leads to a priest with a corpse in his cellar. As you follow the cleverly attenuated minutiae of the investigation, clue by clue, your brain does double time putting the pieces together. Another wack job turns up the clothes the children wore at the time of their vanishing, hidden in trunks filled with poisonous snakes. But where are the bodies? A man rushes a dying child to the hospital in a blinding snowstorm with blood pouring into one eye. A toy whistle. A knitted bunny rabbit. The suspense mounts. And the ending is pure terror. From the masterful script by Aaron Guzikowski to the stunningly muted cinematography in snowy grays and midnight blues by the great Roger Deakins, it's an artistic triumph from start to finish. None of the characters are saints, including the troubled cop, but the acting is magnificent. Mr. Gyllenhaal's police officer is as conflicted as the frustrated citizens who get in his way. At last, Mr. Jackman has a role that proves why he is one of our most accomplished stars. He can do anything, and he finally gets to prove it in myriad ways, without the ridiculous comic book mask of Wolverine. Mr. Howard, Ms. Davis and Ms. Bello make every minute count as grieving parents who are willing to bend their principles to find justice outside the law. And Ms. Leo, as the mysterious aunt who adds up to more than meets the eye, eschews the usual campy pitfalls for a performance that is as haunting as it is austere.
Exquisitely paced, like currents on metal during an electric storm, Prisoners is unique. Unlike most lurid crime dramas, there is no link between the serial killer and the cops. You don't know who the fiend is until the last dark and mordant scene unfolds, and even then there's one more hair-raising revelation that will leave you shaking. When it comes to thrillers, this one is as good as it gets. Not for the squeamish, but for anyone who loves movies, it's too exhilarating to miss.
PRISONERS
WRITTEN BY: Aaron Guzikowski
DIRECTED BY: Denis Villeneuve
STARRING: Hugh Jackman, Jake Gyllenhaal and Viola Davis
RUNNING TIME: 153 min.
RATING: 4/4