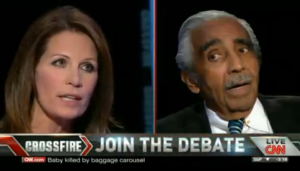 New York Congressman Charlie Rangel and Minnesota Congresswoman Michele Bachmann faced off on CNN's Crossfire tonight.
Predictably, there were fireworks.
The Obamacare-focused debate began respectfully enough, with Mr. Rangel even complimenting the Tea Party stalwart. But a few minutes in, the discussion erupted into an all-out shouting match, with Ms. Bachmann at one point accusing Mr. Rangel of being against working-class Americans like "Joe Six-Pack."
"You're a lawyer and you're a lawmaker and you know that it is impossible!" Mr. Rangel declared, as the two argued over whether Obamacare could be repealed amid a conservative effort to de-fund the law by tying it to legislation funding the federal government. "You know that!"
"I know you wouldn't shut down a woman. I know that under no circumstances would you shut down a woman. So I'll have my piece too," Ms. Bachmann later interjected as the two talked over one another and the hosts attempted to restore order.
Watch below:
[youtube=http://www.youtube.com/watch?v=6dNtOQ7PTMk&w=420&h=315]