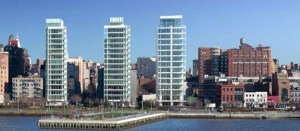 The Real Estate Board of New York is not known for its support of the underclass. In years past, the vastly powerful industry group has wielded its influence to try to weaken and eliminate rent regulation. However, the group is now doing its darnedest to appeal to the masses, attempting to harness the widespread concern about the city's growing income gap in its ongoing fight against landmarking.
Today, REBNY released a study tying landmarked districts to a dearth of affordable housing. The study claims that since 2008, no affordable housing units have been built in Manhattan's landmarked districts and just five units have been built since 2003. An additional 114 units have been created through renovation. In comparison, 8,070 units have been built during the same period in non-landmarked Manhattan districts.
"This study makes it clear that the rapid pace of landmarking has impeded the creation of much-needed affordable housing in New York City," president Steven Spinola said in a statement.  "Affordable housing is critical to the economic and social vitality of New York, and these findings should give our public officials pause as they consider additional landmarking in Manhattan and throughout the five boroughs."
REBNY even goes so far as to call the construction of affordable housing in landmarked districts "extremely unlikely," citing compliance costs, a more intensive public review process and density restrictions. They also link landmarked districts to higher incomes and less diversity.
But preservationists claim that REBNY's recent concern for the plight of the common man—as opposed to the real estate industry whose interests it exists to protect and promote—is nothing but a ploy to strike a blow against landmark protections that stymie lucrative developments for their members.
"Quite contrary to REBNY's assertions that landmark designation undercuts the affordability of our neighborhoods and stifles economic development, that un-landmarked area saw working factories and warehouses employing scores of people torn down and replaced by luxury high-rises that now largely serve as trophy homes for jet-setters who spend little time in New York," writes Greenwich Village Society for Historic Preservation's Andrew Berman. "Rather than increasing affordability, as REBNY would have you believe, the lack of landmark protections in this part of our neighborhood helped lead to a wave of ultra-high-end development the likes of which few parts of New York have ever seen."
Mr. Berman points to Westbeth, I.M. Pei's LaGuardia Place co-op and the landmarked First Houses, which all predate the ten-year time-span considered by REBNY. Indeed, the strongest defense of landmarking may be that it helps to preserve existing affordable units. At the same time, the kind low-rise, low-density housing that is beloved by so many communities and preservationists is often far from equal to the demand for local housing, which drives rents up. It's part of the reason why the Village is one of the most expensive places to live in Manhattan and why Yorkville is one of the cheapest—the quantity of housing stock matters.
But given that new housing stock tends to be overwhelmingly high-end, with a small percentage of units occasionally set aside for affordable housing, it's not clear how much the construction of new high-end highrises contribute to the cause of affordability. Do luxury housing developments slacken or stimulate desire for high-end housing? Do they have any effect at all?
Moreover, even if landmarked districts have less new units of affordable housing and higher-income populations, it's not necessarily a case of causation so much as correlation. Gentrifying districts often push for landmarking and landmarked districts are often gentrifying, but that doesn't necessarily mean that landmarking causes gentrification. Landmarked districts tend to have charm and character and attractive architecture, which make them appealing places for a the rising middle or upper-middle-class to settle.
While it may be impossible to definitely answer the questions above, future studies of affordability and landmarking should consider not only new, but also existing units.