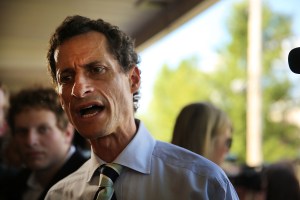 It was a rough night for redemption-seekers.
Four scandal-scarred candidates–Eliot Spitzer, Anthony Weiner, Vito Lopez and Micah Kellner–all failed to win their bids last night, despite, in some of their cases, vaster war chests and soaring name recognition.
All four candidates succumbed to an onslaught of toxic press and apparent voter fatigue over the circus-like atmosphere of the election after Mr. Weiner and Mr. Spitzer jumped into the fray.
"It turns out sexual misconduct is a fast track to a concession speech," boasted Sonia Ossorio, President of NOW-NYC, which had campaigned against the lot. "This election makes it clear that voters will reject candidates who fail to treat women with respect and dignity."
The results make it clear that New York voters are not as forgiving as some originally had thought. While the city was satirized by late-night talk show hosts and national pundits for making viable contenders out of Mr. Weiner and Mr. Spitzer, Mr. Weiner, a former congressman, was crushed last night, finishing a distant fifth and likely losing any further chances at political redemption.
While the outcome was expected following new sexting revelations, the same was not true in the case of Mr. Spitzer.
Outspending his rival Scott Stringer and unleashing a wave of stirring ads, the former governor lost by 4 points to Mr. Stringer, once little-known beyond Manhattan where he serves as borough president. Mr. Spitzer, who was forced to resign his governorship five years ago amid a prostitution scandal, crafted an anti-establishment narrative for himself and attempted to beat back the might of labor unions, real estate interests and elected officials united to bring about his downfall.
Mr. Spitzer's loss may force future redemption-seekers to think twice before leaping into city races.
"The electorate didn't want any drama. They rejected the drama," said Phil Singer, a Democratic strategist affiliated with Mr. Stringer's campaign and a political action committee that supported Mr. Kellner. "Clearly the group that was running on the ballot last night had done damage to themselves that was too great. Politicians with sex scandals were persona non grata."
Of course sex scandals, Mr. Singer noted, are not created equal. While Mr. Weiner engaged in consensual exchanges with women online, Mr. Lopez and Mr. Kellner were both accused of sexually harassing staffers in their capacity as assemblymen, with Mr. Lopez's allegations being particularly extensive and cringe-inducing.
A former Democratic Party boss, Mr. Lopez was viewed as a highly formidable City Council candidate in Brooklyn, even though he resigned from the Assembly in disgrace only months ago. Denying all wrongdoing, Mr. Lopez forged ahead with his council bid and drew upon the large number of loyalists that still lived in the district and cared little for the tabloid reports that would have immediately ruined most candidates.
But in the end, his 30 year-old opponent, running with the support of virtually every labor union and elected official, handily defeated the once-mighty Lopez.
And Mr. Kellner, running with almost all of the establishment's support until allegations surfaced in July that accused him of sexually harassing multiple ex-staffers, fell to Ben Kallos in their Upper East Side City Council race. Superior name recognition, a record of legislative accomplishments and strong fund-raising could not win out.