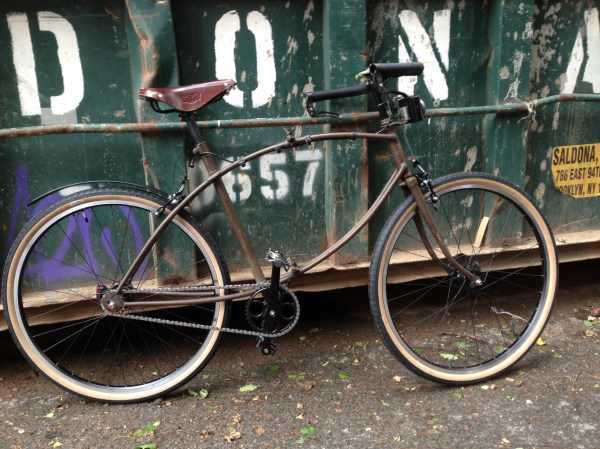 Now that the omnipresent blue beasts are here, for better or for worse, cycling is on the city's mind.
Of course, the new initiative is great for getting from A to B without the hassle of actually owning a bike, but for the real enthusiasts, the committed, and the people looking for something unique and even beautiful, there's Bespoke Bicycles, Brooklyn.
Nestled in a sunlit corner just off Lafayette and Fulton, this custom bike shop has been catering to the cycling world's in- crowd for just over four years. Well, most of the time:
"Spike Lee is a block away, so he comes in and buys Brooklyn hats," said the store's manager, Jon Pastir, on a busy Friday morning.
His team of four treats each custom build as a labor of love, creating one-of-a-kind bikes for people who want a little more out of their riding experience. Together they craft up to thirty individually designed bikes a year, on top of dedicated restorations.
"We just restored a 1940s paratrooper bike for a customer. It was a really involved and rewarding process. He got parts that were custom anodized: it was really above and beyond. I have 40 pages of emails. We were going back and forth for over six months."
The shop, owned by bike enthusiast Cassidy Vare, has a distinctly vintage feel, yet the team is also concerned with the new, albeit with a twist:
"We want to get as close as we can to a classic look using all new parts. Which can be incredibly difficult."
It's a difficulty the shop thrives on. Often the parts that people require simply "don't exist," and the team must work to find a way to make their customer's two-wheeled dreams come true.
"For the paratrooper bike, we had parts made. We decided on all black parts, but some of them weren't available in black, so we had to get them custom anodized."
The advantages of having a team of experts spread far beyond constructing one-off machines, however. The foursome is also working on reinventing the wheel, literally.
"We're trying to come out with our own model for next year. We have some sort of secret-ish things. We've made a prototype, so hopefully we'll have them for spring 2014. I think we're going to make a pretty revolutionary bike soon."
It's big claim, but can it ever match the rise of Citi Bike?
"They're comfortable, they're kind of fun, but they're super heavy. Overall I think it's a good initiative though. I'm a cycling advocate first and a businessman second. It's great for the community. Eventually it'll have a good effect on the industry. The number of cyclists will continue to grow and then those people who are on Citi Bikes will buy their own bike when they get into it."
Yet for the time being, bespoke surely equals better.
"It's not worth riding a bike that sucks."