There comes a time in every magazine subscriber's life when she looks at the stacks of unread glossies piling up around the house, or finds herself sighing with relief when an ad-fattened double-issue lands in her mailbox, and concludes, sadly, that this must stop.
We assume that it was with a similar mix of regret and liberation that Entertainment Weekly editor Jess Cagle cancelled his residence at 10 Park Avenue. Mr. Cagle must have looked forward to getting the Murray Hill two-bedroom, eagerly anticipated poring over detail and then, slowly, before he knew it, the place had transformed from a delight into a burden. Or maybe Mr. Cagle and his partner, interior decorator Shawn Henderson, simply found a bigger, fancier spread somewhere else.
Either way, city records show that the pair just sold their pre-war co-op combo for $1.4 million.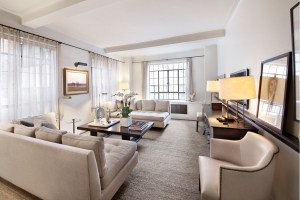 Mr. Cagle's ability to run a magazine may be in dispute—last year Gawker accused the managing editor of being a "hopeless starfucker" and turning the magazine into "little more than a glorified press release for whatever dogshit Hollywood is serving up to you this week"—but his real estate acumen is clearly evident.
The pair paid a total of $990,000 for the two apartments—purchasing the first for $615,000 in 2006 and scooping up the second for $375,000 in 2008—then did a gut renovation to combine them. The resultant combo, as might be expected for the home of an interior decorator, is lovely, especially if you really happen to like the color white (Mr. Henderson obviously enjoys working with a pale palette). "Every detail has been painstakingly thought of and beautifully executed," boasts the listing, held by Stribling's Steven A. Sumser and Lee Ann Jaffee. "Ideal for the sophisticated buyer with very high standards."
Sophisticated indeed! The listing photos show nary a magazine, not even a copy of the New Yorker, just impressive-looking art books arrayed in shelter magazine-perfect stacks. And the flat-screen TVs are so well camouflaged that they're almost impossible to spot amidst all the tastefully framed art. Even the closets are classy—"individually finished and outfitted to maximize space," boasts the listing.
Still, the apartment couldn't fetch the $1.65 million that Mr. Cagle and Mr. Henderson tried for when they listed the unit in March. But, after dropping the cover price to $1.49 million in May, the house entered contract quickly. The sophisticated buyers with very high standards were Scott L. Dorf and Kelly Copeland, who bought the unit under two eponymous trusts. City records do not indicate if Mr. Cagle threw in a free yearly subscription to Entertainment Weekly to close the deal.