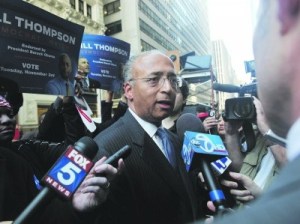 More labor supporters of Christine Quinn's defeated mayoral campaign are jumping over to Bill de Blasio's bid for City Hall.
The Retail, Wholesale and Department Store Union and United Food and Commercial Workers Union Local 1500 have joined SEIU 32BJ in endorsing Mr. de Blasio, sending a not-so-subtle hint to his Democratic rival Bill Thompson, who is waiting to see if he can eke into a runoff election.
"There's a sense that it's time for Democrats to rally around Bill de Blasio. We think de Blasio will be an outstanding mayor who will listen to the concerns of all New Yorkers and not some," RWDSU's president Stuart Appelbaum told Politicker tonight.
"Over the last few months, Bill de Blasio has articulated a progressive vision for New York City that the members of our Union fully support," UFCW's president, Bruce Both, said in a statement. "Over the years Bill has always been there to support our members as they have fought to improve their wages, benefits and quality of life. He understands that when responsible employers can operate in a free and fair market our City's economy thrives."
The RWDSU's endorsement will be formally announced at a large rally tomorrow with other labor groups at Brooklyn Borough Hall.
With 99 percent of precincts reporting, Mr. de Blasio now has just over 40 percent of the vote. But Mr. Thompson has vowed not to formally concede until thousands of paper ballots are counted–a process that won't start until next week.
Mr. Appelbaum said that it would be up to Mr. Thompson to make his own decision about when to drop out, but added, "We have too much at stake in November to risk an unnecessary runoff."
The Thompson campaign did not respond to requests for comment.
Update (10:47 p.m.): Update with comments from Mr. Appelbaum.