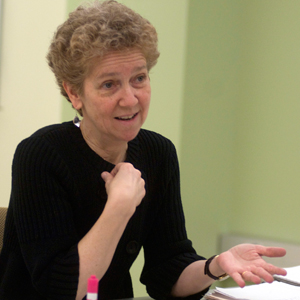 Sarah Bartlett has been named the new dean of CUNY Graduate School of Journalism, departing dean Stephen Shepard announced this evening. 
"Sarah is a wonderful person to lead the CUNY J-School to new heights of excellence. As a charter member of the  faculty since the day we opened, she designed many of our courses, recruited adjunct faculty members, taught several courses with distinction, launched the Center for Community and Ethnic Media, raised nearly $2 million and was the principal writer of our five-year strategic plan," Mr. Shepard wrote.
The internal candidate beat out former Sports Illustrated editor Terry McDonell and Beliefnet co-founder Steven Waldman for the position.
Mr. Shepard announced last February that he was planning to step down at the end of 2013.
Email below:
We have a new dean.

I'm happy to report that the CUNY Board of Trustees, acting on the enthusiastic recommendation of Chancellor Bill Kelly, has selected Sarah Bartlett to be the dean of the CUNY Graduate School of Journalism, effective January 1, 2014.

Her selection follows a through search process by a 12-person team that considered some 30 applicants, interviewed seven candidates, and selected three finalists. Each of the finalists spent a day at the school, meeting faculty, staff, students, and alumni.  They were also interviewed by several members of Chancellor Kelly's team at the Central Office. I'm grateful to all who participated in the process and those of you who sent messages to Chancellor Kelly.  I especially want to thank the other finalists: Terry McDonell and Steven Waldman.  We benefited greatly from their insights and their passion for the CUNY Journalism School.

Sarah is a wonderful person to lead the CUNY J-School to new heights of excellence.   As a charter member of the  faculty since the day we opened, she designed many of our courses, recruited adjunct faculty members, taught several courses with distinction, launched the Center for Community and Ethnic Media, raised nearly $2 million, and was the principal writer of our 5-year strategic plan. She has had strong journalism experience across media platforms:  she was a reporter for the New York Times, an assistant managing editor at Business Week, and Editor-in-Chief of Oxygen Media.  Before joining the CUNY J-school, she held the Bloomberg Chair in Business Journalism at Baruch College. She has also written two books.

Having known Sarah for nearly 30 years, I can say with confidence:  The CUNY Graduate School of Journalism is in great hands.

Best to all,

Steve