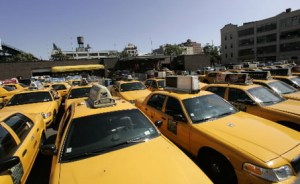 Johnnie "Spider" Footman, New York's oldest Taxi Driver, passed away yesterday age 94 after a brief illness.
Mr. Footman began driving in 1937 and saw New York City change over the years like few people have been able. During his time behind the wheel he picked up such famous characters as John Wayne and Rock Hudson, though he always had trouble remembering all the others.
Known for his penchant for cigars and young women, a colleague said that he was still chasing after girls right up to his final day on the job: Monday.
"He'd drive into the office in his old Chevy Blazer," said Jerry Nazar, who had worked with Mr. Footman for over 40 years. "Especially if there were any young ladies around. He was like that. One lady told him that if he made it to one hundred they'd get married."
Mr. Nazar worked with Mr. Footman at the 55 Stan operating corporation, where "Spider" had worked for 20 years. Although Mr. Footman was still driving at 92, after successfully passing a medical test, he had recently stopped taking passengers. Yet he was still a familiar face at the depot.
"He used to work Friday, Saturday, Sunday and Monday," continued Mr. Nazar. "He still came here on those days. He'd sit in the performance room and we'd get him lunch. Once in a while I'd take him to dinner. He was a very loyal person, he never changed his boss. Even though he lives in the city he decided to come here."
His co-workers at the company all valued Mr. Footman's company, and unique sense of humor.
"He was a pleasant man," added Mr. Nazar. "He always joked around. Whenever he talked to anybody he made them laugh. He was a very special character. He even had several movies made about him."
The latest film was Drivers Wanted, a documentary that screened last Saturday at 55 Stan, which featured Mr. Footman amongst New York's most interesting and beloved taxi drivers. Mr. Footman was unable to attend due to his illness. Lisa James, who worked on publicity for the movie, said it was particularly sad that he couldn't attend.
"It is such a shame , we were joking at the screening that he would have been pleased to see all the women there," she said. "That was Spider."
[protected-iframe id="0e133618684b3e7b10eb34adf3ead7d7-35584880-41847290″ info="//player.vimeo.com/video/44347213″ width="500″ height="281″ allowfullscreen=""] [protected-iframe id="201f6603b61fc9bd83ff0fbb7b1097e7-35584880-41847290″ info="//player.vimeo.com/video/53972351?byline=0&portrait=0″ width="400″ height="300″ frameborder="0″ allowfullscreen=""]