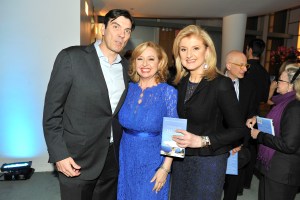 The morning that Aol CEO Tim Armstrong announced the $315 million acquisition of the Huffington Post, he stood beside a beaming Arianna Huffington in the company's Broadway headquarters.
Watching from the back of the room, I remember Huffington proudly declaring that her sister, Agapi Stassinopoulos, whom she had brought with her, still used an Aol e-mail address.
The couple hundred assembled Aol workers, already disoriented by the surprise merger, greeted this with a tentative cheer that seemed to trail off into a question mark. Even employees found it hard to reconcile the company's ambitions as a world-beating tech giant with the unfashionable reality of having Aol e-mail.
As a lifelong Hotmail user, smirking at the hipster apocalypse that was yesterday's Gmail outage, I beg to differ.
Those of us of a certain age (old enough to use Hotmail, for example) have seen a number of fad e-mail domains come and go. The Gmail migration was especially head-spinning, because its earliest adopters had seemingly all just switched to T Mobile's tmail addresses six months before.
The contemporary equivalent is your friends who are always tweeting and Facebooking their Foursquare check-ins. Just pick something, already.
A lot of fancy people still have e-mails from unfashionable domains like Aol, Yahoo and Hotmail. Courtney Love and several fashion designers test positive for Aol in my address book. So do Andrew Sullivan, Georgette Mosbacher and Ann Coulter—but it's not just political conservatives.
Kerry Kennedy, a daughter of RFK who is the former wife of Governor Andrew Cuomo, once infamously sent out an e-mail blast that was not blind copied. That list is now the property of every current and former gossip columnist in New York City, and I can tell you, that family hangs onto Aol addresses like it does Congressional seats. (And yes, they use their initials a lot.)
As the Digital Editor of Vanity Fair, Chris Rovzar is responsible for the online presence of one of Condé Nast's most valuable properties. He is proud of his Yahoo e-mail.
"It's like driving a vintage car with a new engine inside," he said. " The e-mail platform is still great and constantly improving."
But, he admits, "it's not infrequent that someone will send me a Facebook message or a text, and say, 'Hey, I want to send you this invitation, or something, but all I have is your old Yahoo! e-mail. Can you send me your Gmail?' Gmail has become code for 'personal e-mail' the way 'Kleenex' is a metonym for 'tissues.'"
The ubiquity of Gmail's product has become part of the problem. Yesterday's schadenfreude was greatly tempered by the fact that it also took out my work e-mail.
This points to Gmail's other big negative: the creepy data collection in which Google engages through all its integrated products.
Like most people, my work e-mail is permanently open on my home laptop. I also watch a lot of really silly stuff on YouTube: 80′s Australian pop videos, classic cartoons and worse. So I definitely don't appreciate that bar at the top of YouTube informing me that my YouTube account is "managed by" my work domain.
Who has access to my viewing information, and why? I picture Google co-founder Sergey Brin in a smoking jacket, settling into a club chair of an evening to read dossiers about my Kylie Minogue page views, like J. Edgar Hoover doing his nightly blackmail research.
Hotmail may be steam-powered technology by comparison, but it gives some comfort that my e-mail sits outside of the nexus of Google Docs, Google Calendar, Google Maps and everything else that makes my day so eminently trackable from the Googleplex.
Nineteen ninety-six may not literally be calling, but I have its e-mail.