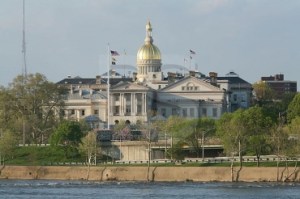 TRENTON – Senate Democrats called Monday on the state Supreme Court to immediately take up the question of gay marriage in New Jersey.
Although a Mercer County judge ruled on Friday that same-sex couples should be allowed to marry in New Jersey, starting on Oct. 21, the state said almost immediately it would appeal, making the key question now whether a judge will grant a stay if one is requested.
But the Democrats want the state's high court to take up the question right away.
"We are calling on the Supreme Court to take this up now,'' Senate President Steve Sweeney said today. "They can. They should. By Oct. 21, people should know yes or no."
Sweeney also said they will continue to pursue a veto override in the Legislature. Gov. Chris Christie last year vetoed a gay marriage bill.
Sen. Loretta Weinberg said "The governor knows there is no way he can win this appeal. He should drop this."
And Sen. Ray Lesniak said that Judge Jacobson's ruling said that the state's position to allow civil unions but not marriage "defies common sense.''
Sen. Nia Gill said that "from the beginning, this has always been a civil rights issue. Conceptually people wanted to take a detour so that you would not focus on this as a civil rights issue."
One of the plaintiffs in the case that led to Friday's decision, Marcia Shapiro, talked of being denied over 1,000 federal benefits married couples have, and of having been given back dignity and respect as a result of the ruling.
"Unfortunately, civil unions have hurt us tremendously in sundry realms,'' she said. In the workplace, in regards to health benefits, civil unions have been treated differently, she said.
Regarding the override attempt's prospects, Sweeney said "This has to change a lot of minds. The court said what we have is not legal."
Even if the state high court OKs gay marriage, Lesniak said the override remains critical because there are exceptions in the law – such as for Catholic priests – that would still be up in the air. In addition, he said it is not inconceivable that the high court's composition could change. "This is the right court to make this decision,'' he said.
Lesniak said if some of Christie's appointees get on the court, the court might rule the other way.
While Sweeney said he would not disclose a head count for the projected override vote, Lesniak said they are closer than previously.
The Legislature has never successfully overridden a Christie veto. In order for the Democrats in the Senate to overturn Christie's veto, they need three votes. Even if the two Democrats who voted against gay marriage switch, the Democrats still need a Republican to switch from no to yes.
Sweeney said they will schedule a voting session the minute they think they have the votes. He said the Senate has until Jan. 14.
Then the Assembly still would have to vote as well for an override.
Previous stories:
Christie to appeal same-sex marriage ruling